News Back
27/04/2021
Iberdrola, Volkswagen Group and SEAT S. A. strengthen their strategic alliance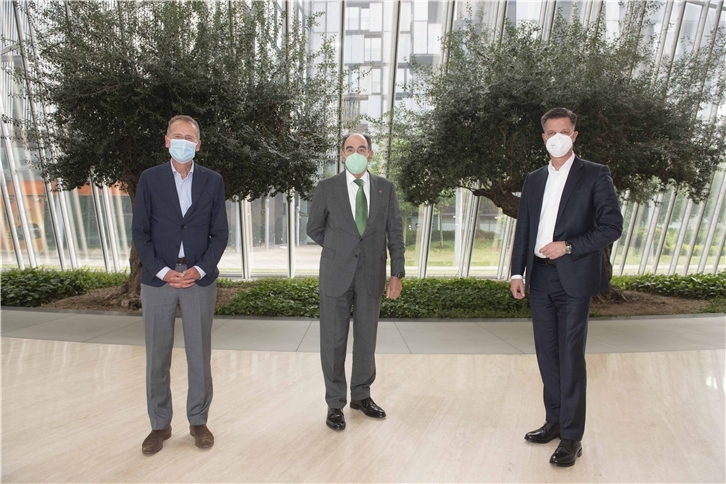 The Chairman of the Iberdrola Group, Ignacio Galán, met with Herbert Diess, CEO of Volkswagen Group and Chairman of the Board of Directors of SEAT S.A., and Thomas Schmall, Head of Technology of the Volkswagen Group Executive Committee and CEO of Volkswagen Group Components, at the Iberdrola Tower in Bilbao to continue strengthening their strategic alliance.
The main objectives of the collaboration agreement, under which Iberdrola has become a strategic partner of the Volkswagen Group and SEAT S.A., are to supply renewable energy in the electric vehicle value chain and to promote the development of a public charging infrastructure network. The alliance also includes the supply of energy with guarantees of origin (GOs) and other energy solutions to the group's end customers and its dealer network.
Herbert Diess, CEO of the Volkswagen Group, was delighted with the meeting, commenting, "A good meeting with Ignacio Galán today!", and introducing Thomas Schmall, who, "has been a driving force behind the Spanish electrification agenda in his first 100 days as Head of Technology".
He added that, "Together, Volkswagen and Iberdrola are geared up to continue working with each other throughout the entire supply chain, from energy generation, battery production, storage and charging, through to transformation of our plant in Martorell to manufacture an electric vehicle in Spain".
"As Thomas confirmed, we need green energy every step of the way and Iberdrola can supply it. ¿Why? Because they have been far bolder, moving away from coal and focusing exclusively on renewables from the outset. Ignacio's leadership and perseverance are bearing fruit. Of course, we have also discussed the political situation and the need for equal conditions with respect to subsidies throughout Europe, so we will also join forces in our dialogue with politicians."