News Back
20/11/2019
For its firm commitment to sport, expressed above all in the past few years in its promotion of women's participation as part of the drive for equality
The CSD (National Sports Council) awards Iberdrola the Gold Plaque of the Royal Order of Sporting Merit, Spain's highest sporting distinction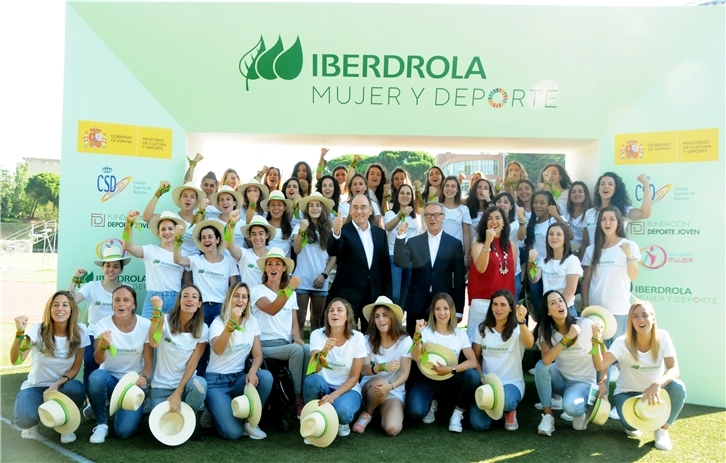 Ignacio Galán, chairman of Iberdrola, asserted that "this is recognition of a history of support for Spanish sport in general and women's sport in particular, with which we share fundamental values such as effort, responsibility, teamwork and determination to succeed"
The National Sports Council (CSD) has granted Iberdrola the Gold Plaque of the Royal Order of Sporting Merit, as officially announced in a Resolution of the Ministry of Culture and Sport published in the Official State Gazette (BOE).
This award bestowed on Iberdrola, which takes account of "accomplishments and circumstances in persons' and entities' sporting and professional careers", is Spain's highest sporting distinction.
Ignacio Galán, chairman of Iberdrola, asserted that "this is recognition of a history of support for Spanish sport in general and women's sport in particular, with which we share fundamental values such as effort, responsibility, teamwork and determination to succeed"
Iberdrola has been supporting Spanish sport for over twenty years through global agreements with the CSD and the Spanish Olympic and Paralympic Committees (COE and CPE), as well as with various sporting federations.
In the past few years the company has been intensely involved in women's sport, in line with its irrevocable commitment to promoting equality. In fact in 2016 it became the first company to make a firm all-embracing commitment to promoting women's participation in sport.
Iberdrola currently supports 16 federations: gymnastics, triathlon, rugby, canoeing, badminton, football, handball, volleyball, hockey, table tennis, athletics, karate, boxing, surfing, ice sports and fencing. The company also lends its name to 22top-tier national sports leagues, and another 35 competitions.
The greater input of resources (facilities, medical services, referees, etc.) has not only helped to increase the number of federated female athletes in these disciplines by 32% (reaching 316,500), but is also allowing Spanish elite female athletes who have developed their sporting career in other countries to start competing again in Spain, contributing to an improvement in national competitions.