News Back
26/05/2022
"Capping energy prices is the wrong way to deal with this crisis"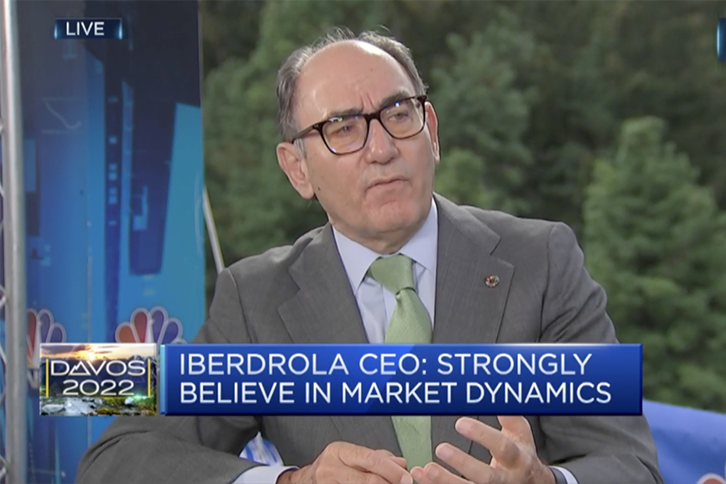 Ignacio Galán, Chairman of Iberdrola, was interviewed by the economic television channel CNBC during the Davos Forum 2022, which the CEO attended as a representative of the electricity company. During the conversation, which began with the gas price cap for Spain and Portugal, Galán highlighted the following ideas:
"When markets are intervened, the consequences are unpredictable. Theresa May's price cap in the UK a few years ago is a good example of the harsh economic consequences that manifest themselves 3, 4 or 5 years down the line".
"He is in favour of subsidies for certain periods of time in order to favour less mature technologies. For example, green hydrogen, which requires some initial support until it reaches a critical mass that makes it competitive, but does not agree with a generalised subsidy system".
"Europe has done many things right, such as the decision to try to decarbonise the European economy while creating quality jobs. However, if we had been quicker to build renewables, to build interconnections, to strengthen our grids and to make green hydrogen, we would have much less of a problem of supply shortages right now".
"Gas is a transitional technology and will be around for a while. The key is that renewables are cheaper than gas and provide self-sufficiency. Technologies such as solar or wind are already more competitive than gas, under normal conditions, and can be offered to citizens at lower prices".
"Accelerate the installation of more renewables, more grids and more storage. If we are able to combine this equation, we will have a different solution to the next economic crisis, which will come at some point".