News Back
21/12/2021
Grants to break inequality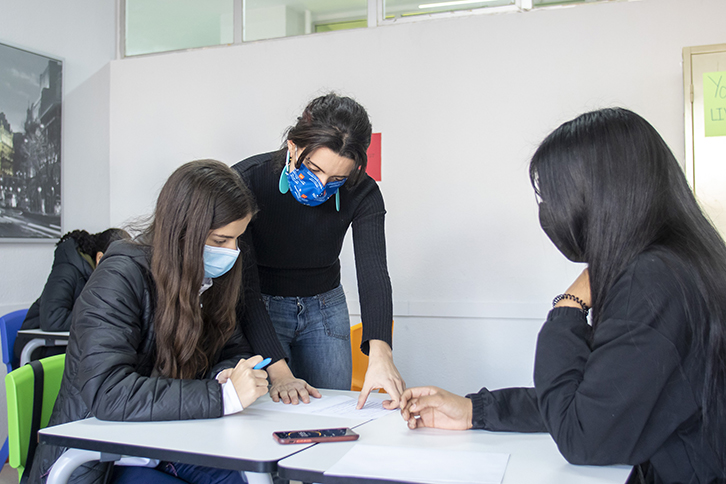 The Iberdrola and Empieza Por Educar Foundations renew an agreement to help train professionals committed to educational equity
The project is funded with 50,000 euros and aims to positively impact students from socio-economically vulnerable backgrounds
Iberdrola, through its foundation in Spain, and Fundación Empieza Por Educar (ExE) have signed in Madrid the renewal of an agreement to launch the STEM Scholarship programme.
The Director General of the Fundación Empieza Por Educar, Beatriz Morilla, and the Director of the Fundación Iberdrola España, Ramón Castresana, signed the agreement. The event was also attended by Ilia Hernández, ExE Project Director; Silvia Rial, ExE Project Manager; Tomás Alonso, Principal of IES Francisco Tomás y Valiente; Jesús Fernádez, Head of Studies at IES Tomás y Valiente, and Teresa Rodríguez de Tembleque, Head of Training and Research at Fundación Iberdrola España.
The project, which required an investment of 50,000 euros, is part of one of the main areas of activity of Fundación Iberdrola España: training and research to promote quality education.
This two-year STEM scholarship programme seeks to professionally develop women with a specialisation in science and technology so that they can have a positive impact in and out of the classroom. The ultimate goal is to create a more equitable system for all children in the country. The scholarship recipients will teach students from socio-economically vulnerable backgrounds at an educational centre.
In addition, the five grant holders will carry out a series of workshops within the framework of the "STEM 4 Girls" project aimed at secondary and vocational training students at the centre to work on different technological topics. Generally, these actions would be outside the school curriculum and are subjects that students do not usually have access to.

The Iberdrola Spain Foundation
Since its creation, Iberdrola has been committed to the energy, cultural, educational and social development of the communities in which it has a presence. In this regard, Fundación Iberdrola España represents a further step in this commitment by promoting initiatives that contribute to improving people's quality of life. It is also part of Iberdrola's commitment to excellence in training.
Fundación Iberdrola España collaborates with scholarship programmes of various institutions such as the Fulbright Commission, which each year calls for Iberdrola-Fulbright scholarships; the Fundación Carolina, which has a programme for Mexican and Brazilian students; and the restoration workshops of the Museo Nacional del Prado and the Bilbao Fine Arts Museum, which allow future specialists to complete their training in the conservation and restoration programmes of these institutions.