News Back
07/10/2020
During his participation in the group's annual digital Summit, this year a totally virtual event
Galán: "Ambition must be increased and the green and digital revolution must be combined as key pieces in the economic recovery"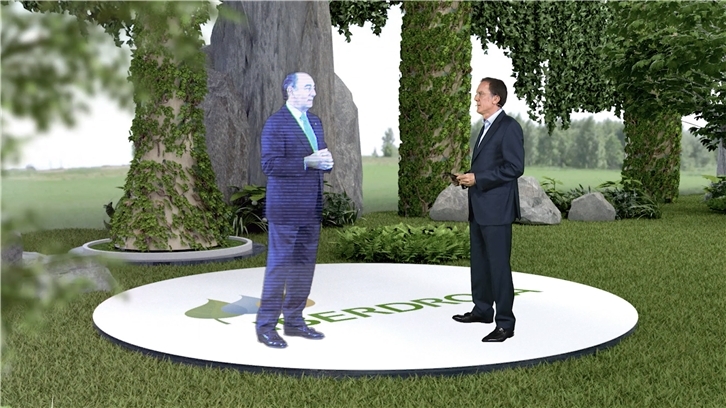 During an event attended by the Minister for Science and Innovation and the Secretary of State for Digitalisation and AI, Iberdrola's chairman talked of the importance of steering innovation and efficiency toward customer management
The challenges posed by Covid-19 have demonstrated the importance of the investments that the company has made in digitalisation, which have enabled it to maintain its service and drive ongoing projects during the pandemic
Blockchain, augmented reality, big data, machine learning, etc. are some of the technologies analysed at this annual virtual meeting, which was attended by institutions such as MIT and companies including TikTok, Twitter, Microsoft, LinkedIn, Google, IBM and EVO
Accelerating the process of decarbonisation and digitisation, in line with the European Union's roadmap, is the only possible path to recovery for Iberdrola. This was reiterated by its chairman, Ignacio Galán, during his speech at the Digital Summit organised annually by the company, this year virtually, with the aim of analysing the latest trends in digitalisation.
During his speech, Galán stated that "we must increase our ambition to combine the green and digital revolution, key pieces in the economic recovery" and "accelerate the decarbonisation of transport, the residential segment and industry to leave a better and more sustainable world for the new generations, in which digitalisation plays an essential role".
The company chairman has highlighted how in extreme climate situations or in crises such as the Covid-19 pandemic, the advantages of digitalisation are demonstrated: "The investments made in recent years have enabled us to keep our operations and projects running while ensuring the safety of our employees and partners". By way of example, Galán explained how the process of digitalising the electricity networks in Spain made it possible to restore service to 300,000 customers in one hour, following the rain associated with the isolated high-altitude depression that devastated Murcia and the Community of Valencia a year ago.
Iberdrola believes that there will be no digital transformation with cultural change, with new ways of working and new tools.
On this subject, Galán also talked about the need to keep up the efforts to be more innovative, more efficient and more customer-focused. The company is making full use of technology in areas of the business where it adds value, either by improving processes and asset productivity, or by making it more efficient.
The importance of this approach was underlined by the Minister for Science and Innovation, Pedro Duque, who gave a talk at Iberdrola's Digital Summit, which was also attended by Carme Artigas, Secretary of State for Digitalisation and AI.



Blockchain, robotics, augmented reality, etc., new technologies in Iberdrola
Innovation is part of Iberdrola's DNA and this has been evident at this Digital Summit, in which institutions such as MIT (Massachusetts Institute of Technology) and companies including TikTok, Twitter, Microsoft, LinkedIn, Google, IBM and EVO have also participated.
The company has been digitally managing its electricity generation assets for years and has transformed its networks into intelligent ones with digital tools and artificial intelligence. It also applies the latest technologies in all its activities:
Blockchain for energy trading operations, 'green' energy certificates, document certification and intra-group financing agreements, among other applications;
Robots and drones to provide support in high-risk operations or in locations that are difficult to access for the inspection of wind blades, hydroelectric plants and high voltage power lines or for fraud detection;
Virtual reality and augmented reality in training activities and actions on the ground, on power lines and other infrastructure;
The Internet of Things, applied to initiatives such as Iberdrola's Smart Home, which provides customers with information for greater management and decision-making capacity regarding their energy consumption;
Digital twin, the virtual recreation of products and services, allowing the company to anticipate and solve future incidents before they occur.
Big data and analytics, used to develop, for example, advanced wind prediction systems and detect electricity fraud;
Artificial intelligence and 'machine learning' with which it applies algorithms to different processes, such as the identification of anomalies in photovoltaic plants, the prediction of natural disasters or the personalisation of personalised offers to different client profiles; etc.



€20 billion allocated to R&D+i
Innovation is Iberdrola's main tool to guarantee its sustainability, efficiency and competitiveness.
The company has spent €2 billion on innovation in the last decade, increasing resources allocated to this area by 115% year on year in the last ten years. These activities have made it Spain's more innovative utility, and it is ranked third in the world for its R&D+i investments, according to the European Commission.
Iberdrola is at the forefront of the use of digital technologies and is preparing to face a new era in which disruptive tools will be key to all businesses.
As an example of this commitment, the company has just announced the launch of its Global Smartgrid Innovation Hub, a centre located in Bilbao that will act as a platform to drive innovation, combining its technological capacity with that of suppliers, collaborators and startups from all over the world.
This hub will be launched in the spring of 2021 and has already identified more than 120 innovation projects for future implementation worth 110 million euros. The international activities will enable the development and deployment of innovative solutions for Iberdrola's electricity grid activity worldwide.