News Back
29/01/2018
The transaction was signed today in Madrid with 24 participating entities
Iberdrola extends two multicurrency syndicated loans for €5.3 billion with the best conditions since 2007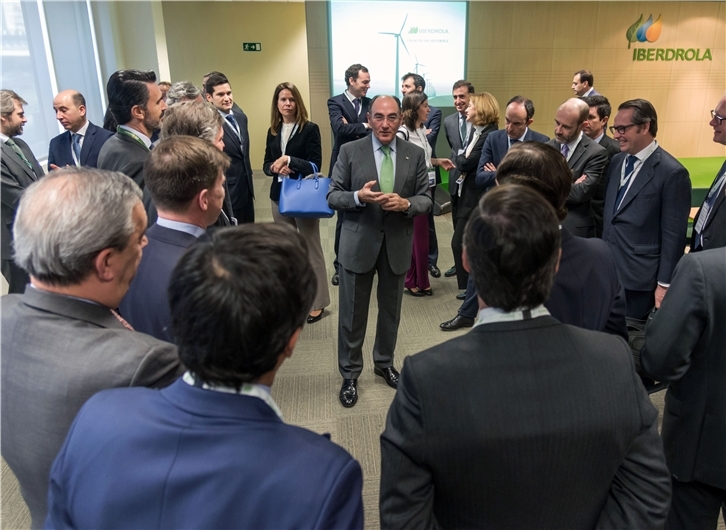 This is the world's largest credit transaction under sustainability criteria. The differential of 27.5 basic points over the IBOR is linked to Iberdrola lowering its emissions
Specifically, two multicurrency syndicated loans for €4.4 billion have been extended and the total amount increased by €900 million
Iberdrola Chairman, Ignacio Galán, concluded this morning the extension of two multicurrency syndicated loans for €5.3 billion with representatives from 24 financial institutions.
The agreement, which was signed in the company's Madrid headquarters, involves the extension of two lines of credit amounting to €4.4 billion euros and their expansion by an extra €900 million. Thus, the company continues to adapt liquidity to its €25 billion investment plan for the 2016-2020 period while fulfilling the commitment to maintain liquidity above €9 billion.
This transaction improves prior conditions and marks the return to pre-crisis levels. The spread is up to 27.5 basis points over IBOR, as opposed to the 30 basis-point differential from the last line of credit signed in June of 2016. Maturity is five years, with the possibility of a two-year extension, until February 2025.
These conditions are linked to the fulfilment of a sustainability indicator, to be verified by independent agency Vigeo Eiris, related to the reduction of Iberdrola's emissions. This is the world's largest sustainable finance transaction to date.
BBVA is acting as agent bank for the expansion and extension of the two syndicated loans, which from the outset received the backing of 100% of the participating financial institutions.
Socially responsible finance strategy
Iberdrola thus continues to make progress in its strategy of socially responsible finance. The company was the largest issuer of corporate green bonds in 2016 and all of its public issues throughout 2017 were green, including the hybrid bond placed last November.
Also, last year saw the world's first ever green loan for an energy company, signed between Iberdrola and BBVA for €500 million.
Sustainable finance is part of Iberdrola's commitment to the UN Sustainable Development Goals (SDG) for 2030 which the company has incorporated into its strategy. Specifically, Iberdrola is focused on goals number 7 (affordable and clean energy) and 13 (climate action).