News Back
30/10/2020
Iberdrola finalises arrangements to build its first major solar power project in the Valencia region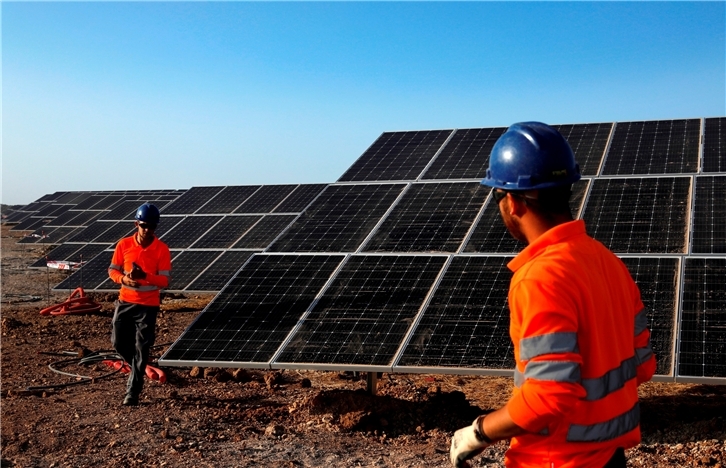 Located in the Ayora-Cofrentes valley, the facility will have an installed capacity of 200 MW and require an investment of over €100 million
Construction will involve up to 600 workers, helping to boost the local economy
Iberdrola is making progress towards building what will be its first major solar power project in Spain's Valencia region: the Cofrentes Photovoltaic Farm, which entails an investment of over €100 million.
This facility, located in the municipal areas of Ayora and Zarra, will have an installed capacity of 200 megawatts (MW) and will help to stimulate local industry by involving up to 600 professionals in its construction.
The plant will be located in the Ayora-Cofrentes valley and feature 445,000 photovoltaic modules covering approximately 250 hectares across the municipal areas of Ayora and Zarra. The plan also includes building an electricity distribution substation, which would be located in Ayora municipality on the photovoltaic facility, as well as the electrical infrastructure needed to transport solar power and connect it to the national grid. Once up and running, it will generate enough clean energy to power 100,000 households per year and prevent emissions of 63,000 tonnes of CO2 every year.
The project also includes building a collection substation in Jalance as part of the transmission infrastructure from the Cofrentes hub, which would comprise one transformer and potentially grow to include two more depending on how the renewable energy projects in the area progress.
Iberdrola is helping to consolidate a model in which Valencian companies and new employment look towards key sectors for the future, including renewable energies.
The company's commitment was conveyed barely two months ago by its chairman, Ignacio Galán, when the president of the Valencia region, Ximo Puig, visited Iberdrola's facilities in Valencia. Mr Galán took the opportunity to explain how the region has "everything it takes to continue spearheading the transformation of the energy system with more renewable energy" and shared his wish to "keep on growing, to further enhance the region's industrial fabric, generate employment and bring added value to the people of Valencia".
Iberdrola already manages over 2,000 MW of renewable installed power in the Valencia region by producing hydroelectricity at the Cortes-La Muela complex, the largest pumping plant in Europe.



Renewable energies to activate the recovery
Iberdrola is convinced that the recovery of the economy and employment will have to be green. This commitment has led it to earmark record investments this year of €10 billion in renewable energy, smart grids and large-scale energy storage systems, after having allocated €25 billion since 2001 in Spain – rising to €120 billion worldwide.
The company is Spain's leader in renewable energies, with an installed wind capacity of more than 6,000 MW and over 16,700 MW in renewables as a whole; totalling more than 33,800 MW worldwide and making its generation facilities among the cleanest in the energy sector.