News Back
02/03/2017
Part of the Women's Universe, an initiative of which the company is the main driving force
Iberdrola takes the second edition of the 'Women, Health and Sport' Tour to Palma de Mallorca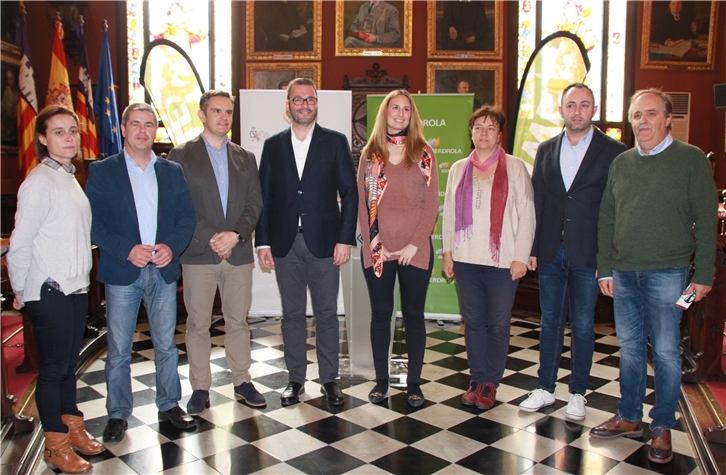 It is the first company to make a global commitment to promoting women's participation in every area of sport
The Tour, which began in Castellón in November 2016, will have six new centres in 2017
On 11 and 12 March, Palma will become the centre of the second edition of the 'Woman, Health and Sport' Tour, which Iberdrola is promoting in several provincial capitals to enhance the role and presence of women in the sports world. The event is intended to show women as an active and fundamental part of sport in Spain.
The head of sponsorship of Iberdrola, Carmen Cabrera, the mayor of Palma, José Hila, and the councillor for Education and Sport, Susanna Moll, presented the activities programmed for this edition, with support from Jennifer Pareja, former water polo player and ambassador for Women's Universe (Universo Mujer), as well as numerous Olympic medallists and elite sports people.
Specifically, in the Parc de les Estacions, an open space will be installed that will have more than 2,000 m2 set aside for sports and leisure activities related to the ten federations backed by Iberdrola: football, badminton, handball, volleyball, rugby, triathlon, canoeing, gymnastics, swimming and hockey.
The area is designed for all comers, with group classes, talks on sport and healthy life habits, as well as games for the kids. On Saturday 11, the event is open from 12pm to 8pm, and on the Sunday from 11am to 3pm.
The Tour's next stop will be in Bilbao on 25 and 26 March, during the Iberdrola Shareholder Week, which will finish on 31 March with the group's General Shareholders' Meeting.
Iberdrola, the main driving force behind the Women's Universe programme
The 'Women, Health and Sport' Tour is part of the Higher Council for Sport's (CSD) Women's Universe programme, of which Iberdrola has been the mainstay since last July. It is the first company in Spain to make a global commitment to promoting the participation of women in every area of sport.
Under the agreement with Spain's Higher Council for Sport (CSD), the company supports various sports federations, including gymnastics, swimming, football, triathlon, badminton, canoeing and hockey, plus other possible additions in the future. These sports were selected on account of the extraordinary level of success achieved, the high participation rate, the existence of schemes to promote the sport at grass-roots level and other social projects.
IBERDROLA is also one of the leading sponsors of the Spanish Paralympic Team and the Paralympic Sailing Team. It has been involved in the ADOP Plan since it was launched in 2005, and backed the Spanish Paralympic Team at the Beijing 2008, London 2012 and Rio de Janeiro 2016 Games. The group's contribution to Paralympic sport was acknowledged in 2013 with the Olimpia Award from the Higher Council for Sport (CSD).