News Back
12/06/2017
In conjunction with the I.C.A.I. Engineers' Association
Iberdrola presents the eighth edition of the 'Legal Manuals for Engineers'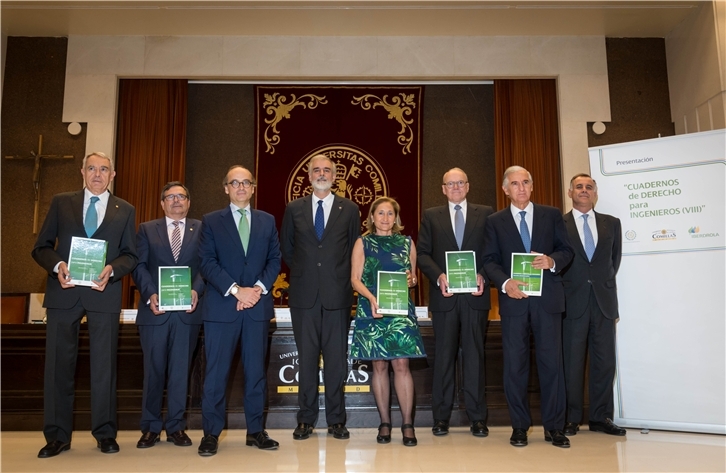 On this occasion, the five-volume publication analyses aspects of corporate governance, branding, funding, voluntary jurisdiction law and administrative law
Iberdrola, in conjunction with the I.C.A.I. Engineers' Association, today presented the eighth edition of its Legal Manuals for Engineers in the Aula Magna at the Universidad Pontificia Comillas.
The event was chaired by the rector of the Universidad Pontificia Comillas ICAI-ICADE, Father Julio L. Martínez, S.J., who was accompanied by Iberdrola's director of Legal Services, Santiago Martínez Garrido, the chairman of the I.C.A.I. Engineers' Association, Román Escudero, and the coordinator of the Manuals, Carmen Chinchilla, representing the various coordinators involved in the publication.
This new edition of the Legal Manuals for Engineers, which was managed jointly by Santiago Martínez Garrido and Miguel Ángel Agúndez, is organised into five volumes analysing the following topics: the Board and its committees, brand value creation as a strategy for good corporate governance, different methods of funding, the legal and commercial aspects of the Law on voluntary jurisdiction and administrative law.
Each of the volumes, published by Wolters Kluwer, was in turn coordinated by an expert in each of the legal fields: Rafael Sebastián, Álvaro Sainz, Javier Badiola, Alberto Alonso Ureba, Efrén Villán Sánchez and Carmen Chinchilla.
With this publication, Iberdrola and the I.C.A.I. Engineers' Association are continuing to pursue their common goal of providing engineering professionals with an overview of the legal aspects they need for their work.
This new edition of the Legal Manuals for Engineers also has a foreword by the Chairman of Iberdrola, Ignacio Galán, who emphasises that "we are proud of these Manuals and also of the fact that the profits that come from their sale go to the I.C.A.I. Engineers' Foundation for its Development work and they are then reinvested by the foundation in its Access to Energy Programme, which takes electricity to people who do not have it and implements sustainable energy development projects in emerging countries."
In previous editions, the Manuals dealt with other aspects and sectors, offering a broad view of the law in various areas: shareholder and investor relations, regulatory compliance, procedural law, mergers and acquisitions, corporate governance, financial markets and Community law, among others.
For those who are interested in finding out more information about the volumes published, Iberdrola has set up a web site http://cuadernosdederechoparaingenieros.com/ .