News Back
10/03/2021
Iberdrola presents the 2021 Iberdrola - Museum Programme of Conservation and Restoration with the Bilbao Museum of Fine Arts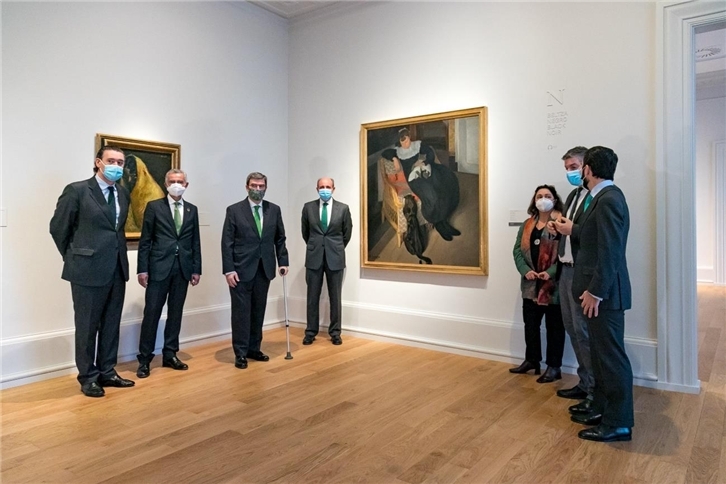 Since 2013 the Iberdrola - Museum Programme of Conservation and Restoration has been working to keep the Bilbao Fine Arts Museum collection in an optimal state of conservation. To achieve this, a selection of works are chosen every year that need attention and represent different chronological points and varying artistic techniques.
In addition, in 2019 a new line of work was added for works of art which, though not belonging to the museum's collection, form part of the temporary exhibitions. This was the case for a selection of paintings belonging to private collections which were included in the exhibitions Ameztoy and Masterpieces of the Valdés collection.
Finally, the programme is extending its mission through the training of future professionals who, thanks to the Iberdrola - Bilbao Fine Arts Museum grant, are developing their knowledge and experience in the Department of Conservation and Restoration.



Work on recently acquired pieces and introductory programme
In 2020 the programme continued with these lines of work except that, in addition, work has also been done on recently acquired pieces which are now on public display for the first time. Such is the case for the paintings Paisaje con pastor by Ignacio Iriarte - recently acquired thanks to the contribution from the Friends of the Museum; Playa de Sopelana and Paisaje con montañas by Juan de Barroeta; La fábrica de Pasajes by Gonzalo Chillida and Montmartre sous la neige by Jean-François Raffaëlli; and the prints by Joaquim Sunyer and Marta Cárdenas. To these can be added familiar works from the collection signed by Ángel Larroque, Remigio Mendiburu and Pablo Milicua.
Separately, and with the future extension of the museum in mind, a new introductory programme has been launched to inform about the museum's architecture and the artistic heritage surrounding it through guided tours of the exterior. These are included free with entry to the museum and take place every weekend (Saturdays at 12:30 and 18:30; Sundays at 12:30; in Spanish and in Basque on the last Sunday of each month. Booking online, or on the day, at the museum box office).