News Back
19/03/2019
Convened for 29 March at the Euskalduna Conference Centre in Bilbao
Iberdrola's General Shareholders Meeting renews its certification as a sustainable event for three years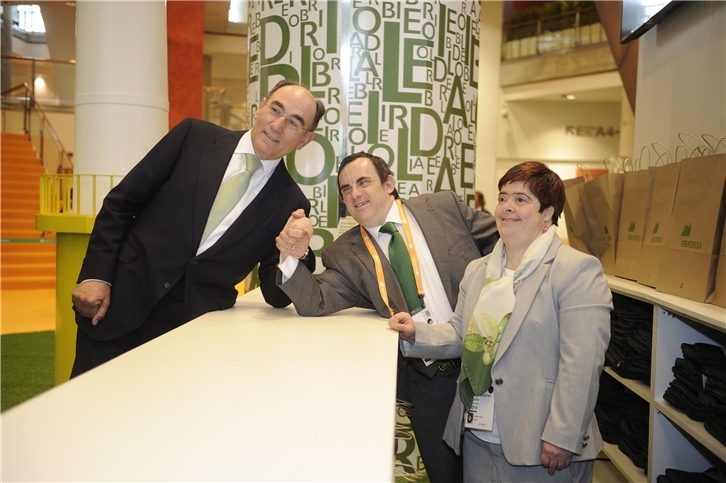 Both AENOR and the Basque Regional Government, through Ihobe, the Basque public environmental agency, have confirmed that the entire event has been organised based on a series of environmental, social and economic criteria
Iberdrola will be implementing some 85 specific actions, such as hiring people in vulnerable situations and implementing measures guaranteeing accessibility to the event
The Iberdrola Shareholders' General Meeting, convened for 29 March at the Euskalduna Conference Centre in Bilbao, has renewed its certification as a sustainable event for three years. In 2016, the company became the first of the Ibex 35 companies to obtain this recognition and now also becomes the first to renew it.
What this means is that all the processes involved in the Shareholders' General Meeting, Iberdrola's top governing body, right from the planning to the event itself and then dismantling it, are carried out based on sustainable criteria, with the aim of maximising the company's contribution to the local economy and improving the environment and social well-being.
This has led to AENOR certifying that the company's Shareholders' General Meeting meets the requirements of the ISO 20121 voluntary international standard for sustainable event management.
In addition, through Ihobe, its public environmental agency, the Basque Government has awarded the Group's 2019 Shareholders' General Meeting the 'Erronka Garbia' seal of environmental approval, which certifies the company's exemplary conduct in key aspects of environmental sustainability when organising the event so as to maximise the positive impacts that it can generate.
These certifications are a response to Iberdrola's Sustainable Management Policy, which establishes, among other aspects, that the Group events must scrupulously comply with all applicable requirements (especially the laws on health and safety, noise, waste, privacy and personal data protection) and promote accessibility, inclusion and non-discrimination in their planning and execution.
Objectives and measures for a sustainable Shareholders' General Meeting
With particular reference to the Shareholders' General Meeting, Iberdrola has therefore set the following objectives:
To ensure the event is accessible to each and every member of its workforce.
To minimise the event's carbon footprint and energy consumption.
To improve employment opportunities for people who experience discrimination or are from vulnerable backgrounds.
To increase the reuse of the waste generated by the Shareholders' General Meeting.
To minimise the indirect environmental impact - environmental footprint - of the event.
To encourage cooperation with the local community.
To improve communication and participation throughout the event.
To increase awareness of sustainability among everyone involved.
To promote cultural heritage throughout the event.
In order to achieve these goals, Iberdrola will be implementing more than 85 specific actions. These will include guaranteeing the accessibility of groups with different abilities (through the use of subtitles and the deployment of magnetic loop systems to aid hearing); promoting sustainable transport by allowing the people of Bilbao to travel free on the tram on the day of the event; compensating for the CO2 emissions generated by holding the Shareholders' General Meeting; and using recyclable and reusable materials.
In addition, vulnerable people will be hired to help at the event and equal male and female employment opportunities will be promoted by recruiting, as far as possible, the same proportion of stewards and stewardesses.