News Back
12/05/2021
The Las Rozas training facilities are to be transformed into a sustainable national team sports city
Iberdrola and the Spanish Football Federation (RFEF) are the driving force behind the first Sustainable Football City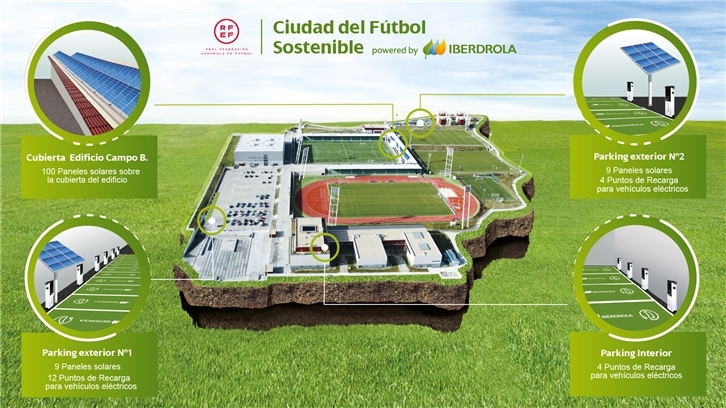 The sports complex will have a self-consumption system made up of 110 photovoltaic panels to illuminate the national team matches with renewable energy
Iberdrola will also install 20 charge points for electric vehicles to promote sustainable mobility among athletes and fans
The initiative extends the collaboration signed by both entities to promote the first Sustainable National Team, developed on the occasion of the Women's World Cup in France
Iberdrola and the Spanish Football Federation (RFEF) have signed a collaboration agreement to promote the first Sustainable Football City at the training facilities of the Spain's national football teams in Las Rozas, Madrid.
The agreement will enable the installation of a self-consumption system comprising 110 photovoltaic solar panels on roofs and canopies that will allow the matches of the different national football teams to be illuminated with renewable energy. The output of this installation is equivalent to the annual consumption of 30 households and will prevent the emission of 22 tCO2/year.
The facilities will also be equipped with 20 charge points for electric vehicles to promote sustainable mobility among athletes and fans. Any electric vehicle user who visits the facilities will be able to make use of these charge points with the guarantee of using 100% green energy from clean generation sources. The electric charge points will be available on the 'Recarga Pública Iberdrola' mobile app, the only one that includes verified information on all electric vehicle chargers in operation in Spain and which can be used to manage the geolocation of the charger, reserve it and pay for charging from a mobile phone.
"At Iberdrola we have been committed to promoting women's sport for years with the belief that, through our actions, we are fighting for equal opportunities. But with partnerships like today's we are going one step further by extending the transformation capacity of our sustainable activities to the field of sport. Making Ciudad del Fútbol the first sustainable sports city allows us to demonstrate the extraordinary impact of an energy model that, like sport, plays fair, is competitive and sustainable and offers inclusive opportunities for all", explains Juan Luis Aguirrezabal, Iberdrola's Director of Advertising, Brand and Global Sponsorships.
"This initiative allows us to broaden our commitment to the Sustainable Development Goals. The Spanish Football Federation is delighted to be able to develop the Iberdrola Sustainable Football City project at the home of Spanish football", said Rubén Rivera, marketing director of the RFEF.
This new agreement extends that signed by both entities on the occasion of the Women's World Cup in France in 2019, which has made it possible to promote the first Sustainable National Team through initiatives such as offsetting the carbon footprint generated by the Spanish Women's Football Team with green energy.



Iberdrola, a pioneer in promoting women's sport
Promoting women's sport has become a key ambition for Iberdrola, and the promotion of true equality between men and women one of its essential values. In 2016, Iberdrola became the first company to make a firm and global commitment to women's equality and empowerment through sport. Currently, the company supports 16 federations and their respective leagues: gymnastics, triathlon, rugby, canoeing, badminton, football, handball, volleyball, hockey, table tennis, athletics, karate, boxing, surfing, ice sports and fencing. Iberdrola also lends its name to 22 national top-tier sports leagues, and 35 other competitions.
At the same time, the provision of resources, facilities, medical services and referees, as well as support and sponsorship for different initiatives in this field from Iberdrola has not only helped to increase the number of federated sportswomen in these disciplines by 39% (reaching over 300,000), but is also allowing Spanish elite sportswomen who have built their sporting career in other countries to start competing again in Spain, leading to an improvement in the standard and visibility of national competitions.