News Back
17/06/2020
The energy company will supply 13,500 of the operator's own points with green electricity generated by an onshore wind project under construction in Aragón under a long-term power purchase agreement (PPA)
Iberdrola will provide 100 % renewable energy under a long-term agreement with Vodafone in Spain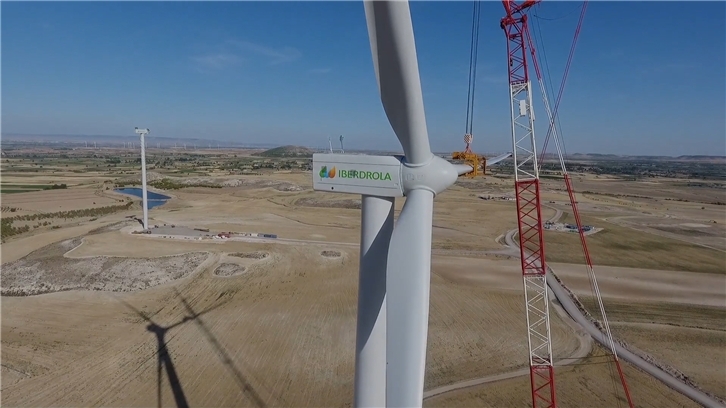 The alliance reinforces Iberdrola's strategy to enter into bilateral agreements that promote the supply of power at competitive and stable prices to large customers who are committed to sustainable consumption
This alliance is a giant step forward in terms of the company's strategy to be an environmentally sustainable, responsible company, a mission which means purchasing 100 % renewable energy and reducing greenhouse gas emissions by 50 % by 2025. This agreement will mean that Vodafone España will have complied with 75 % of its objective to buy energy produced by renewable means in 2021
Iberdrola and Vodafone España have entered into an agreement to promote sustainability, with a long-term power purchase agreement (PPA).
The alliance reinforces Iberdrola's strategy to undertake renewables projects in Spain through bilateral agreements that promote the supply of power at competitive and stable prices to large customers who are committed to sustainable consumption. This alliance will enable the telecommunications operator to consume energy from renewable sources in Spain and to make progress with its strategic framework as a sustainable, environmentally responsible company, having pledged to purchase only 100 % renewable energy by 2025 and to reduce its greenhouse gas emissions by 50 %. This agreement will mean that Vodafone España will have complied with 75 % of its objective to buy energy produced by renewable means in 2021.
Iberdrola will supply green energy to 13,500 supply points from Vodafone's own grid in Spain. The contract will take effect in January 2021 and part of the energy consumed — 140 Gwh/year of the total 540 Gwh/year — will be supplied under a PPA associated with a newly built renewable asset, the Puylobo wind project, now under construction in Aragón. The remainder, 400 Gwh/year, will be supplied under another agreement, that guarantees green energy through the delivery of the company's Guarantee of Origin (GoO) certificates.
Puylobo is in the town of Borja, in Zaragoza, and will have an installed capacity of 49 megawatts. With an investment of 50 million euros, more than 120 professionals will be involved in its construction. Once the facility is operational, it will prevent the emission of 32,000 tons of CO2/year.
Puylobo forms part of Iberdrola's strategy to invest in clean power generation projects in Spain and its commitment to using bilateral agreements with big customers who are committed to sustainable consumption as a way to promote the supply of energy at affordable, stable prices.
"PPAs offer numerous opportunities to develop the renewable projects that are transforming the present and future energy in our country. These long-term energy purchase and sales contracts provide stability to investments and have also become an optimal tool for managing the electricity supply of large consumers who are committed to clean and sustainable consumption. They also demonstrate the competitiveness of renewables and their ability to supply energy at affordable, stable prices," explained Eduardo Insunza, Iberdrola's director of large customers.
"Our strategic framework as a company that is sustainable and responsible toward the planet requires that by 2025, all the electrical energy we purchase must come from renewable sources and we will have reduced our CO2 emissions by 50 % compared to 2016-17. The energy used to operate the network accounts for more than 97 % of our total consumption, so it is key to implement energy efficiency measures and establish agreements to purchase energy from renewable sources, such as the one we entered into today with Iberdrola," said Ismael Asenjo, managing director of Technology at Vodafone España.



Renewables for a green recovery
Iberdrola is a global reference point in the area of PPAs and has long-term power purchase agreements (PPAs) in markets that include Spain, the United Kingdom, the United States and Mexico, with wind and photovoltaic power projects totalling over 2,500 MW. In Spain, the company has been a pioneer in promoting this type of agreement with companies from various sectors (banking, telecommunications, brewery distribution and sports brands).
The company is confident that electrification will act as a lever for financial recovery and employment in the post-COVID landscape. To drive that recovery, it is considering investments of €10 billion this year to launch new projects, industrial activity throughout the value chain, and innovation in fields such as renewables, smart grids and large-scale storage systems.
In Spain, Iberdrola is the leader in renewable energies, with an installed wind capacity of more than 6,000 MW and over 16,500 MW in renewables as a whole; totalling more than 32,000 MW worldwide and making its generation facilities among the cleanest in the energy sector.
For further details: What is a PPA and what are the main benefits?



Vodafone's environmental undertakings
According to Vodafone, caring for the environment means operating responsibly, reducing the environmental footprint of its operations and helping customers and society to be more efficient. Vodafone is sure that urgent, sustained measures are required to tackle climate change and that business success should not be at the expense of the environment. Evidence of this commitment is the recent signature of the United Nations' "Recover Better" pact, which calls upon government to set scientifically based objectives when determining the route to achieve zero emissions by 2050.
Vodafone's commitment to reduce its environmental impact is helping to make the future more sustainable for everyone. Focused on energy efficiency, renewable energies and waste reduction, it is helping to palliate the environmental impact associated with its customers' growing demand for data. During the last financial year, Vodafone España, through its energy projects, has encouraged remote working and the circular economy, developing products and services for its customers and directly or directly avoiding the emission of 656,924 tons of CO2 in Spain.