News Back
30/05/2017
The company is supporting this sport, with which it shares values such as teamwork and effort
Iberdrola and the Real Federación Española de Gimnasia present the Rhythmic Gymnastics World Cup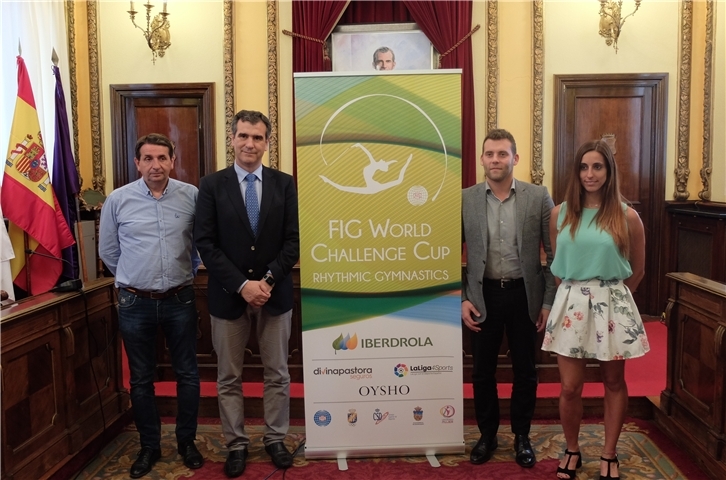 The agreement is part of the Universo Mujer initiative, in which the group is the main sponsor, in keeping with its commitment to women's sport in Spain
It is the first company to make a global commitment to promoting the participation of women in every area of sport
Iberdrola and the Real Federación Española de Gimnasia today presented the Rhythmic Gymnastics World Cup at an event held at Guadalajara City Hall. In this championship, which will start on Friday 2 June and will last the entire weekend, the best rhythmic gymnasts in the world will compete.
The mayor of Guadalajara, Antonio Román, the Iberdrola representative in the 'Universo Mujer' initiative, Noelia Florín, and the president of the Real Federación Española de Gimnasia, Jesús Carballo, presented the poster for this competition.
The World Cup, for which Iberdrola is the main sponsor, is the biggest rhythmic gymnastics event held in Spain this year, and in Guadalajara for the second year running. Last year, at this same competition, the Spanish rhythmic team won a gold medal.
This edition is the second of the four to take place this year. 41 individual gymnasts and 14 squads from a total of 24 countries will be taking part. They include Russia, current Olympic champion, with individual gymnasts and with a squad that includes some of the athletes who took part at Rio.
On Saturday there will be a tribute to Carolina Pascual, who won silver in the individual category at Barcelona 92, which was the first Olympic medal won by a Spanish rhythmic gymnast, to celebrate the 25th anniversary of the Games.
On Sunday, the tribute will be to the Rio squad, which won the Olympic silver. Also on Sunday, in the morning, Margarita Mamun - current Olympic champion - will give a masterclass to the first hundred girls to enrol in a list that took seven minutes to fill.
Iberdrola, the mainstay of 'Women, Health and Sport'
Under the agreement with Spain's Higher Council for Sport (CSD), Iberdrola supports various sports federations, including gymnastics, swimming, football, triathlon, badminton, canoeing, rugby, handball, volleyball and hockey, plus other possible additions in the future. These sports have been chosen on account of the extraordinary level of success achieved in them, the high rate of participation, the existence of schemes to promote the sport at the grass-roots level, and other social projects.
The 13 May saw the start of the Iberdrola Circuit, in which the eight best female rhythmic gymnastics clubs from each autonomous region competed. This new circuit opens up new possibilities for gymnasts who have not been able to take part in national championships to compete in a competition among clubs.
The aim of the Iberdrola Circuit is to create a competition in which clubs from around the country will take part in classifying rounds, with the best club in Spain resulting from the final round. Its implementation is intended to bring better media coverage to this discipline and by doing so to increase the number of women taking part in this sport.
Iberdrola is the first company to make a global commitment to promoting the participation of women in every area of sport.
The company is also one of the leading sponsors of the Spanish Paralympic Team and the Paralympic Sailing Team. It has been involved in the Paralympic Sport Support Plan (ADOP) since it was launched in 2005, and backed the Spanish Paralympic Team at the Beijing 2008, London 2012, and Rio de Janeiro 2016 Games. The group's contribution to Paralympic sport was acknowledged in 2013 with the Olimpia Award from the Higher Council for Sport (CSD):