News Back
29/05/2020
During his virtual participation in the ministerial round table on 'mobilising resources to ensure safe and sustainable electricity systems', organised by the International Energy Agency (IEA)
Ignacio Galán: "The countries with the most attractive regulatory frameworks will receive the highest volumes of investment, which will generate hundreds of thousands of jobs"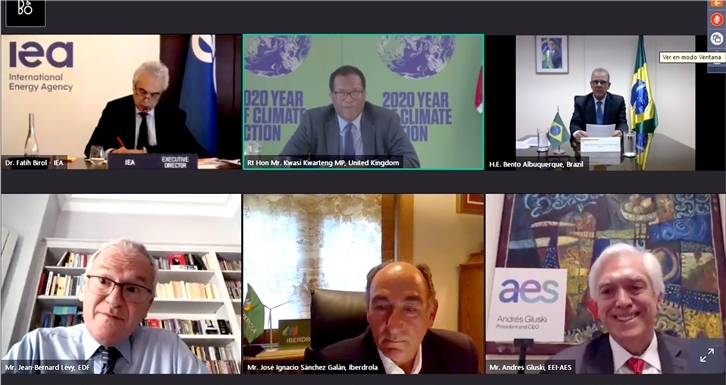 "If we want our societies to benefit from the process of decarbonising the economy, we must invest decisively in electrification, renewables, storage and networks", said the Iberdrola chairman
Iberdrola chairman Ignacio Galán has made it clear this afternoon that, in the new global scenario that opens up after the pandemic, the competition to raise resources will be very intense and that we must be prepared to face it.
"Every country is realizing that the decarbonisation of the economy is not only an opportunity to improve people's health but also to increase competitiveness and reduce energy dependence", he stated during his virtual participation in the ministerial round table on resource mobilisation to ensure electricity systems are safe and sustainable, organised by the International Energy Agency (IEA).
For this reason, Galan continued, "there will be growing competition to attract the necessary technological and financial resources" in order to complete this decarbonisation. Therefore, "those countries that have the most stable, predictable and attractive regulatory frameworks will be those that receive large volumes of investment, which will generate hundreds of thousands of jobs".
As the chairman of Iberdrola explained at the IEA round table, in which government representatives and energy ministers participated from countries including the USA, the UK, Brazil, China and Japan[1], as well as senior officials from leading companies in the global energy industry, "if we want our societies to benefit from the decarbonisation of the economy, we must invest heavily in electrification".
While highlighting the key role played by the electricity sector during the pandemic, the Iberdrola chairman said the time has come to focus on recovery and to transform a crisis situation into an opportunity: "An opportunity to promote a new, more sustainable and competitive energy model and to create quality jobs throughout its value chain", Galan said.
Iberdrola believes that the electricity sector is in the best position to lead this process, without imposing a burden on public finances, given that it has the relevant technology and knowledge.
The group has already announced that it is ready to accelerate its investments, which will mean more growth, more jobs and greater value creation for all its stakeholders: shareholders, suppliers, employees and society at large.
The company plans to invest a record 10 billion euros this year –double the average for the last five years-, in renewable energy, smart grids and efficient storage, as well as to hire 5,000 professionals and to support through its projects the 400,000 jobs that depend on its roughly 20,000 suppliers worldwide.
[1] Kwasi Kwarteng, British Energy Minister;
Bento Costa Lima Leite de Alburquerque junior, Brazilian Minister Of Mines And Energy;
Hiroshi Kajiyama, Japanese Minister Of Economy, Trade And Industry;
Lu Baohua, Deputy Minister at the Chinese National Energy Administration
Mark Menezes, U.S. Undersecretary of Energy