News Back
06/02/2023
The Renewable Hydrogen Coalition, chaired by Ignacio Galán, meets with Frans Timmermans to boost EU leadership in green hydrogen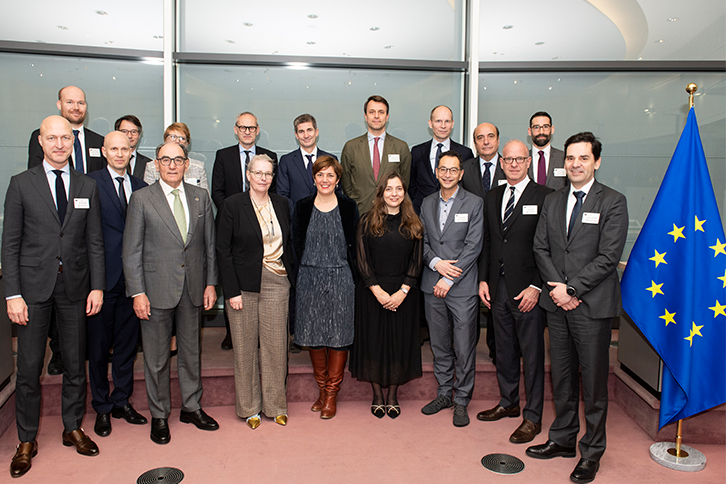 Simplicity, scale and speed. These were the key messages at the meeting held by the Renewable Hydrogen Coalition, chaired by Ignacio Galán since its creation, with the Vice-President of the European Commission in charge of the European Green Deal, Frans Timmermans, to analyse how to make the European Union a more attractive area for investment and continue to maintain its leadership in the development of green hydrogen.
During the meeting, which took place in Brussels, the key role of financing and support to further promote a competitive renewable hydrogen industry in a strong European internal market was discussed. The Net Zero Industry Act and the EU Hydrogen Bank, two forthcoming support packages and funding mechanisms, were also discussed.
The coalition also discussed EU policy issues with Stina Soewarta, Head of Cabinet of the Vice-President and Commissioner for Competition, Margrethe Vestager.
The meetings took place the day after the European Commission outlined its intentions for the Green Deal Industrial Plan.
Commenting on the proposals, Iberdrola's Executive Chairman, Ignacio Galán, said: "The measures set out by the European Commission are a step in the right direction to reinforce the European commitment with decarbonization. We agree with the European Commission on the need for faster approvals for clean energy projects, more skills and training and new sustainable industries in Europe. Now the Commission and Member States need to move as fast as possible to put clear and stable policies and regulations in place. Reinforcing common principles and the Internal Market will be vital for Europe to continue attracting the massive investments required to reach our energy and climate targets and create jobs."
The Renewable Hydrogen Coalition was established in 2021 and is made up of Europe's leading renewable hydrogen energy, technology and project development companies. The coalition argues that green hydrogen is a major opportunity to decarbonise sectors that cannot be electrified and to boost industrialisation and skilled employment in Europe. Furthermore, it argues that to accelerate the expansion of renewables, state and predictable regulatory frameworks are required.