News Back
18/01/2023
"The United States and Europe have to move forward together to decarbonise the economy," says Ignacio Galán on CNBC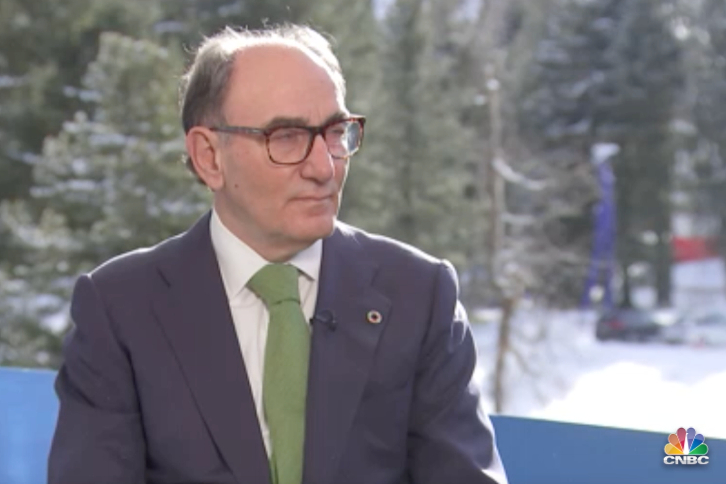 In a live interview with the TV channel, Iberdrola's chairman argues that Europe is not lagging behind in the drive for energy transition.
"I believe that the solution to achieve decarbonisation is not one against the other, but side by side. It is not Europe versus America or America versus Europe. Americans and Europeans have to move forward together to decarbonise the economy". Iberdrola's Chairman, Ignacio Galán, made this statement in a live interview with the economic TV channel CNBC on the occasion of the Davos 2023 Forum, in which he is participating.
His response to the media asking him about Europe's apparent loss of leadership in the field of energy transition was clear. "I don't think Europe is lagging behind. Europe has been leading on energy transition and decarbonisation for many years. Now the US is moving [referring to the Biden Administration's Inflation Reduction Act], but Europe was already on that path. The point is that we have to adjust European legislation because others are also moving," he explained.
"America is offering good and attractive legislation and now Europe has to adapt its legislation to remain as attractive as it was," the Iberdrola chairman said.
Galán gave as an example of how fruitful collaborations can be the alliances that the company is fostering to promote the electrification of the economy and the development of renewables. Among other agreements, he mentioned the Iberdrola Group's agreement with Shell to promote the development of offshore wind power in Scotland, the agreement reached with BP to accelerate the deployment of charging infrastructures for electric vehicles, and the very recent agreement with Norges Bank to
co-invest in renewable capacity in Spain. "It is not about competition, but about collaboration. Together we can go further and faster", he reiterated.
Thus, he expressed a very encouraging view of the energy transition. "I am optimistic. Everyone is aware that we need to move faster and that we need clear, stable and predictable rules.
This growing awareness of the need to speed up legislation, permits and investments will contribute significantly to decarbonisation. "The problem of external dependence on fossil fuels is not only a climate problem, but also a self-sufficiency problem. That is putting in everyone's mind that we need to accelerate the construction of renewables, the digitalisation of the grid and provide services based on full electrification." An awareness, he said, that will help promote investments in the energy transition.
Galán once again advocated the need to electrify the economy and increase renewable technologies as a solution to this situation of energy dependence. "Around 80 % of today's energy comes from fossil fuels. Only 20 % is electricity. And almost half of that electricity comes from fossil fuels. In his opinion, the key is "how can we get that 20% of electricity to be produced entirely from renewables and how can we increase the share of renewables in the total energy mix".