News Back
16/03/2022
Urkullu and Galán agree that trust between companies and institutions is key to improving citizens' welfare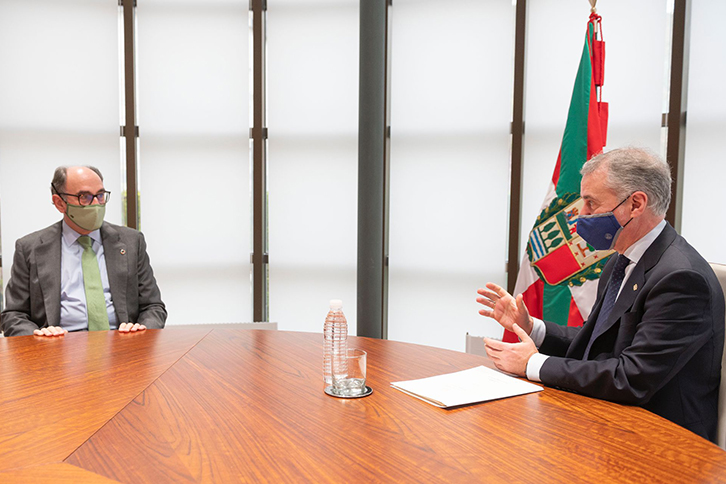 The Chairman of Iberdrola showed the Lehendakari the figures that demonstrate the company's commitment to the Basque Country
Iberdrola, which in 2021 contributed €1.738 billion to the Basque Country's GDP (2.3% of the total), will increase its contribution to the Basque economy by 20% between 2022 and 2025, reaching €10 billion
The Lehendakari, Íñigo Urkullu, and the Chairman of Iberdrola, Ignacio Galán, reaffirmed today in Vitoria the company's vocation to contribute to economic development and employment in the Basque Country, as is already demonstrated by the figures that link Iberdrola to the Basque Country.
"New investments in renewables, electricity grids and green hydrogen are the key to achieving energy autonomy, the importance of which has been highlighted by the tragic events in Ukraine," said the head of Iberdrola. Galán added that "electrification will generate new industrial development opportunities for Basque companies, both in electricity grids and renewable energies".
The Lehendakari and the chairman of Iberdrola agreed on the need to have frameworks that allow the necessary investments to be made to maintain energy autonomy and guarantee an adequate service, especially in times of uncertainty such as those caused by the war in Ukraine.
The company's plans will mean a total contribution of €10 billion to the Basque economy between 2022 and 2025, mainly in investments, purchases, salaries and tax revenues. This contribution represents an increase of 20% compared to the previous four-year period.