News Back
10/09/2021
Ignacio Galán praises Timmermans' leadership of the European Green Deal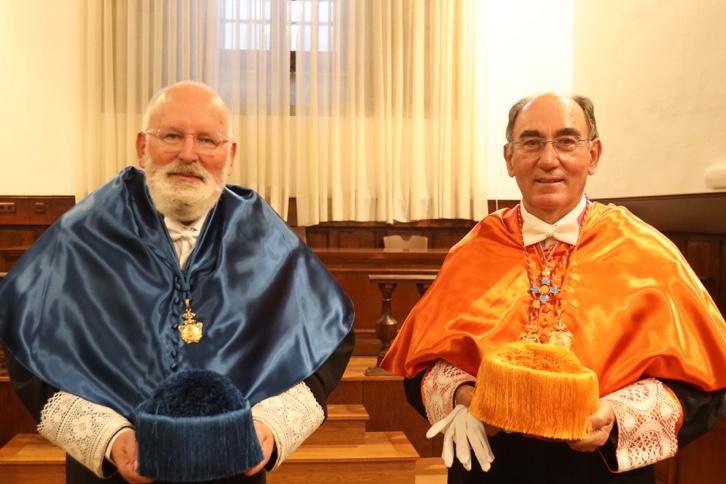 The chairman of Iberdrola and president of the Social Council of the University of Salamanca (USAL), Ignacio Galán, said how pleased he was to see Frans Timmermans, Executive Vice-President of the European Commission receive an honorary doctorate from the University of Salamanca during an ancient ceremony in Latin held in the Assembly Room of the "Escuelas Mayores" this morning.
"It is a well-deserved recognition of a life in public service", said Galán, "particularly his leadership of our continent's most transformational project: the European Green Deal. A programme that puts Europe at the forefront of the world in achieving climate goals and is transforming the economic and social model of our continent". 
The Iberdrola chairman went on to point out that "with the European Green Deal, Timmermans gives impetus to the work that the Commission has been doing for decades thanks to individuals such as Miguel Arias [Cañete], and that responds to three of European's main concerns: Speeding up the economic recovery, creating quality jobs and caring for the environment. And Spain's future lies in a solid, united Europe based on a stable, safe framework where public institutions and companies work shoulder to shoulder. Iberdrola has always been and always will be up to the task".