News Back
08/03/2020
The awards form part of the company's firm commitment to SDG 5 of the UN 2030 Agenda
Iberdrola is creating the Iberdrola SuperA awards, to promote and give greater visibility to women's sport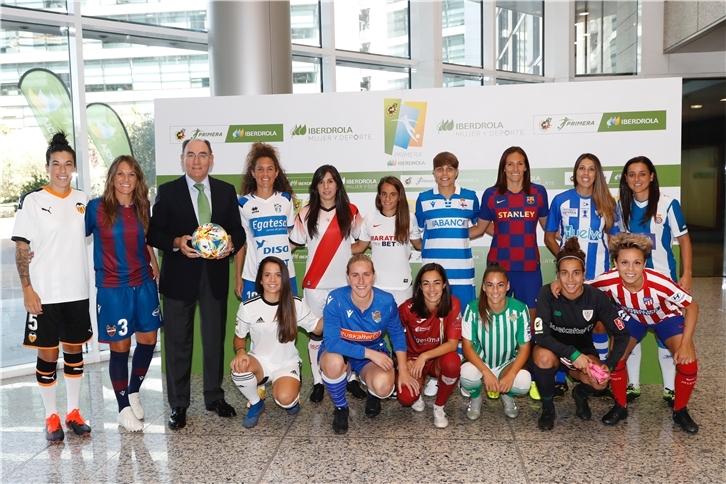 Today marks the start of the period for applications from candidates in the 5 categories: Iberdrola SuperA Base, Iberdrola SuperA Competición, Iberdrola SuperA Inclusión, Iberdrola SuperA Social and Iberdrola SuperA Difusión
The Jury of Honour, which will be made up of well-known personalities from the sporting world, will announce its verdict in July
Iberdrola is inviting applications for the first edition of the Iberdrola SuperA Awards, a series of awards designed to recognise and give visibility to the best initiatives in Spain in favour of gender equality and the empowerment of women through sport, and that are set to become a benchmark in the world of sport.
The company is thus moving forward in its commitment towards achieving UN Agenda 2030 Sustainable Development Goal (SDG) 5, focusing on gender equality.
The Iberdrola SuperA awards will be organised around 5 categories:
Iberdrola SuperA Base: this will recognise programmes centred on support for basic sport for girls and on improving their health, integration and quality of life.
Iberdrola SuperA Competición: this will back initiatives that favour the incorporation of women into competitions.
Iberdrola SuperA Inclusión: this will single out projects that provide an example and reference in the field of the integration of sportswomen with special abilities.
Iberdrola SuperA Social: this will reward actions that promote the social integration of girls and/or women through sport.
Iberdrola SuperA Difusión: this will support plans that have become benchmarks for publicising and raising the visibility of women's sport and that contribute in conveying the importance of the role of women in sport and society.
Each category will have the benefit of a financial provision of €50,000 to finance the proposed programmes, activities and projects. Applications are invited from individuals, business entities, associations, clubs, and national and regional sporting federations, both public and private, that are currently engaged in a career in sport, or in a project that is in keeping with the objectives of the awards. Applications from potential candidates will be accepted from today, 8 March, until 31 May and the rules can be found at www.premiosiberdrolasupera.es.
To select the winning proposals, Iberdrola will designate a Technical Committee who will do a preliminary assessment and will then choose an honorary panel to make the final selection. This panel will be made up of well-known sports personalities and its members will be announced in the coming weeks. In July the results of the Iberdrola SuperA Awards will be revealed, and the presentations will be made during the second half of the year.



Iberdrola, pioneers in promoting women's sport
Support for women's sport has become a keystone for Iberdrola and the promotion of true equality between men and women, one of its core values.
In line with its commitment to SDG 5 of the UN 2030 Agenda, in 2016 Iberdrola became the first company to make a firm and global commitment to equality and empowerment for women through sport. As of today, the company is supporting a total of 16 federations: gymnastics, triathlon, rugby, canoeing, badminton, football, handball, volleyball, hockey, table tennis, athletics, karate, boxing, surfing, ice sports and fencing. Iberdrola also lends its name to 22 national top-tier sports leagues, and over 35 competitions.
In parallel, the provision of resources, facilities, medical services and referees, as well as support and sponsorship for different initiatives in this field from Iberdrola has not only helped to increase the number of federated sportswomen in these disciplines by 32% (reaching 316,000), but is also allowing Spanish elite sportswomen who have developed their sporting career in other countries to start competing again in Spain, contributing to an improvement in the standard and visibility of national competitions.