News Back
24/09/2019
Within the framework of the Climate Week NYC
Iberdrola grows electrified fleet goals by signing on to EV100 initiative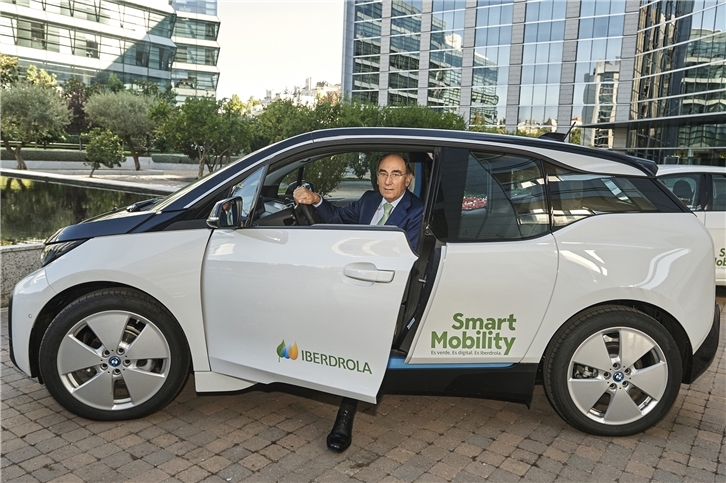 The agreement will see Iberdrola fully electrify its vehicle fleet and provide charging for staff across its operations in Spain and UK by 2030
Ignacio Galán, Chairman and CEO of Iberdrola, said: "we have been working hard to offer electric mobility solutions for our staff and our customers for a number of years, and the EV100 initiative perfectly fits with our ambitions"
Iberdrola, a world leading renewable energy company, has further enhanced its sustainable ambitions by becoming the first Spanish company to sign up to The Climate Group´s EV100 initiative.
EV100 is a global initiative bringing together forward-looking companies committed to accelerating the transition to electric vehicles (EVs) and making electric transport the new normal by 2030.
Under the agreement, sealed within the framework of the Climate Week NYC, Iberdrola will fully electrify its vehicle fleet and provide charging for staff across its operations in Spain and UK- where local EV market conditions make this possible- by 2030.
Iberdrola will also aspire towards this objective in Brazil, Mexico and the USA, but this will be reliant on national characteristics and further developments in the wider EV markets in each of these countries. As part of the partnership, Iberdrola will work with The Climate Group to engage key stakeholders in these countries to help overcome barriers.
Ignacio Galán, Chairman and CEO of Iberdrola, said: "Iberdrola has been leading the energy transition for twenty years and we support a wide range of initiatives designed to encourage a more sustainable planet. We have been working hard to offer electric mobility solutions for our staff and our customers for a number of years, and the EV100 initiative perfectly fits with our ambitions. The electrification of the transport sector, together with the increase in electricity coming from renewable sources, will help the fight against climate change, reduce pollution and increase energy efficiency."
Helen Clarkson, CEO, The Climate Group, said: "We are thrilled to welcome our first Spanish company to EV100. Iberdrola have committed one of the largest fleets in this round of announcements, with 3,500 vehicles set to go electric by 2030 – a great first step for EV100 in Spain, which hopefully sees further ambitious companies following suit. Climate Week NYC is a hugely exciting time for a company to come onboard, surrounded by likeminded, ambitious corporate leaders driving change across the globe."



A fleet of more than 3,500 vehicles across Spain and UK
This initiative will see Iberdrola have a fleet of more than 3,500 vehicles completely electrified in these two countries by 2030.
Light passenger cars and vans are included, as well as off-road vehicles used for windfarms and power line maintenance tasks like SUVs, pickup trucks and man basket cranes.
Iberdrola has already committed to installing up to 16.000 charging points at homes and 9.000 at workplaces in Spain by 2021. Beyond that, the company´s Smart mobility program for customers is increasing in popularity, which includes both the provision of a charging point and a special tariff to charge vehicles with green electricity.
In the UK, ScottishPower was the first energy company to offer and end-to-end EV ownership package for customers. Working with major car retailer Arnold Clark, buyers can purchase or lease an EV of their choice, book a home charging point installation and sign up to a smart 100% renewable electricity tariff as part of the same package.
In the US, Iberdrola´s subsidiary Avangrid just recently announced the expansion of its partnership with Nissan North America, seeking to provide 3.2 million customers and employees across New York, New England and Oregon with a $5,000 discount on the purchase of a Nissan LEAF EV. In addition, the company is also delivering a $34 million investment in the expansion of EV charging infrastructure across Maine and New York.