News Back
25/06/2020
Iberdrola puts two rapid charging points for electric vehicles into operation in Tarancón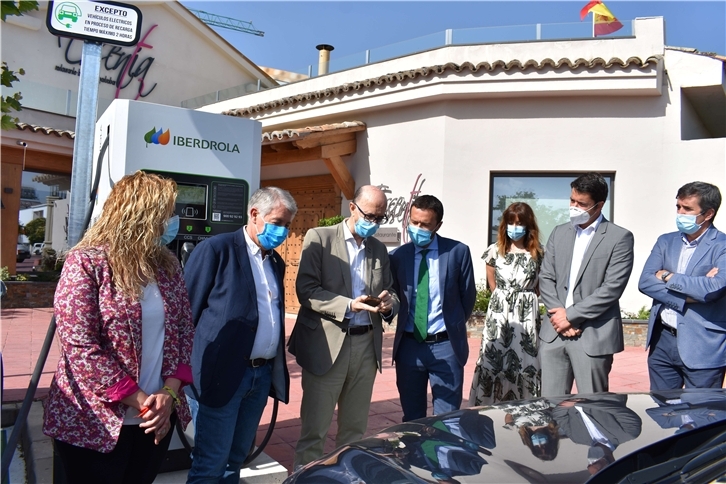 The company has rolled out its infrastructure in all the community's provinces and now has nearly 30 charging stations installed in the region
Iberdrola today commissioned two rapid charging points for electric vehicles for the public network of Tarancón Council, in Cuenca. The 50 kilowatt (kW) infrastructure allows simultaneous charging of up to four cars in an estimated time of approximately 30 minutes.
The councillor for sustainable development for Castilla-La Mancha, José Luis Escudero, and the general manager of energy transition for the Castilla-La Mancha parliament, Manuel Guirao, accompanied by Iberdrola's institutional delegate in Castilla-La Mancha, Venancio Rubio visited the rapid charging stations located in Avenida Adolfo Suárez this morning.
This initiative marks a further step forward in Iberdrola's plan to roll out sustainable mobility infrastructure in Spain, and in particular in this autonomous region where the company now has rapid charging points on the public highway in all the provinces. Tarancón, specifically, becomes the third municipality in the province of Cuenca to benefit from the company's electric chargers, making a total of almost thirty installed by Iberdrola in Castilla-La Mancha.
The users of these stations will be charging the batteries of their electric cars with 100% green energy from clean generation sources with certificates guaranteeing its renewable origin (GoO).



Iberdrola puts its foot down for electric mobility
Iberdrola continues to push its stance for transport electrification as part of its strategy towards a decarbonised economy, as a key lever in the reduction of emissions and of city pollution, as well as for green recovery in the post-Covid world.
In March the company decided to step up its sustainable mobility plan, by earmarking further investment - a total of €150m - to intensifying the implementation of electric vehicle charging points.
Its sustainable mobility plan entails installing around 150,000 electric vehicle charging points in homes, at business premises and on city streets as well as on the main motorways and highways over the next five years.
The Tarancón charging points already feature in Iberdrola's Public Charging App, a mobile application that checks all the operational electric charging points on Spanish public roads, both those installed by Iberdrola and by any other electric mobility operator. In the case of Iberdrola's charging points, these can be geolocated, booked and paid for through the app.