News Back
21/04/2021
The group now has more than €32 billion in green and sustainable financing with 90 % of its credit lines being sustainable
Iberdrola signs €2.5 billion new sustainable, multi-currency credit facility with pre-COVID conditions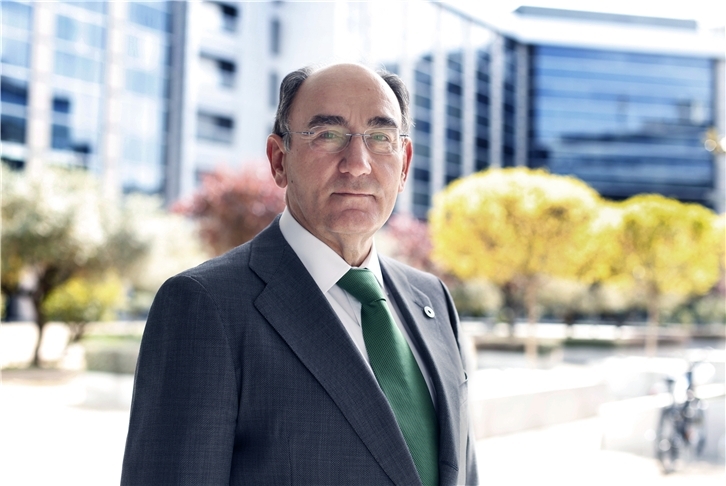 Signed with 21 banks, the line is linked to two sustainability indicators: the reduction of emissions by the company (SDGs 3 and 17); and a greater presence of women in leadership positions (SDG 5). It is also the first transaction of a Spanish company referenced to risk free rates instead of LIBOR
Social innovation: for the first time, the facility will include an annual contribution to a sustainable project. The contribution will vary according to the degree of utilisation of the line and it will be made in collaboration with the financial institutions, which reinforce their commitment to sustainability
Iberdrola has today signed a new credit line amounting to €2.5 billion with 21 banks, linked to sustainability indicators. The conditions of the subscription have pre-COVID levels, with prices similar to its last such transaction – in March 2019 – despite the current banking environment.
The facility has a term of five years, extendable for a further two years, and is multi-currency. These conditions demonstrate the confidence in the group's financial strength and strategy. Iberdrola is currently executing a major €75 billion investment plan up to 2025, focused on renewables and networks. It is also the first transaction of a Spanish company referenced to risk free rates (RFR) instead of LIBOR, with the indices serving as a model for future financing.
This new credit line is subject to two sustainability indicators, related to environmental and social issues. Based on performance, the margin of the operation can be adjusted step up or step down.
The first indicator is related to the group's emissions reduction, in line with UN Sustainable Development Goals (SDGs) 3 and 17. Iberdrola's CO2 emissions target by 2025 is set at below 70 g/kWh. Emissions in 2020 were 98 g/kWh, a reduction of 11 % on the year before. The second indicator is associated with the increase in the number of women in leadership positions in the company. In this regard, Iberdrola has proposed that 30 % of these positions should be occupied by women by 2025, in line with UN SDG 5, related to gender equality.
Iberdrola and the banks involved in the operation have also introduced, for the first time, a third social factor. Each year, a financial contribution will be made by Iberdrola to a sustainable project, for an amount depending on the degree of utilization of the line. The beneficiary project will be defined in 2022 and the first contribution will be made in 2023. Thus, the financial institutions syndicating this credit facility also demonstrate their sustainable commitment to a project, aligned with SDGs 5, 7 and 13 to which the operation is linked.
BBVA acted as the agent bank and sustainability coordinator, together with Unicredit.
With today´s agreement, Iberdrola has moved closer to its goal of having 100 % of its credit lines green or sustainable by 2025, which currently stands at 90 %. The company led the way in sustainable financing. In 2018 Iberdrola closed the largest ever credit facility (€5.8 billion) under sustainability criteria.
The facility signed today also meets the Sustainability-Linked Bond Principles of the Loan Market Association and will benefit from the independent opinion of VigeoEiris.



Global leader in sustainable and green finance

Iberdrola has consistently led the way in sustainable financing. The company is the largest private green bond issuer in the world and was the first Spanish company to issue green bonds in 2014. In 2016, the company also underwrote the first green loan for an energy company, amounting to €500 million.
At present, the group has outstanding green or sustainability-linked financing of more than €32 billion, of which more than €13 billion are green bonds. Also, 90 % of its credit lines already incorporate sustainable criteria.
Iberdrola's strategy is for its financing structure to have an increasingly higher percentage of green and sustainable products, reaching 63 % of the total by 2025. Specifically, 100 % of its credit lines and 70 % of its hybrid bonds will meet these characteristics this present year.
This approach to financing responds to the major €75 billion investment plan launched by Iberdrola between now and 2025, aimed at doubling its renewable capacity to 60,000 MW and increasing the value of its network assets to €47 billion. A plan that aims to promote the decarbonisation of the economy and, with it, economic recovery and employment. With planned investments by 2030 standing at €150 billion, the group will reach an installed capacity of approximately 100,000 MW.