News Back
18/11/2020
"Investments in clean energy must be tripled"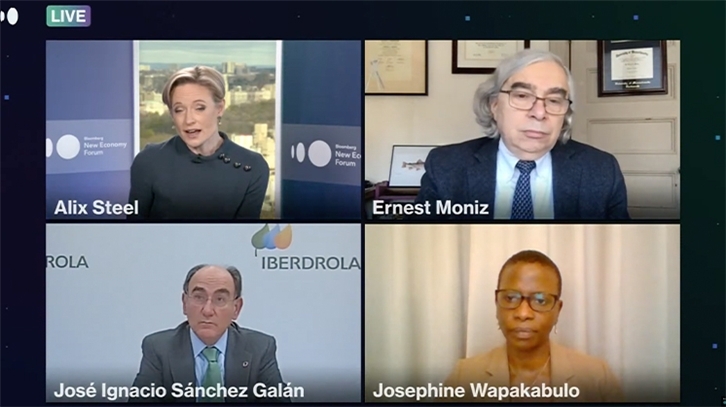 Iberdrola's chairman, Ignacio Galán, took part in Energy's New "Prize" panel at the Bloomberg New Economy Forum held virtually from 16 to 19 November under the title A Global Town Hall, where energy, climate and sustainability were discussed.
The discussion sought to identify what the new energy economy and the geopolitics surrounding it will look like. In addition to the need to triple investment in renewables, Ignacio Galán reiterated the key role of green hydrogen in electrifying certain industrial processes and sectors such as maritime transport and aviation.
Investment in clean energy must triple to meet the greenhouse gas emission cuts and efficiency measures committed so far.
Among the main conclusions were the essential role of recovery plans in the energy transition and the green economy, the capacity of the energy sector to generate growth accompanied by job creation, and the electrification of the economy as a crucial vector of decarbonisation.
Galán was accompanied by Ernest Moniz, CEO of EJM Associates and Energy Futures Initiative (EFI) and former U.S. Secretary of Energy; and Josephine Wapakabulo, founder and CEO of TIG Africa and former CEO of the Uganda National Oil Company.
The Bloomberg New Economics Forum brings together leaders from East and West to discuss the most pressing problems facing the global economy and to propose solutions.