News Back
09/06/2022
€50,000 for each award-winner, this year they include a new category for mental health
A total of 600 projects will compete in the third edition of Iberdrola's Supera Awards to promote equality through sport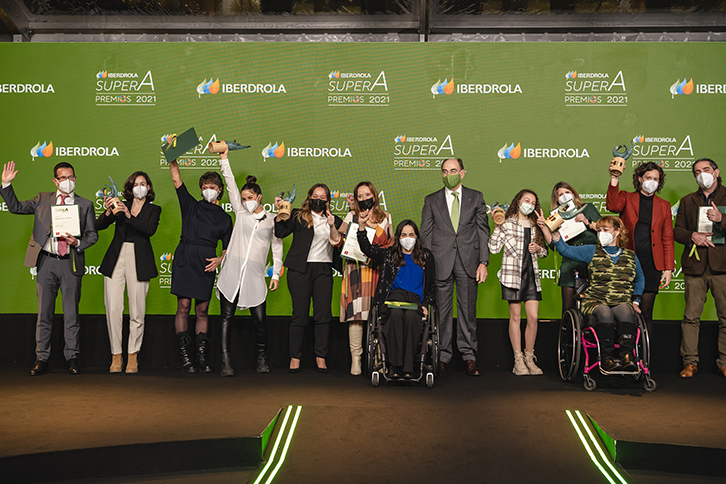 The initiative, aimed at promoting gender equality through sport, will recognise projects in six categories: grassroots sport, incorporation into competition, social integration, inclusion, dissemination and visibility, and mental health care.
In this edition, Susanna Griso, Sonsoles Ónega and Eli Pinedo will join the Jury of Honour, joining thirteen other Spanish sports personalities such as Carolina Marín, Manu Carreño and Vicente del Bosque.
The Iberdrola Supera Awards, which will recognise the best projects in favour of gender equality and women's excellence through sport, received a total of 600 nominations in its third edition.
The awards, which this year include a new category in the field of mental health, are each worth 50,000 euros. The initiatives are related to the promotion of grassroots sport among girls up to the age of 16 (Supera Base); helping the incorporation of women into competition (Supera Competition); the inclusion of women with special abilities in sport (Supera Inclusion); the integration of women into society through sport (Supera Social); increasing the visibility of women's sport (Supera Dissemination); and the sustainable development and care of mental health within the sporting sphere (Supera Mental Health).
The Jury of Honour, which will have to select the winning projects, will be joined this year by the journalists Susanna Griso and Sonsoles Ónega, as well as the handball player Eli Pinedo, who join the eleven women and four men, all of them well-known personalities from the world of sport and Spanish journalism: Ona Carbonell, Amanda Sampedro, Carolina Marín, Javier Fernández, Jesús Carballo, Manu Carreño, Marta Arce, Paloma del Río, Sandra Sánchez, Silvia Navarro, Teresa Perales and former national football coach, Vicente del Bosque.
With 600 candidatures submitted in this edition alone, the Iberdrola Supera Awards have widely consolidated the interest of federated athletes, sports associations and clubs, national and regional federations, schools, institutes and different public and private entities in getting involved in the initiative.

Winning initiatives in 2021
Among the initiatives presented in the 2021 edition, the winners were the following projects: Training in Values through Acrobatic Gymnastics (SuperA Base); Women's Hands, we compete to inspire (SuperA Competition); It's never too late (SuperA Dissemination); 1st School of adapted cycling (SuperA Inclusion); Donosti Cup (SuperA Social) and Clean Water (SuperA Sustainability).
The Iberdrola SuperA Awards are aligned with the Sustainable Development Goals (SDGs) of the United Nations 2030 Agenda, specifically number 5: Gender equality and empowerment of women.

Iberdrola, a pioneer in promoting sport for women 
The promotion of sport by women has become a key lever for Iberdrola and the promotion of real equality between men and women, one of its core values. In 2016, Iberdrola became the first company to make a firm and global commitment to equality and the empowerment of women through sport. The company currently supports 32 federations: gymnastics, triathlon, rugby, canoeing, badminton, football, handball, volleyball, hockey, table tennis, athletics, karate, boxing, surfing, ice sports, fencing, underwater activities, bowling, winter sports, weightlifting, judo, Olympic wrestling, mountaineering and climbing, swimming, skating, pelota, rowing, squash, taekwondo, tennis, archery and sailing. It also gives its name to 32 leagues, all of them at the highest level, and to 100 other competitions with a naming right.
Reducing the gender gap in sport is a commitment to women's equality through excellence and translates into an important reference point for girls, from their practice of physical activity and sport at all levels of the education system, to show them that the path to federated sport and high performance is also possible for them.