News Back
18/07/2019
In compliance with the World Health Organization (WHO) model
Iberdrola is the first company to obtain the AENOR Healthy Company Certificate for its worldwide activities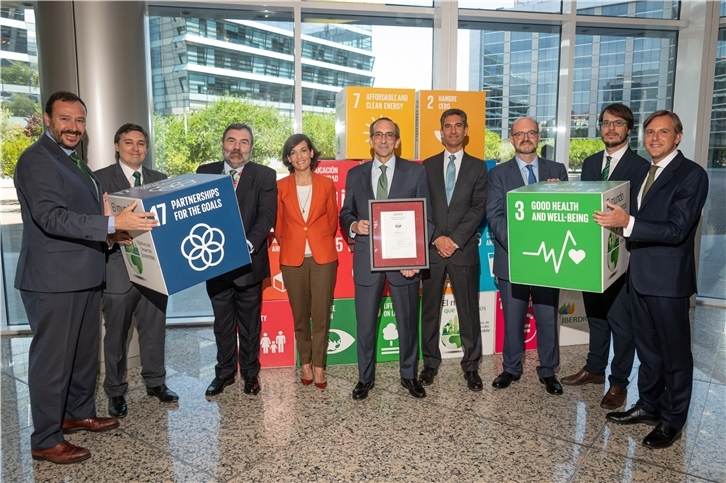 The certification covers all the companies of the group, which currently has employees in 25 countries
Iberdrola has become the first multinational company to obtain the Healthy Company Certificate awarded by the Spanish Association for Standardisation and Certification (AENOR) for its worldwide activities, in compliance with the World Health Organization (WHO) model.
This multi-site certification, which was awarded by AENOR, has been validated for all the companies of the group, which currently has employees in 25 countries. The certification takes into account a number of variables including: physical environment, health, psychosocial and community.
The recognition confirms the commitment by the group's management to implementing and promoting a continuous improvement process to protect and promote the health and safety of all professionals and the sustainability of the workplace. For example, Iberdrola offers its team numerous measures to improve their well-being and work-life balance including: health plans, sports facilities, a medical and physiotherapy service at a large number of its work centres and awareness campaigns, among others.
Similarly, the company has just implemented a healthy company management system, based on the Plan-Do-Check-Act methodology, which will initially run for three years, up to 2022.
Obtaining this important certification is part of the Iberdrola group's global commitment to quality, which covers the excellent management of all processes and resources as an essential lever in creating value for people: shareholders, customers, employees and other company stakeholders.



Iberdrola, committed to the SDGs
Iberdrola has fully incorporated the Sustainable Development Goals (SDG) into its strategy. The goals are part of the 2030 Agenda and were approved by the UN in September 2015.
In line with its activities, Iberdrola focuses its efforts on the provision of affordable and clean energy (Goal 7) and climate action (Goal 13). By obtaining the AENOR Healthy Company certificate, Iberdrola is also contributing to the fulfilment of SDG 3 (good health and well-being) and 17 (partnerships for the goals).
In addition, the group contributes directly to ensuring clean water and sanitation (Goal 6), it has increased its investment in R&D activities to 270 million euros in 2018 (Goal 9), promotes respect for the life of terrestrial ecosystems (Goal 15) and contributes indirectly to the other SDGs.