News Back
04/08/2017
This was the improvement and maintenance work performed in the first six months of the year
IBERDROLA inspects over 32,000 km of power lines in Spain to boost supply security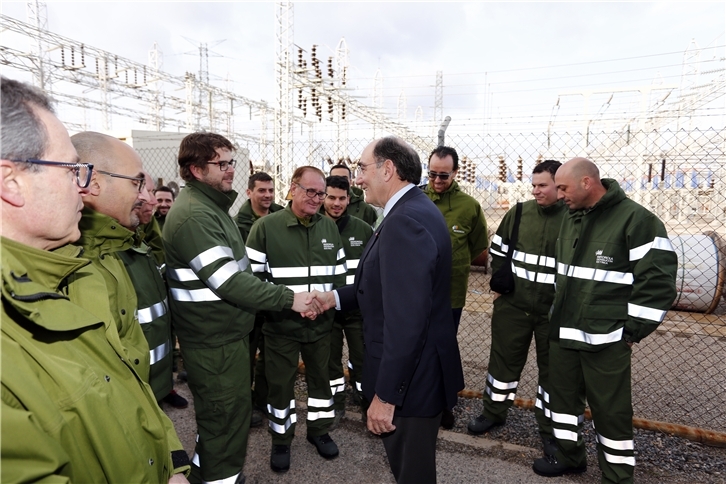 The company inspected very high, high and medium voltage overhead and underground power lines to guarantee their reliability and optimum functioning
It performed inspections on 19,600 km of overhead power lines and on a further 7,000 km of underground power lines. This was in addition to thermographic inspections of 4,400 km and maintenance work on a further 1,600 km of the corridors through which the power lines pass.
Iberdrola Distribución inspected over 32,000 km of power lines in Spain in the first six months of the year to boost supply security, with the ultimate goal of improving the quality of the service it offers.
The company inspected very high, high and medium voltage power lines to guarantee their reliability and optimum functioning even in adverse weather conditions.
From the beginning of the year until June, Iberdrola inspected some 19,600 kilometres of overhead power lines and an additional 7,000 kilometres of underground power lines. It also conducted thermographic testing on 4,400 km and performed pruning and maintenance work on electricity corridors spanning 1,600 km.
The inspections of overhead power lines are geared towards detecting possible anomalies in the elements that make up installations of this type: insulators, conductors, fittings, pylons, etc. that have been damaged by lightning, trees, construction work or adjacent buildings, for example.
The company also performed infra-red or thermographic tests on some 4,400 km of overhead power lines. This kind of inspection of electricity infrastructure is performed with special cameras transported by helicopter or by a team of workers on the ground. It allows the temperature of the installations to be measured, to detect any spots where temperatures are too high ("hot spots") so that they can be corrected and supply can be guaranteed in the event of peak demand.
Iberdrola also carried out cleaning operations in the corridors through which its lines pass, pruning the trees that posed the greatest risk of coming into contact with about 1,600 km of power lines.
This power line inspection campaign is part of the company's work to improve its electricity installations, with a view to improving the quality and security of its energy supply.
Significant investment efforts by the company in Spain
Iberdrola Distribución closed the 2016 financial year having earmarked investment of 537 million euros for the improvement of its distribution network and the gradual introduction of smart electricity grids in Spain.
As a result of the ongoing automation of the network, the development of smart grids and investment in new facilities and the renovation of existing facilities, Iberdrola has set its electricity service availability index at 99.99%.
The future is heading toward increasingly smarter, safer and more reliable networks, challenges which Iberdrola Distribución takes head on as a company which leads in innovation so as to offer a better service each day to its customers and society in general.