News Back
18/03/2021
Iberdrola and the Ministry of Defence extend their collaboration in research and training programmes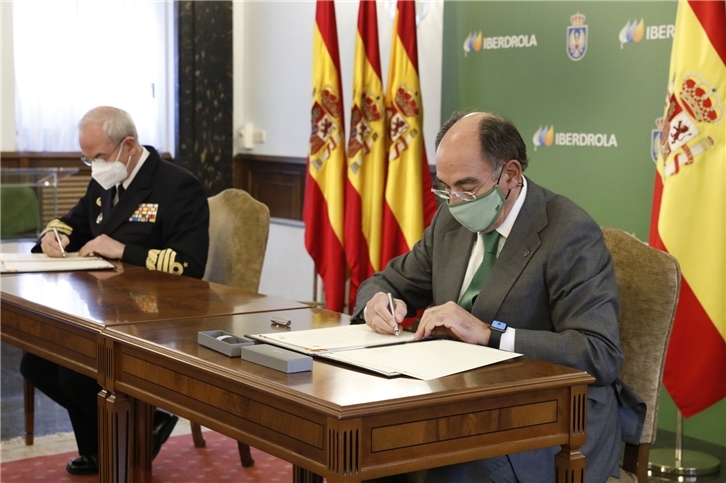 A new agreement has been signed on information exchanges between the company and the Armed Forces
The partnership is an extension of the framework agreement signed by both organisations in 2015 to develop dissemination initiatives on climate change, the SDGs and equality
Iberdrola Chairman, Ignacio Galán, and Defence Chief of Staff (JEMAD), admiral general Teodoro E. López Calderón, representing the Ministry of Defence, have today signed a collaboration agreement with the aim of developing research and training programmes covering a number of areas of interest for both parties.
The agreement ratifies the commitment on both sides to consolidate public/private R&D&i schemes to facilitate information exchanges, enable institutions to equip themselves with new tools to improve the fulfilment of their function, and enhance the competitiveness of businesses. This new accord includes the financing of educational activities, such as doctorates and masters, as well as the implementation of new technologies to develop virtual teaching in the Armed Forces.
The partnership is an extension of the framework agreement signed by both organisations in 2015 through which various activities have been undertaken such as seminars on the challenges of climate change for defence, and workshops analysing the role of the Armed Forces and their collaboration with businesses in meeting the UN Sustainable Development Goals as well as the role of professional women in the Armed Forces and in civil society. In addition, a host of best practice exchange projects have been initiated with the Military Emergencies Unit, providing mutual technical and logistical support, and emergency simulations.
During the signing ceremony at the headquarters of the Higher Centre for National Defence Studies (CESEDEN) - the main joint military teaching facility for the Armed Forces - Ignacio Galán declared:"it is very satisfying to be here today to renew this agreement reaffirming the dedication of the Armed Forces and Iberdrola to promote training and the updating of knowledge and to provide us with professionals and specialists capable of successfully tackling the new challenges of a world in a permanent state of transformation."
For his part, Admiral López Calderón said: "Iberdrola's ongoing support for the Armed Forces in different fields related to knowledge is a powerful tool for generating innovation in Spain. The permanent cooperation of Iberdrola with the Ministry of Defence has contributed to the enhancement of CESEDEN's training work and, as a consequence, to innovation at the heart of the Armed Forces."