News Back
15/12/2020
The energy company installs electric vehicle charging points at the Max Center (Vizcaya) and Área Sur (Cadiz) shopping centres, and is finalising those at the Milenium Centre in Madrid
Iberdrola and Sonae Sierra promote electric mobility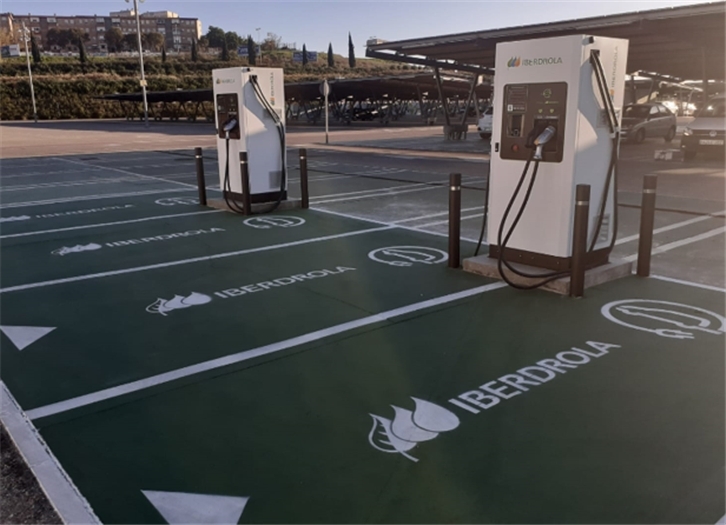 Visitors using this infrastructure will be able to charge their electric car batteries with 100% green energy from clean energy sources with certificates guaranteeing its renewable origins (GoO)
Iberdrola is moving full speed ahead with its sustainable mobility plan, which entails installing 150,000 electric chargers in homes, companies and on the public road network over the next five years
Iberdrola and Sonae Sierra are committed to electric mobility as a way to combat climate change. To this end, the energy company has just installed rapid charging points for electric vehicles at 2 shopping centres managed by Sonae Sierra: Max Center, located in Barakaldo (Vizcaya), and Área Sur, in Jerez de la Frontera (Cádiz). They will soon be joined by the Milenium shopping centre, also managed by Sonae Sierra and located in Majadahonda (Madrid), where Iberdrola is putting the finishing touches to the installation of this infrastructure.
With this infrastructure in place, people using these three shopping centres will be able to charge their electric car batteries in approximately 30 minutes using completely 100% green energy, from clean sources, which have certificates guaranteeing its renewable origins (GoOs).
With this initiative, Iberdrola progresses in its plan to roll out sustainable mobility infrastructure across the country. The charging points are now registered on the Iberdrola Public Charging app, the only app in Spain that incorporates verified information from all the electric vehicle charging points, those that belong to Iberdrola as well as other operators. The app enables drivers to locate charging stations, check the operational status in real time, reserve a charging point as well as pay with a mobile phone.
"This strategic agreement emphasises the importance of working in collaboration with all the players involved in sustainable mobility. Sonae Sierra is an excellent partner with whom to develop our roll out implementing charging solutions and thus respond to the challenges of electric mobility in our country", explains Raquel Blanco, Global Director of Smart Mobility at Iberdrola.
Meanwhile, Enrique Suárez, Sonae Sierra's Director of Operations in Spain, highlighted: "We are living in changing times where it is vitally important to promote innovation, adaptation and transformation. At Sonae Sierra, we have been pioneers in integrating sustainability principles into the property sector, and this partnership with Iberdrola is a highly significant step in our strategy towards achieving more sustainable mobility".



Electric mobility and green recovery
Iberdrola continues its commitment to transport electrification in its transition strategy towards a decarbonised economy, as a key way of reducing emissions and pollution and ensuring the green recovery.
The company is implementing a sustainable mobility plan with an investment of 150 million euros, resulting in an increased roll-out of charging points for electric vehicles over the coming years.
The initiative will see the installation of around 150,000 charge points in homes, companies and on the public road network in cities as well as on the main motorways and highways over the next five years. The commitment to deploying high-efficiency charging points will include the company installing ultra-rapid (350 kW) charging points every 200 kilometres, super-rapid points (150 kW) every 100 kilometres, and rapid (50 kW) points every 50 kilometres.
Iberdrola is aware of the need to boost electric mobility in Spain through coordinated, effective action involving the major players. The company continues to identify opportunities to generate an industrial, commercial and innovation ecosystem to consolidate the development of sustainable mobility. As a result, it has now completed more than 40 infrastructure roll-out agreements with government departments, institutions, companies, service stations and vehicle dealers and manufacturers.
The company has recently become the first Spanish business to subscribe to The Climate Group's EV100 initiative, with the aim of accelerating the transition towards electric vehicles with a commitment to electrifying its entire fleet of vehicles, enabling staff to charge their vehicles at its outlets in Spain and the United Kingdom by 2030.