News Back
23/03/2021
Speaking at the opening session of the EU Clean Energy Summit, alongside Executive Vice-President Frans Timmermans
Ignacio Galán supports Europe's leadership in the green recovery of industry and jobs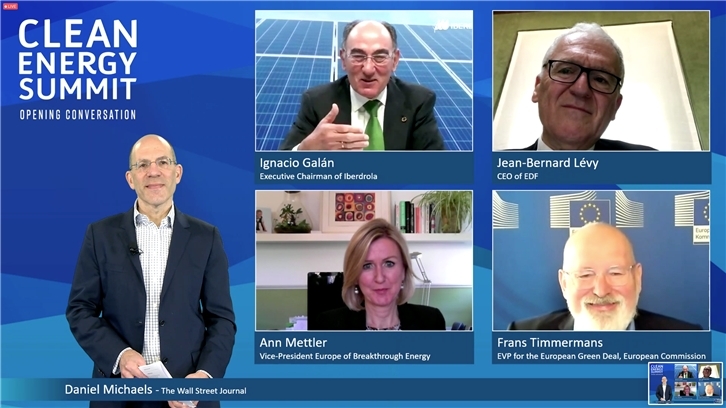 With regards to the EU Funding, he states: "There will be massive competition and we have to use the funds in an intelligent way, promoting sectors of the future and not of the past, to ensure that public resources rally private investment."
The Next Generation EU programme, an opportunity to boost R&D: "Traditionally, other major economies have invested more in innovation than Europe, but we now have the opportunity to bridge the gap"
Urgency and optimism. These are the two key messages stressed by the Chairman of Iberdrola, Ignacio Galán, during his speech at the opening session of the EU Clean Energy Summit, organised with the support of the European Commission and in which Executive Vice-President of the European Commission Frans Timmermans also took part.
Galán stressed the need to act urgently so that Europe maintains its leadership in the transition to a low-carbon economy, driver of reindustrialisation and job creation: "We must do everything we can in this decade, we must be very ambitious and the time to do it is now. European leadership, key to the signing of the Paris Agreement, has already benefited the whole world and we must reinforce the work of recent years so that it translates into well-being and jobs for Europeans."
To this end, the continent already has massive social support, a strong political commitment to the European Green Deal, with the necessary technology and with companies prepared to invest massively. According to the Iberdrola Chairman, the necessary resources are also available, but, in this regard, "there will be massive competition and we have to use funds in an intelligent way, promoting sectors of the future and not of the past, to ensure that public resources rally private investment".
"We must put all our resources into zero-carbon technologies, not into technologies that will have a short life span. We must not think low-carbon, but zero-carbon. And in doing so we should always keep the social dimension in mind; if we do not work for a just transition, we will fail," he added.
As an example of future technology that is already available, he highlighted green hydrogen, which is key to electrifying industrial processes and heavy transport: "For example, we can already produce 100% clean fertilisers and ammonia but we can't wait any longer to extend low carbon technologies to other sectors, we must start now", said Iberdrola's chairman about the group's commitment to this technology, one of its growth drivers for the next few years.
The energy transition is therefore a great opportunity to recover Europe's industrial leadership, build a stronger and more sustainable economy and generate quality jobs. Boosting innovation will be key in this process, as Ignacio Galán pointed out: "Traditionally, other major economies have invested more in innovation than Europe but we now have the opportunity to bridge this gap."
In this regard, according to the European Commission, Iberdrola is the leading private utility company in Europe in terms of investment in R&D&I and the second in the world. In the past decade, it has invested more than €2 billion in innovation and development and in 2020 alone it allocated close to €300 million as it is strategic for guaranteeing the company's sustainability, efficiency and competitiveness.