News Back
20/07/2023
Ignacio Galán reaffirms commitment to invest in the USA at Avangrid's General Shareholders' Meeting
Ignacio Galán
Executive Chairman of Iberdrola
Avangrid is ready to lead the U.S. to a clean energy future and provide our customers with more secure, sustainable and affordable energy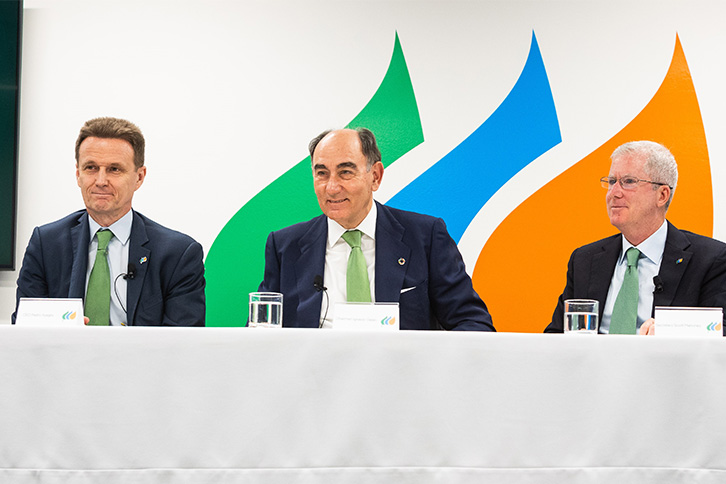 Avangrid, Inc. (NYSE: AGR), a leading sustainable energy company and member of the Iberdrola Group, today announced that shareholders overwhelmingly approved all presented proposals at its 2023 Annual Shareholder Meeting in Boston, Massachusetts. With overwhelming participation, approximately 98.5% of the shares present by proxy or in person, the vote indicates strong shareholder support for Avangrid's strategic direction and governance system.
The Chairman of Avangrid's Board of Directors, Ignacio Galán, addressed shareholders of the company at the annual meeting. During his remarks, he reaffirmed the company's investment commitment to accelerating the energy transition: "Now more than ever, we need to move forward on energy autonomy and decarbonization. Avangrid is ready to lead the U.S. to a clean energy future and provide our customers with more secure, sustainable and affordable energy. Our efforts will also create jobs and economic growth, promote environmental and social justice, and invest in our communities."
At the annual meeting, the Avangrid shareholders voted to elect each of the 14 nominees to the Board of Directors to serve one-year terms expiring at the company's 2024 annual meeting. Additionally, the Avangrid shareholders voted to ratify the appointment of Avangrid's independent public accounting firm, approve on an advisory basis the compensation of Avangrid's named executive officers, and approve amendments to Avangrid's by-laws to implement committee changes.
Avangrid CEO Pedro Azagra added, "Avangrid is proud to play a critical role in the United States' energy transition and be a central part of history in the making. We have a more than 20-year history of commitment to clean energy as part of the Iberdrola Group, giving us the experience and dedication to build a clean energy future for all. We will do this through the expansion of smart grids, continued transmission development, robust renewables growth and the development of green hydrogen."
During the meeting, Azagra also remarked on the company's 2022 achievements and future outlook:
Continued Investments: Avangrid invested $2.7 billion in its networks and renewables businesses in 2022.
Commitment to Customers: The company continues to support a stronger and more resilient grid for its customers through filed rates cases in all jurisdictions.
Delivering a Clean Energy Future for All: Avangrid is continuing transmission investments that will help deliver Maine and New York's clean energy visions, drive long-term growth and contribute to local economic development and job creation.
Clean Energy Leader: The company added nearly 400 MW of new onshore wind and solar, including its first utility-scale solar plant, Lund Hill. Avangrid's 8.6 GW renewables fleet now produces enough emissions-free electricity to power approximately 2.7 million homes.
Pioneer of Offshore Wind: Avangrid is on track to deliver power this year from the country's first offshore, large-scale wind power facility Vineyard Wind 1, which will soon serve 400,000 customers across Massachusetts.
The final voting results will be available on a current report on Form 8-K that will be filed with the Securities and Exchange Commission and posted on AVANGRID's website, www.avangrid.com.