News Back
01/07/2020
Its decision will be announced at the awards ceremony scheduled for the last quarter of the year
Thirteen famous figures from Spanish sport will decide the winners of the Iberdrola SuperA Awards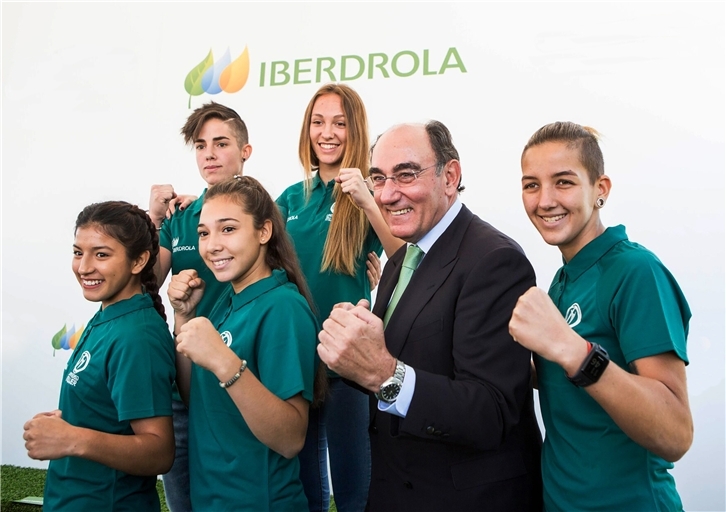 The Honorary Panel of Judges will be made up of eight women and five men, who will select the best initiatives: Amanda Sampedro, Carolina Marín, Conchita Martinez, Javier Fernández, Jesús Carballo, Manu Carreño, Marta Arce, Paloma del Río, Sandra Sánchez, Silvia Navarro, Talant Dujshebaev, Teresa Perales and Vicente del Bosque
The winners in each of the six categories will receive €50,000 to promote and give visibility to the empowerment of women through sport, in line with the company's commitment to SDG 5 regarding gender equality.
The Technical Committee of the Iberdrola SuperA Awards has already selected its Honorary Panel of Judges, which will be made up of thirteen famous figures from Spanish sport. Eight women and five men will decide the winning projects in each of the six categories at the very first of these awards: Iberdrola SuperA+, Iberdrola SuperA Base, Iberdrola SuperA Competition, Iberdrola SuperA Inclusion, Iberdrola SuperA Social and Iberdrola SuperA Dissemination. The following individuals will form part of this Honorary Panel of Judges:
Amanda Sampedro is one of the most recognised female football players in Spain. Three-time winner of the Iberdrola League, winner of the Queen's Cup and one of the country's leading players. Captain of the Spanish national team and Atlético de Madrid. She has played in two European Championships and two World Cups with the Spanish national team. She has a plaque on the Atlético de Madrid Walk of Legends.
Carolina Marín, the first Spanish badminton player ranked number 1 in history. Gold medallist at the Rio de Janeiro 2016 Olympic Games. Three times World champion (2014, 2015 and 2018) and four times European champion (2014, 2016, 2017 and 2018). She has won several top-tier international opens.
Conchita Martínez was ranked as high as number two in the world. She was the first Spanish female player to win Wimbledon in 1994 and the only player to win a medal at three different Olympic Games: silver and bronze at the Barcelona 1992 and Atlanta 1996 Olympic Games, and silver at the Athens 2004 Games. Finalist in two other Grand Slam events, the 1998 Australian Open and the 2000 French Open.
Javier Fernández, the best skater in Spanish history. Bronze medal at the 2018 Olympics in Pyeonchang, world champion in 2015 and 2016 and seven times champion of Europe (from 2013 to 2019). He took part in the Vancouver 2010 and Sochi 2014 Olympic Games.
Jesús Carballo, President of the Royal Spanish Gymnastics Federation. First Spaniard to win a medal at an Artistic Gymnastics World Cup. Double world champion in 1996 and 1999 and European champion in 1998 in the high bar. Competed at the Atlanta 1996 and Athens 2004 Olympic Games.
Manu Carreño, specialist sports journalist. Since 1994 he has worked at Antena 3, Onda Cero and Canal+. He has been presenting the Deportes Cuatro news programme since 2006, he is the main commentator on football matches broadcast by Mediaset and he has been directing the radio programme El Larguero on Cadena SER since 2016.
Marta Arce has dominated Spanish Paralympic judo in her category for 14 years in a row. Silver medals at the Athens 2004 and Beijing 2008 Olympic Games and bronze at London 2012.
Paloma del Río, a pioneer in Spanish sports journalism, she is the voice of TVE's broadcasts on rhythmic gymnastics, artistic gymnastics, figure skating and equestrianism competitions. She is currently the coordinator of Sponsorships and Federations. She has covered various European and World Championships, as well as eight Summer and six Winter Olympics. In 2015 she was awarded the Gold Medal of the Royal Order of Sports Merit and in 2019 the Ondas Best Presenter Award.
Sandra Sánchez, number 1 in the WKF world ranking and 2018 world champion. First in the WKF karate 1 premier league ranking and five-time European champion in 2015, 2016, 2017, 2018 and 2019. Gold medal at the Baku 2015 and Minsk 2019 European Games. World Beach Games Doha 2019. Bronze medal at the 23rd senior world championship 2016. National Sports Award 2017. Qualified for the 2021 Olympic Games.
Silvia Navarro, leading Spanish handball player. Silver medallist at the 2019 World Championships. Captain of the Spanish team. Bronze medal at the London 2012 Olympic Games, bronze medal at the World Championship in Brazil 2011, runner-up at the European Handball Championship in Hungary and in Croatia 2014.
Talant Dujshebaev, considered one of the best handball players of all time. Gold at the 1992 Barcelona Olympics, world champion in 1993, bronze at the 1996 Atlanta and 2000 Sydney Olympics. Silver at the 1996 and 1998 European Championships and bronze in 2000.
Teresa Perales, the world's second leading female athlete with the most medals at the Paralympic Games, with a total of 26 medals at the Summer Paralympic Games between 2000 and 2016. She won 22 medals in the World Adapted Swimming Championships from 1998 to 2019. Awarded the Olympic Order at the annual gala dinner of the Spanish Olympic Committee in 2019 and the Merit Medal in 2017. In 2012, she received the Grand Cross of the Royal Order of Sports Merit.
Vicente del Bosque, the only coach to have won World and European honours with clubs and national teams. As a Real Madrid footballer he won five Leagues and four King's Cups; as coach of Real Madrid, an Intercontinental Cup, two Champions Leagues and two Leagues, and as National Coach, a World Cup and a European Championship.
Each member of this Honorary Panel of Judges will select one nomination per category, so the nomination that receives the most votes in each section will be the winner. Finally, each of the selected projects will receive a financial grant of €50,000, with the aim of continuing to promote the best initiatives launched in Spain to promote gender equality and the empowerment of women through sport.
The winning initiatives will be announced at the Iberdrola SuperA Awards, scheduled for the last quarter of the year. These awards will once again highlight Iberdrola's firm commitment to Sustainable Development Goal (SDG) 5 of the United Nations Agenda for 2030, regarding gender equality.



Iberdrola, pioneer in promoting women's sport
Promoting women's sport has become a key tool for Iberdrola and the promotion of real equality between men and women has become one of its essential values.
In line with its commitment to SDG 5, in 2016, Iberdrola became the first company to make a firm and global commitment to women's equality and empowerment through sport. Iberdrola currently supports 16 federations: gymnastics, triathlon, rugby, canoeing, badminton, football, handball, volleyball, hockey, table tennis, athletics, karate, boxing, surfing, ice sports and fencing. Iberdrola also lends its name to 22 national top-tier sports leagues, and over 35 competitions.
In parallel, by contributing resources, facilities, medical services and officials, as well as promoting and sponsoring various initiatives in this area the Iberdrola Group has not only helped to increase the number of federated members by 32% in the disciplines mentioned to over 316,000, but it is also allowing elite Spanish athletes who have had to move to other countries to now return to compete in Spain, helping to increase the level and visibility of national competitions.