News Back
10/10/2019
The 2019 Supplier of the Year Awards highlight the contribution of 11 partner companies towards Iberdrola's commitment to head up the energy transition
Iberdrola acknowledges its suppliers in Spain, from whom it purchases more than 1.5 billion euros worth of products and services per year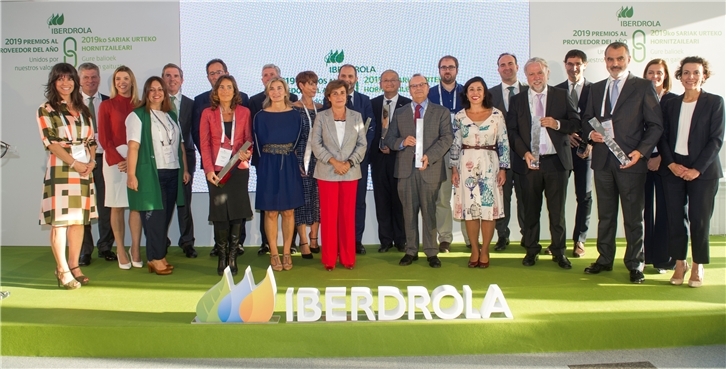 The Special 2019 Best Supplier Award has been won by Eiffage Energía, and FCC Industrial has been recognised for its collaboration in dealing with emergencies in the Autonomous Regions of Valencia and Murcia during the recent heavy seasonal rains
Ángeles Santamaría, Managing Director of Iberdrola España, stressed that the company "is going to continue being the driving force behind industrial growth in Spain by creating a "pull" effect among the suppliers who are accompanying us on our quest to lead the way in the energy transition based on a robust development policy and significant investments in renewable energies and smart grids, large-scale storage and digitalisation"
Iberdrola today presented its 2019 Spanish Supplier of the Year Awards. This year these awards are recognising 11 of the companies who are partnered with us in our strategy to take us towards a carbon-free economy based on major investments in renewable energies and increasingly smart distribution grids, large-scale storage projects, and a commitment to providing innovative solutions to our customers.
With the presentation of these awards, Iberdrola is acknowledging the key role being played by the value chain in successfully implementing the Group's strategic projects. It also underlines the relevance of creating an ecosystem of suppliers who are all working towards the same goals and reiterates our commitment to incentivising corporate management with regard to areas such as sustainable development, safety and quality, innovation, internationalisation and job creation.
In 2018, Iberdrola purchased equipment, materials, work and services worth more than 1.5 billion euros from over 5,000 Spanish suppliers. In Spain, 85% of these purchases were made from local suppliers, a percentage that is in line with the Group's average worldwide.
The award ceremony, which was held this evening at the Iberdrola Tower in Bilbao, was presided over by Ángeles Santamaría, Managing Director of Iberdrola España, accompanied by Iberdrola's Director of Purchasing and Insurance, Asís Canales, with the event being attended by over 250 guests, among whom were a large number of representatives of the supplier companies with which Iberdrola collaborates in Spain.
In her speech, Ángeles Santamaría highlighted that "our partner companies play a fundamental role in the achievement of our objectives. Without you and without our employees -she pointed out- it would not have been possible to get where we are today: after almost 20 years of moving forward in our commitment to the energy of the future, Iberdrola is currently one of the world's leading companies with respect to renewables, and we remain firmly committed to being the standard bearer of an energy transition that is building an energy model in which personal welfare and the preservation of our planet take priority".
"Together we are succeeding in going further, taking on more ambitious projects, overcoming barriers, and opening up new markets and building a more sustainable and competitive future by being the driving force behind renewable energies, rolling out a greater number of smarter grids and offering products and services adapted to the needs of our customers and of society", Santamaría went on to say.
Furthermore, she underlined that "Iberdrola is committed to continuing to be the driving force behind industrial growth in those countries in which it operates by creating a significant pull effect within a growing number of companies that are accompanying us in our quest to be the leading light of the energy transition in Spain". Iberdrola's renewables strategy in Spain foresees the installation of 3,000 new renewable MW by 2022 and up to 10,000 MW by 2030, as well as investments in the digitalisation of its distribution network, large-scale storage, and the creation of new products and services. In addition to helping fight climate change, this plan will create industrial opportunities within Spain's corporate fabric, and enable the creation of up to 20,000 jobs in our country.



Recognised for their excellence, job creation and internationalisation
The 2019 Spanish Supplier of the Year Awards are divided into 10 categories that recognise companies for their innovative approach and competitiveness, their diversity and gender equality, their health and safety record and quality, their sustainability, their job creation, and their culture of internationalisation. In addition, this year special emphasis has been placed on the emergency response during the torrential rain storms known locally as Gota Fría.
The Special Best Supplier of the Year Award went to Eiffage Energía, one of Iberdrola's oldest suppliers. They collaborate with our company not only in the field of renewables, but also in distribution grids. This contractor, which is involved in projects as relevant as Núñez de Balboa (500 MW) -the largest photovoltaic plant under construction in Europe- and the Chimiche Wind Farm, Iberdrola's first such project in the Canary Islands, was recognised for their responsibility, quality and safety, and their contribution to our business through the application of their superb technological capabilities.
The Job Creation award went to Asturian-based firm Windar Renovables. This company is one of Iberdrola's main suppliers for the manufacture of transition parts for our offshore wind farms in the Baltic Sea and United Kingdom, and an example of how to make the most of the industrial transformation opportunities made possible by investments in renewable energies.
The Internationalisation award went to Basque company Ingeteam, a supplier that is accompanying Iberdrola in our expansion into new markets -not only in the design and implementation of photovoltaic projects in Spain and Mexico, but also in the deployment of distribution grids here in our country, as well as in Brazil and the UK- and providing the skill and leadership in the worldwide wind power market that one would expect from a global operations and maintenance services provider present in over 20 countries.



Rewarded for their innovation, response capacity, flexibility and diversity
In the Innovation and Competitiveness section, the award went to Wallbox, the European leader in electrical vehicle charging solutions, for their commitment to innovative solutions that will enable the sustainability of the energy model to be further improved. In the Diversity and Equality category, the company Multiservicios Mapfre Multimap was recognised for their commitment to implementing measures that both promote and encourage diversity and equal opportunities.
The Occupational Health and Safety award went to the Salamanca-based company AOC Proyectos, while the Sustainability prize was won by the Valencian outfit Siel-Obremo, a company that is very active in the field of implemented sustainable development mechanisms and stakeholder relations.
The prizewinning company in Non-energy Services was Cyrasa Seguridad, a company from the Spanish region of Castilla-La Mancha, which was acknowledged for their rapid response capacity, their technology, and the degree of commitment shown by their highly qualified workforce. In the field of Energy Services, the award went to Galician company Técnica 4, which specialises in the manufacture and supply of electrical switchboards and control and automation cabinets, and which was recognised for their flexibility and for maintaining their high quality standards on projects such as the Alto Támega Hydroelectric Power Plant in Portugal.
The prize for the Best Equipment Supplier was awarded to Longi Solar Technology, the photovoltaic solar panel supplier, in recognition of their strong commitment to the creation of value in the product, coupled with their efficiency. This supplier is participating in the construction of the Núñez de Balboa Power Plant.
This year Iberdrola decided to present a Special Emergency Response Award to FCC Industrial for their contribution to the work carried out by i-DE, Iberdrola's distributor, with respect to managing our company's distribution network both efficiently and with the utmost safety under extreme conditions such as those suffered by the eastern Spanish regions of Valencia and Murcia during the recent seasonal torrential rain storms.