News Back
07/08/2019
The company is reaffirming its commitment to Portugal while helping to achieve carbon neutrality by 2050
Iberdrola is entering the solar market in Portugal by building 149 megawatts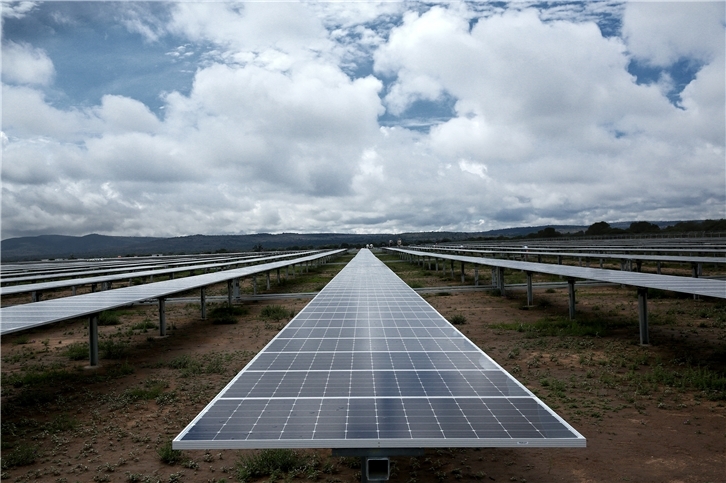 Ignacio Galán confirmed, on hearing the results of the auction: "These new projects are an example of Iberdrola's commitment to renewable energy sources as a way of contributing to the transition toward a decarbonised Europe"
The company already leads the Portuguese electricity sector in large consumers, with an almost 33% market share, and is building the massive Támega complex which, with an investment in excess of 15 billion euros is one of Europe's biggest projects of the last 25 years
Iberdrola has been awarded 149 MW of photovoltaic solar power in Portugal, which the company will use to start developing this type of technology in the country. This capacity is divided between two regions (the Algarve and the Tajo Valley), under a public auction by the Portuguese Ministry of the Environment and Energy Transition through the General Directorate of Energy and Geology and organised by Operador do Mercado Ibérico de Energia (OMIP).
Iberdrola chairman Ignacio Galán said, after learning of the outcome of the biggest auction in the Portuguese energy sector in the last decade: ""These new projects are an example of Iberdrola's commitment to renewable energy sources as a way of contributing to the transition toward a decarbonised Europe".
In this regard, Iberdrola has once again ratified its strong commitment to the transition toward a low carbon economy while consolidating its crucial role in the Portuguese energy market, where it is already leading the large consumer commercial sector with an almost 33% market share and a portfolio consisting of 300,000 electricity and natural gas customers[1].
The group is also making progress with thelarge-scale Támega project that consists of building three new plants (Gouvães, Daivões and Alto Támega), with total capacity of 1.158 MW and an investment in excess of 1,500 million euros.
This important project is expected to be commissioned between 2021 and 2023, and will increase the companies installed power by 6%. It will be capable of supplying clean energy to 440,000 Portuguese homes.
With the development of the Támega plant and the new solar capacity awarded, Iberdrola, which has succeeded in reducing its emissions in Europe by 75% since the year 2000, contributes to Portugal's commitment to achieve carbon neutrality by 2050.



Iberdrola, an important component of Portugal's energy sector 
Iberdrola started operating in Portugal in 2002, and made its first supply in 2003. In parallel to the energy deregulation process in the country, the company entered the residential and small business sector in 2013 and later, in 2017, it started selling natural gas.
Nowadays[2], Iberdrola has the third-largest share by number of electricity customers in the country (5.4%) and is the second largest by consumption (17.4%). Iberdrola has taken its unique focus and its commitment to sustainability and respect for the environment to the Portuguese market, marketing 100% green electricity to its customers.
As well as leading the large consumer sector and developing the enormous Támega complex, Iberdrola has 92 MW of wind power in the country, distributed among three wind farms. Catefica, in the municipal area of Torres Vedras, with 18 MW; Alto do Monção, in Mortágua and Tondela, with 32 MW; and Serra do Alvão, in Ribeira de Pena, with 42 MW.



Driving renewables in Europe
Beyond Spain and Portugal, Iberdrola is the driving force behind numerous renewable projects in Europe. In the United Kingdom, through ScottishPower Renewables, it operates 40 onshore wind arms and the company's first offshore wind farm, West of Duddon Sands. It is currently developing East Anglia One in the Irish Sea, that will go live in 2020, establishing Iberdrola as the undisputed global leader in offshore wind power. The company also operates in other countries in continental Europe such as Germany, where it operates the Winkinger wind farm in the Baltic and is planning an offshore facility in Saint Brieuc. The company is also building two new wind farms in Greece
[1]Figures at the start of 2019.
[2] Based on data published by the regulator in March.