News Back
24/11/2020
Iberdrola receives an award for its commitment to inclusion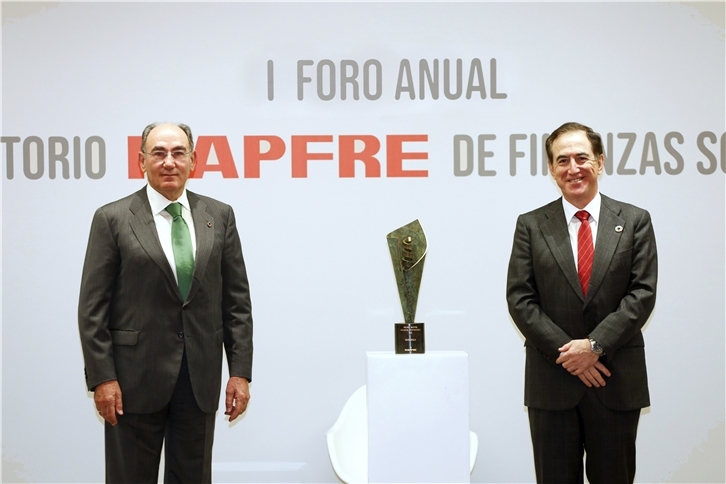 Chairman Iberdrola group, Ignacio Galán, received the MAPFRE Responsible Inclusion award from the Chairman of Mapfre, Antonio Huertas, during the 1st Mapfre Observatory Forum on Sustainable Finance. The award recognises Iberdrola's commitment to people with disabilities, in particular for the development of projects, policies and labour adaptability.
The first edition of this award comes as a result of the launch of the MAPFRE Responsible Inclusion investment fund just one year ago, which includes in its portfolio the companies most committed to the labour inclusion of people with disabilities, including Iberdrola.
In addition to receiving this award, Ignacio Galán took part in a debate on financial profitability and the social dividend as part of the sustainable finance forum. In his speech, Galán asked investors to take into account the concrete and real actions carried out in the field of ESG (environmental, social and corporate governance) when making decisions.
"I'm not sure that all sectors are taking sufficient account of the social and environmental element," explained the Chairman of Iberdrola, who warned that "we are looking at the commitment for 2050," but "the problem is 2021. The decision must be made now".
You have to act and measure today; it's not enough just to say what you are going to do in the future
Galán also called for greater rigour in measuring ESG factors, taking into account absolute numbers rather than relative terms: "If you emit a thousand, and reduce by 50%, you still emit a lot. We don't have to be less bad, but rather better," he said.
In this sense, he has challenged the financial sector to end the so-called greenwashing that many companies do when it comes to committing to the Sustainable Development Goals (SDGs). "Financial institutions need to be much more rigid on this issue and ask for concrete numbers, not percentages. You have to act and measure today, it's not enough just to say what you are going to do in the future".
The chairman of Iberdrola explained that, faced with this attitude, the company has included the social dividend, in its articles of association, which demonstrates its commitment to providing sustainable value for all its stakeholders in a structured and measurable way.
Ignacio Galán also referred to the current difficult economic situation generated by the COVID-19 pandemic, and urged attendees to invest scarce resources in companies and productive sectors with a future. Galán insisted that in order to emerge from the crisis it is necessary to "invest more and better, work more and better, and subsidise just enough" to create a "productive economy".
He has also asked that "structural decisions not be made in critical times". Sectors that could have a future should be reorganised, and those that do not have a future should be helped "go through as little trouble as possible", but circumstantially. "We can't leave anyone behind, but we have to do it by putting in all our effort. The companies, with our balance sheets; the experts, with their knowledge; and the politicians, with their ability to try to take a leap forward with the economy and our production model," said the Chairman of Iberdrola.
Thinking about future generations, Galán has stressed that, since they will be left with "a gigantic debt", there is an obligation to also leave "a better country", investing in training and employment and, collaborating with educational centres and universities to train people.