News Back
24/01/2019
The Chairman of Iberdrola is participating, once again, in the World Economic Forum taking place in Switzerland
Galán in Davos: "The cost of decarbonisation is significantly lower than the risk of inaction"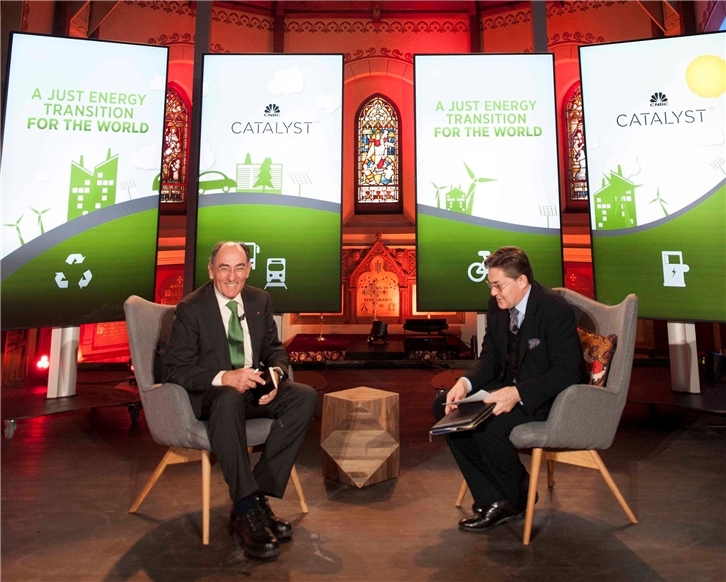 "The technologies to deliver this deep transformation are already available and competitive", says Galán, demanding "a fair allocation of decarbonisation costs"
Davos, Switzerland. "The cost of decarbonisation is significantly lower than the risk of inaction" argued Ignacio Galán this morning during a panel debate at the World Economic Forum in Davos.
Galán, a regular at the Forum's annual meeting, said "the good news is that the necessary technologies to deliver this transformation – renewable energy sources – are readily available at a competitive cost."
"Companies are ready to invest in the energy transition and banks are ready to finance sustainable infrastructure – Galán continued. We just need to eliminate the barriers to decarbonization and a fair allocation of all related costs."
To this effect, he emphasised the importance of applying the 'polluter pays' principle which should imply "the elimination of all subsidies to carbon-intensive technologies which amounted to 300 billion euros last year; setting a price on carbon emissions to drive technology change; stimulating innovation and investment in low-carbon technologies while spreading the costs among the different industries in a consistent way."
The Chairman of Iberdrola stressed that the transformation "will generate significant benefits to society at large, not just in environmental terms. It will also help to reduce energy dependency, strengthen security of supply, bring electricity prices down and, more importantly, improve health and quality of life."
Also, Galán highlighted that this process will serve to "prop up economic growth while revitalizing industry and providing new, stable and quality jobs for all." According to the International Labour Organization for each job lost in the transition, four new jobs will be created in industries such as renewables, electric mobility and sustainable buildings.
As an example, Ignacio Galán mentioned the recent energy and environment announcements by the Spanish Government which will create over €235 billion of investment opportunities in the coming years.
In this regard, Galán added that "Iberdrola's track record over the past 20 years is proof that our commitment to fighting climate change no only benefits the environment but also our shareholders and the society in general."
About Iberdrola
Iberdrola is a global energy leader, the main wind power producer and one of the world's largest electric utilities by market capitalization. The Group operates in many countries and supplies power to nearly 100 million people, mainly in Spain, the United Kingdom (ScottishPower), the United States (AVANGRID), Brazil (Neoenergia) and Mexico. With a workforce of 34,000 people and assets worth €110 billion, it filed a turnover of €31.2 billion and a net profit of €2.8 billion in 2017.
Iberdrola leads the energy transition towards a sustainable model through investments in renewable energy, smart grids, large-scale energy storage and digital transformation, offering the most advanced products and services to its customers. Thanks to its commitment to clean energy, it is one of the companies with the lowest emissions and an international benchmark for its contribution to the fight against climate change and the sustainability of the planet.