News Back
07/11/2017
Iberdrola increases investments 31.5% to nearly €4 billion in the first nine months
Net profit reaches €2.41 billion (+18.4%) thanks to international businesses which compensate poor results in Spain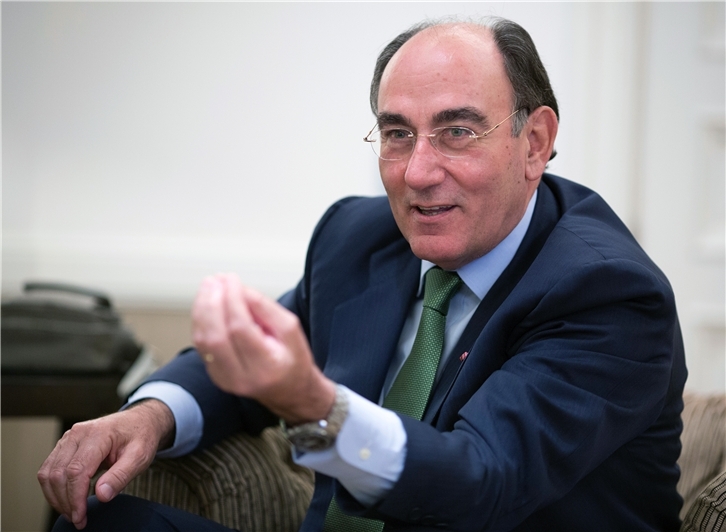 91% of investments were allocated to networks, renewable energy and long-term contracted generation: the group has 7,400 MW of new capacity under construction, of which 2,700 MW are expected to be commissioned by the end of 2018
The company hired 2,559 employees in the period, bringing total staff to more than 34,000 people, while making purchases of over €6.3 billion to more than 20,000 suppliers
The first nine months of the year saw low hydroelectric power production in Spain, 57.2% below 2016 levels
This negative impact was partially offset by the good performance of the company's international networks and renewables businesses
US subsidiary AVANGRID's net profit grew by 14% to $494 million with total shareholder return (TSR) for the year exceeding 38%
Neoenergia, the Brazilian subsidiary 52.45% owned by Iberdrola, was a key growth driver
SHAREHOLDER REMUNERATION
Confidence in the group's structural strength has enabled the Board of Directors, in line with its pledge, to approve a 3.7% rise in the remuneration per share in the second edition of Iberdrola Flexible Dividend scheme to be paid in January 2018, with the company committed to purchasing free allocation rights at €0.14 gross per right. As a novelty, shareholders will have the choice of receiving the dividend in cash
In the first nine months of 2017, Iberdrola carried out investments worth €3.99 billion, up by 31.5% from the same period last year.
Of that amount, 91% was allocated to networks, renewable energy and long-term contracted generation projects, consistent with the group's strategy of focusing activity and future returns on stable and regulated businesses.
In this sense, Iberdrola is currently building 7,361 megawatts (MW) capacity, to be commissioned by 2020, of which 2,700 MW will be operational in 2018. These new facilities will be, for the most part, offshore and onshore wind farms (1,064 MW and 1,412 MW respectively) as well as combined cycles and co-generation plants (3,571 MW).
To deliver this growth process, Iberdrola hired 2,559 new employees, bringing total staff to 34,400 people at the end of September. Also, the group made purchases worth over €6.3 billion to more than 20,000 suppliers.
The company's net profit reached €2.41 billion between January and September, an 18.4% increase from the same period last year.
These good results reflect positive performance in the networks and long-term contracted generation businesses as well as the company's international diversification, with subsidiaries in the US (AVANGRID) and Brazil (Neoenergia) making important contributions.
AVANGRID's net profit reached $494 million for the first nine months of 2017 (+14%) and the subsidiary is already offering total shareholder return above 38% so far this year.
Additionally, the company reorganisation in Brazil (the integration of Elektro in Neoenergia) entails capital gains of €521 million as a result of the listing at market value of the stake that Iberdrola used to have in Neoenergia, which now stands at 52.45%.
As a consequence, the Brazilian subsidiary has a net positive impact of €508 million in the group's earnings for the first nine months of the year.
Ebitda stood at €5.44 billion, 5.1% below the same period last year, impacted by lower hydroelectric power production in Spain (-57.2%), and lower demand and margins in the UK's liberalized market.
Nevertheless, the good performance in the networks area where Ebitda grew by 5.4%, and contracted generation in Mexico, up by 26.7%, continued to contribute positively to results. Meanwhile, Renewables remained stable.
Revenues between January and September stood at €22.28 billion, up by 3.5% with the gross margin rising 0.2% to €9.76 billion. Operating cash flow reached €4.62 billion, a drop of 1.9%, while taxes and levies were €1.46 billion (+12.4%).
Results by business
Good performance in the networks, contracted generation and renewables areas have partially offset poor performance in Spain, due to lower hydro output, and in the UK's liberalised area.
By business, networks Ebitda grew 5.4% to €3.09 billion, driven by positive operating performance in the US and Brazil which improved by 15.8% and 72.4% respectively. Account has to be taken of Neoenergia consolidation as well as the fact that over 60% of the networks Ebitda originates outside Spain.
Generation and supply recorded Ebitda of €1.24 billion until September, (-28.4%). These results were affected by the extremely low hydroelectric power production in Spain (-57.6%) and the weak results in the United Kingdom, mainly due to reduced production (-28.6%) after the closure of Longannet coal-fired plant, plus lower demand and lower margins.
Renewables was stable with €1.14 billion Ebitda, in line with the first nine months of 2016. Although Spain was also affected by low wind resource, results improved elsewhere, growing in the UK (+34.7%) as well as Brazil and Mexico (+3%). In addition, the United States is now the country with the largest contribution to renewables earnings, with 36% of the total.
Shareholder remuneration increased + 3,7%
Derived from the confidence in the group's structural strength and in line with its pledge, the Board of Directors has approved a new edition of the Iberdrola Flexible Dividend programme for the interim dividend payable in January 2018.
This new edition includes a novelty: shareholders will have the choice of receiving the dividend in cash in addition to the usual options available to shareholders of receiving dividend as new company shares free of charge, selling their free allocation rights on the market or selling them to the company at a fixed guaranteed price.
Shareholders opting to receive remuneration in cash will get, at least, €0.14 gross per share, a 3.7% increase from the amount committed for the Iberdrola Flexible Dividend programme paid in January 2017.
The option of selling allocation rights to Iberdrola is expected to be fully replaced by a cash payment in July 2018, in the framework of the final dividend against 2017 earnings. This proposal will be presented for approval at the next General Shareholders' Meeting.
2017 results outlook
As reflected by the group's Ebitda, the first nine months of the year have been impacted by an inferior operating performance as a result of lower production, mainly hydroelectric power generation in Spain.
However, the company's core businesses continue to show good performance as the results in networks, contracted generation and renewables reveal. Therefore, Iberdrola is confident that 2017 net profit will continue delivering growth.