News Back
03/12/2019
"We Basque businesses learned generations ago that companies must innovate or cease to exist"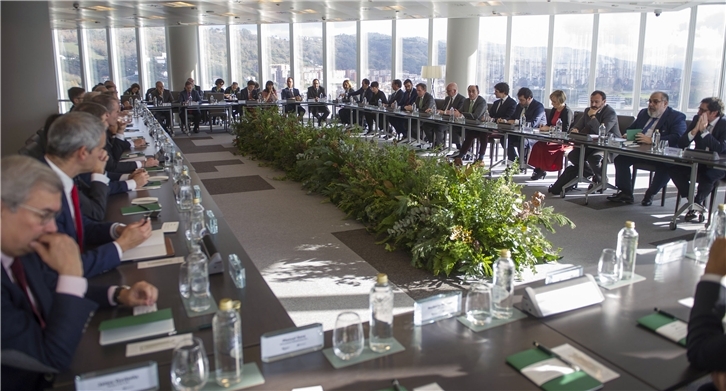 Iberdrola group chairman and chief executive Ignacio Galán took part in a work meeting at Torre Iberdrola this morning on the fiscal incentive programme for innovation launched by the Provincial Government of Bizkaia. During his talk, Galán said that "in the future, businesses must either be innovative or they will cease to exist. We Basque companies have understood this for generations".
He used Iberdrola as an example of this: "We are what we are today because of a spirit of continuous improvement that has driven us to become pioneers in technology and industrialisation, opening up new markets beyond our borders."
Galán also congratulated the president of Bizkaia, Unai Rementeria, who was at the meeting, for his well-conceived initiative in creating an instrument "based on looking upon taxation as not just a means of raising funds in the short term but also as a way of creating wealth and employment, attracting and retaining talent and encouraging investment and technological progress".
"Since it came into being, in less than five months we have launched several projects in collaboration with companies like Ormazabal, Afesa, Ingeteam and Arteche", said Ignacio Galán, who went on to invite "the hundreds of Basque businesses that are our suppliers to work with us to keep making this programme a catalyst for the success of industry in this land".
Galán also said that "the search for new production and consumption models is crucial to securing social, economic and environmental sustainability on our planet", a matter which, he pointed out, is currently a topic for discussion at the Climate Summit in Madrid (COP25), whose slogan is 'Time to act'.
On this subject, the chairman of Iberdrola explained that "we must increase investment in economic sectors that can contribute to speedier and more efficient decarbonization, like the electricity industry. Technological development of renewables, smart grids and storage enable the electrification of sectors like transport, heating and refrigeration, as well as numerous production processes in totally safe, competitive conditions".
On this he added, "we Basque businesses, many of which are represented here, clearly lead these sectors in Europe", concluding by underlining that "seizing this opportunity means continuing to innovate in an increasingly competitive environment".