News Back
27/09/2023
Iberdrola wins EMEA's best regulated utility award from Citywire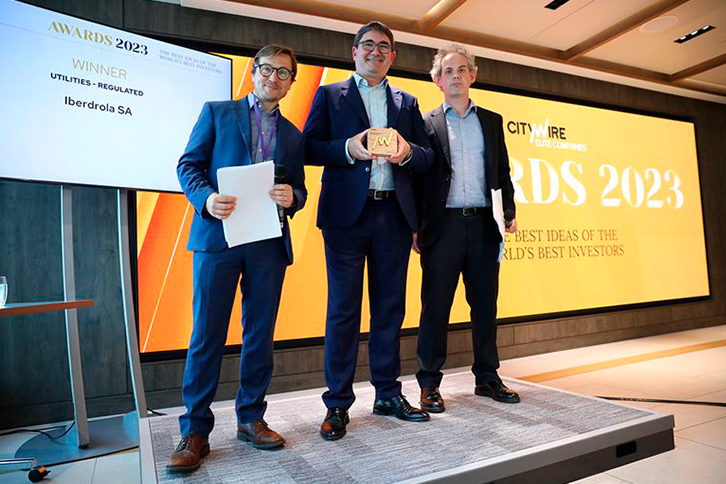 The electricity utility was chosen by the fund managers who have achieved the highest returns
Iberdrola has been recognized as the best regulated utility in EMEA (Europe, Middle East and Africa), according to the prestigious financial information group Citywire, which has specialized in measuring the performance of portfolio managers for more than 20 years. The electricity company is part of the so-called Elite group, which groups together the leading companies in 42 sectors. Iberdrola received the award thanks to the votes of the fund managers who have achieved the highest returns with their portfolios.
Iberdrola's investments of more than 150 billion euros in renewables and networks have enabled the company to position itself at the forefront of the global energy transition. The company is also making steady progress on its 47 billion euro investment plan for the 2023-2025 period.
The market has rewarded this effort. In the last 20 years, Iberdrola's shares have increased in value from 3.5 euros to around 11 euros, with an additional 6.5 euros per share being distributed in dividends. For a shareholder who has reinvested the dividend, the total return over the period represents an eightfold increase in his or her investment.
In addition, Iberdrola is a AAA company for Citywire, a rating that means it is among the top 10% of buy conviction of the best portfolio managers.
Citywire notes that "by focusing on where the best fund managers invest their clients' money, we have gained a unique insight into who the industry leaders are for these influential investors." The companies that these investors consider the best in their category are chosen based on the money they have invested in their stocks. In each of the 31 categories for Europe, the Middle East and Africa, the company most supported by the best-performing portfolio managers was the winner.
Joseba Mota, head of Fixed Income and ESG in Iberdrola's Investor Relations department, collected the award in London at this first edition of the awards. He highlighted the great opportunities in renewables and grids presented by the energy transition and that, although Iberdrola's projects are large in size, the time in which they achieve profitability is relatively short on average, thanks to the diversification of technologies and geographies.