News Back
04/11/2019
Ignacio Galán is awarded the Premio León, by El Español, for Best Business Management 2019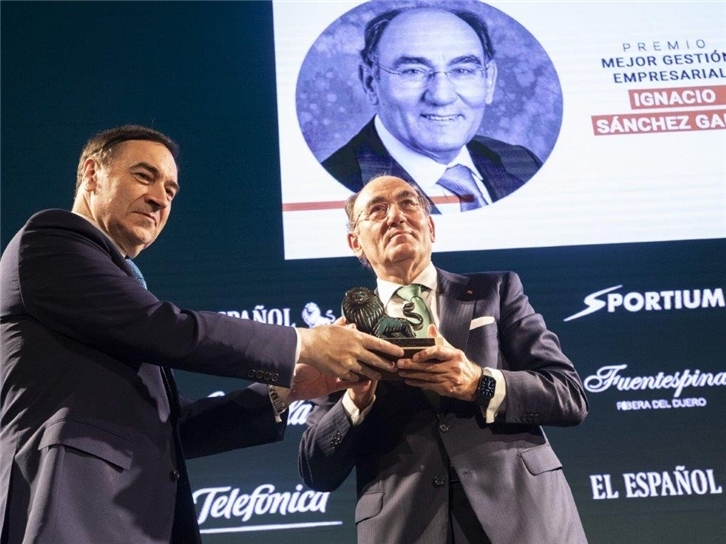 The chairman of Iberdrola has been recognised in the 2019 Premios Los Leones (Lions' Prizes) — awarded annually by the digital newspaper El Español — for the success of his business management, as well as for his long and successful professional career.
In his own words he said he was accepting this honour on behalf of everyone he has worked with from his early days through to the present day and gave special thanks to the support from Iberdrola's human team, "without whom it would not have been possible to reach the position we hold in the world today."
During the award ceremony, Pedro J. Ramírez, chairman of El Español, praised Galán as a figurehead and emphasised his leadership in the "decisive process of the energy transition towards a sustainable ecosystem through investment in clean energy, using smart grids and large-scale energy storage." He also made reference to the fact that he has been a visionary in the field of renewable energy in Spain and has succeeded in putting Iberdrola in second place in the IBEX 35 ranking and made it a world leader in clean energy.
At the event, the chairman of the Spanish Confederation of Business Organisations (CEOE), Antonio Garamendi, called Galán a "universal Spaniard" and highlighted how his management has brought people, the environment and financial sustainability to the fore, by seeking to create teams oriented towards a common goal. "A task based on values and that seeks sustainability and fights climate change", as well as his "total commitment to society."
Other prize winners were Francisco Luzón, ex-banker, founder and chairman of the Foundation bearing his name, and women's sport in Spain, at a gala held in the Spanish Olympic Committee's Auditorium in Madrid.