News Back
27/06/2023
Introducing Global Green Employment, the largest platform for guidance, training and green employment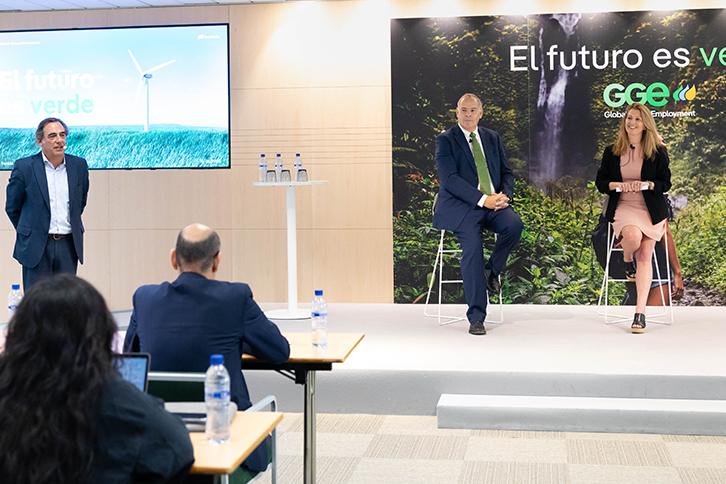 It will be a reference for those wishing to work in the green sector, offering training options and publicising vacancies available in partner companies and institutions.
It will provide companies and institutions committed to sustainability and energy transition with access to the talent they need to achieve their goals.
This morning, Iberdrola laid the virtual foundation stone of Global Green Employment (GGE), a major green employability project that represents a new milestone in the company's commitment to a future involved with society, environmentally sustainable and essential in the fight against climate change.
It is a digital platform designed to be a meeting point between those who wish to focus their future career in the green employment sector and the business and educational agents that can contribute to making it a reality.
Under the umbrella of Iberdrola, those who access GGE will be approaching a truly international catalogue of job and training opportunities available to the applicant. To this end, the company is already closing agreements with universities, specialised schools, vocational training centres, companies, institutions and job offer portals.
With GGE, the electricity company aspires to be a benchmark for employment guidance on green jobs, offering a real-time analysis on an updated map of the vacancies in demand in the countries where it is present, detailing the type of job, the skills required for each profile and the number of vacancies available.
For Estrella Martín Segurado, Director of Global Talent, Iberdrola wants to be a leader in this labour market "because it has a lot to contribute and has already come a long way, such as the Iberdrola Universities Programme, the various chairs and scholarships we promote, the international graduate programme, our innovation centres or the Re-skilling for Employment programme, and the necessary experience to be able to state categorically that the future is green".
In a context of significant unemployment figures in Europe, especially for young people or those whose jobs are disappearing due to the automation of their functions, the major challenges posed by climate change can be transformed into opportunities.
It is estimated that by the turn of the decade more than five million jobs will need to be filled in what has been agreed to be called "green jobs".
Iberdrola wants to open the doors of this job market to those who need it and help companies to find the best possible talent, becoming the most complete and updated green job exchange worldwide, with the help of its suppliers, but also of other companies and institutions, which will have the possibility of publishing their own offers, redirecting candidates to the channels of their choice.
In this regard, the CEO of Iberdrola Spain, Mario Ruiz-Tagle, appealed to the suitability of the moment and of the sector "to build an ecosystem of talent around companies and institutions", convinced that "this platform will soon be a shared success on which Iberdrola will continue to work with passion".