Initiatives with Massachusetts Institute Technology
Iberdrola and the Massachusetts Institute of Technology are promoting young talent and entrepreneurship in the energy sector
The agreement between Iberdrola and the MIT includes collaboration with the MIT Energy Club, an association of students interested in the energy sector, and the company's participation in the MIT Sandbox, a project that puts qualified students in touch with specialist training, mentoring and counselling.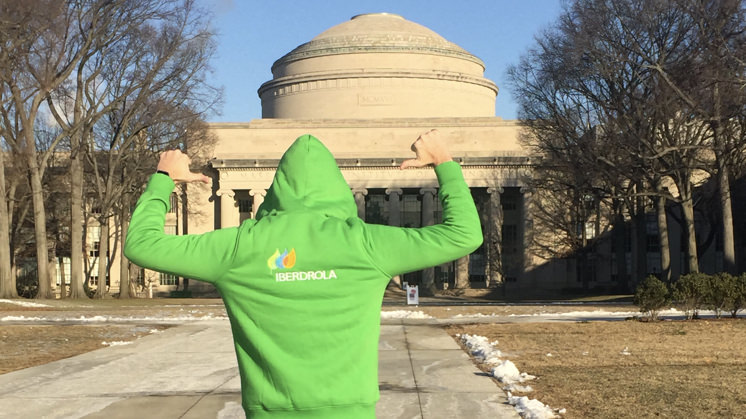 Iberdrola has taken part in the MIT Sandbox for the past two years.
MIT Energy Club
Iberdrola reaffirms its commitment to young people by collaborating with the MIT Energy Club

External link, opens in new window., an Association of Massachusetts Institute of Technology students interested in the energy sector. The MIT Energy Club seeks to create connections among the private, public and academic sectors so as to have an effect on the energy industry.
Iberdrola will collaborate on its three main activities:
ACTIVITY
PURPOSE
MIT Energy Conference

External link, opens in new window.

is the biggest student-managed energy conference in the United States. It brings together sector leaders to talk and debate on the changes that are redefining the future of energy worldwide.
MIT Energy Night

External link, opens in new window.

is an event open to the general public showcasing all the MIT departments' advances in energy research as well as those of start-ups based on technology developed at the Massachusetts Institute of Technology.
MIT Energy Hack

External link, opens in new window.

is a coming together of young talents in hackathon format, held over two days, in which the students, divided into teams, develop fast and innovative solutions to current challenges in the energy sector.
MIT Sandbox (Innovation Fund program)
The Sandbox Innovation Fund Program

External link, opens in new window. is open to all MIT students and graduates and it offers training in the form of courses, workshops, events; advice/seminars with entrepreneurs, industry experts and investors; and access to the resources required to receive the suitable training.
Iberdrola, that has taken part in MIT Sandbox at last two years, allows qualified students to have access to specialised training, mentoring or expert advice. Up to $25,000 can be received to start innovative projects or entrepreneurial initiatives, in parallel to academic education.
In the 2018 edition of the MIT Sandbox Innovation Fund, the projects presented by the Funding Board were related to artificial intelligence, thermal storage and offshore wind power. Among all the projects presented, Iberdrola collaborated on two of them:
The ElectroKite,

a modular system of kites for exploiting wind power.

META Storage,

which is working on storing energy in the form of heat.
At MIT Sandbox Innovation Fund 2017, the students presented projects related to blockchain, cybersecurity, the IoT, drones and sensors for offshore extensions. Iberdrola collaborated on two of those initiatives:
NeuroMesh

External link, opens in new window.

, an IoT security platform with blockchain technology. The 2017 Digital Summit was attended by its co-founder Gregory Falco, former security researcher with NASA and 30 Under 30

External link, opens in new window.

of

Forbes

magazine.

Infinity Flight,

which offers monitoring of offshore assets by means of wind-powered drones.

Infinity Flight

took part in the 2017 Avangrid Innovation Sandbox, where students had the opportunity of working with experts in the sector (both employees of the company and researchers) who helped them refine and better prepare their ideas for market.
Avangrid Innovation Challenge
Established by Iberdrola-AVANGRID and the MIT in 2017, this Chair aims to promote research and training on electrical systems, in the context of the MIT Energy Initiative (MITei), for which a fund of US$5 million will be made available.
Various employees of AVANGRID, Inc. collaborated with MIT students and recent graduates with a view to answering the question "what's the next great idea for the energy sector?" in AVANGRID Innovation Challenge, an event in competition format designed to stimulate innovation in the energy sector.
Five teams worked to find solutions to current challenges in the energy sector with the help of emerging technologies, and competed for prizes worth US$2,500 for each team member and the additional chance of AVANGRID's giving a fast follow-up to their projects to evaluate their possible implementation.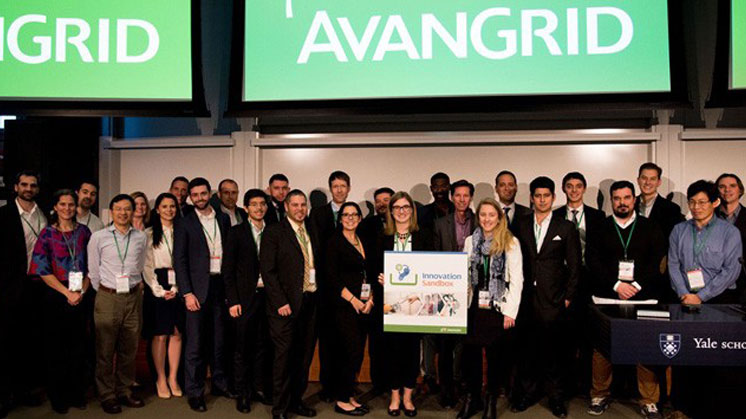 Participants in the AVANGRID Innovation Challenge.
The winner of the AVANGRID Innovation Challenge was ALPHA Energy, with its solutions for integrating distributed energy resources. The team presented a solution for a type of response to inverse demand known as 'dynamic electrification', which allows industrial customers to switch automatically from conventional gas-powered heating to electric heating depending on conditions in the energy market in real time.