News Back
25/11/2020
The six winning entries focus on women and are related to grassroots sport, participation in competitions, social integration, inclusiveness, raising visibility and solidarity projects during COVID-19
Iberdrola hands out the SuperA Awards to acknowledge civil society initiatives that promote equality through sport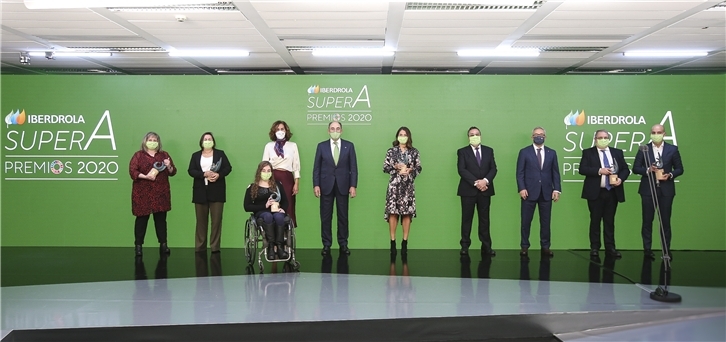 From 400 candidates, an honourable jury of 13 sports personalities selected projects put forward by the MAAVI Foundation Club de Fútbol (Andalusia), Fomento Igualdad de Género (Castilla y León), Mujer, vida y deporte (Zaragoza), Mucho por hacer (Castile-La Mancha), FUTFEM.COM and Juntas Venceremos
Ignacio Galán said that "equality is more than a basic right. It is also one of the basic foundations for building a more prosperous world for all". During his speech to the winners he told them that the SuperA awards are intended to help people to achieve their dreams so that "as well as reaching the goal that led you to create them, you can also serve as a model for other dreamers".
The Iberdrola SuperA Awards contribute to Sustainable Development Objectives 5 (Gender equality) and 3 (health and wellbeing) of the United Nations Agenda 2030.
This afternoon, in an event streamed live, the first Iberdrola SuperA Awards ceremony was held to recognise the six civil-society initiatives selected for their contribution to promoting gender equality and empowering women through sport.
The winning projects in the six categories, selected from 400 entries, were as follows:
The MAAVI Foundation Club de Fútbol in Roquetas de Mar (Almería) was recognised with an Iberdrola SuperA Social award for its work to wipe out inequality in an area with very high levels of immigration.
The Fomento Igualdad de Género project won in the Iberdrola SuperA Base category. The initiative, promoted by La Asociación de Federaciones Deportivas de Castilla y León, in collaboration with the Social Services Department and the Department of Culture and Tourism of the Government of Castile and León, encourages sport for girls aged 11 to 16 and intends to reach more than 3,000 schoolchildren.
The Mujer, vida y deporte initiative won in the Iberdrola SuperA Competition category. This Zaragoza-based women's hockey club, founded by and made up of mothers of young players, has succeeded in getting two sides into national competitions.
In the Iberdrola SuperA Inclusion category, the winner was Mucho por hacer. This weightlifting association brings sport to people who have suffered bone marrow injuries. The project will be carried out at the National Paraplegic Hospital (HNP) in Toledo, and will install sports equipment in rooms to improve the physical condition of women with these injuries and other motor disabilities.
FUTFEM.COM received the Iberdrola SuperA Diffusion award. It is a pioneering Spanish language website for disseminating women's football.
Iberdrola SuperA+ went to the Juntas Venceremos project. An online platform created by Primera Iberdrola players to raise funds for the fight against COVID-19.
At the awards ceremony, Ignacio Galán said: "we have spent years pouring all our energy into achieving full gender equality within our company, and throughout society. And today, we are taking another step forward. We know a lot about networks, and we want to create another one, invisible but just as solid, to unite everyone making these efforts to achieve full equality in the high-impact area that is sport".
The chairman of Iberdrola also remarked that "equality is more than a basic right. It is also one of the basic foundations for building a more prosperous world for all". During his speech to the winners he said that by starting up the SuperA, they had decided to help make these dreams come true and that "as well as achieving the goal that led you to create them, you can also serve as a model for other dreamers".
The winners were chosen by an honourable jury made up of eight women and five men, all prominent sports personalities: Amanda Sampedro, Carolina Marín, Conchita Martinez, Javier Fernández, Jesús Carballo, Manu Carreño, Marta Arce, Paloma del Río, Sandra Sánchez, Silvia Navarro, Talant Dujshebaev, Teresa Perales and Vicente del Bosque.
The prizes were handed out by the chairman of Iberdrola, Ignacio Galán, who was accompanied by Irene Lozano, chair of the Higher Sports Council; Alejandro Blanco, chair of the Spanish Olympic Committee; Miguel Carballeda, chair of the Spanish Paralympic Committee; Marta Arce, Paralympic Medallist in Judo; Amanda Sampedro, footballer and Carolina Marín, Olympic badminton champion. The event was presented by Paloma del Rio, with help from Sandra Sánchez, Silvia Navarro, and Vicente del Bosque, all members of the honourable jury.
The Iberdrola SuperA Awards have a prize fund of 300,000 euros (50,000 euros for each category) and pursue the UN 2030 Agenda Sustainable Development Goals (SDGs), particularly number 5, which refers to gender equality and the empowerment of women, and SDG 3, regarding health and well-being.



Iberdrola, pioneer in promoting women's sport
Promoting women's sport has become a key ambition for Iberdrola, and the promotion of true equality between men and women one of its essential values. In 2016, Iberdrola became the first company to make a firm and global commitment to women's equality and empowerment through sport. Iberdrola currently supports 16 federations: gymnastics, triathlon, rugby, canoeing, badminton, football, handball, volleyball, hockey, table tennis, athletics, karate, boxing, surfing, ice sports and fencing. Iberdrola also lends its name to 22 national top-tier sports leagues, and 35 other competitions.
At the same time, the provision of resources, facilities, medical services and referees, as well as support and sponsorship for different initiatives in this field from Iberdrola has not only helped to increase the number of federated sportswomen in these disciplines by 32% (reaching over 300,000), but is also allowing Spanish elite sportswomen who have built their sporting career in other countries to start competing again in Spain, leading to an improvement in the standard and visibility of national competitions.