News Back
22/02/2017
After progress made in the first year of 2016-2020 plan, the company will increase investments to €25 bn improving growth outlook for 2020
Iberdrola invests €4.264 billion (+32.3%) and hires 2,638 people in 2016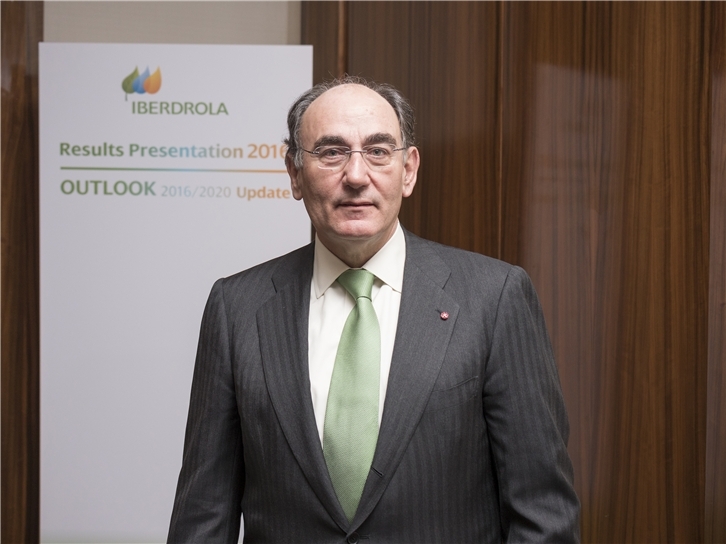 2016 Results
- The company has posted a net profit of €2.705 billion (+11,7%), driven by the contribution of U.S. businesses, which grew by 53%
- 61% of investments were allocated to growth, mainly in renewables and networks in countries with A rating
- AVANGID (NYSE: AGR), the US subsidiary of which Iberdrola controls 81.5%, increased investments to $1.900 billion while confirming annual dividend of $1.728 gross per share
- Group results allow for an increase of almost 11% in annual remuneration against 2016 earnings, reaching €0.31 gross per share. It will be submitted to the General Shareholders' Meeting, scheduled for 31 March next
Commitment to society
- The group has generated a total of 288,000 jobs in the countries where it has operations, according to PwC
- A new corporate campus in San Agustín del Guadalix has been opened with training hours per employee being three times the European average
- The company has reduced its emissions by 75% since the year 2000 and by 31% over the last five years, having become the No. 1 electric utility on the 2016 Dow Jones Sustainability Index and the only one in the sector to have been selected on a consecutive basis in all 17 editions
- Iberdrola's purchases of goods and services in 2016 amounted to €9.884 billion from some 18,000 suppliers
- The company's tax and rates payments amount to €5.750 billion in all of the countries where it has operations
Update to the Outlook for 2016-2020
- The group is accelerating its investments due to specific projects for growth and strong financials: adding €1 billion, mostly allocated to renewable projects in the United States, and bringing the total up to €25 billion
- According to a specific model that combines geographical diversification with a focus on the energy transition, the company will be allocating around 90% of its investments to network extension and digitisation (42%), renewable energy (42%) and regulated generation (7%), areas accounting for 81% of EBITDA at the end of the period
- As regards currencies, the investments will be split in US$ (48%), GBP (29%), euro (20%) and others (3%), mostly in countries with A rating
- This means that Iberdrola is improving its outlook for net profit annual average growth of around 7.5% to €3.5 billion by 2020
- This trend means that shareholder remuneration is expected to increase in line with the results to a range of €0.37 - €0.40 gross per share by 2020, with a base line of €0.31 gross per share in the period
IBERDROLA invested €4.2643 billion in FY2016, a 32.3% increase on the previous financial year.
Most of this amount - 90% - was allocated to regulated businesses or activities covered by long-term contracts, in keeping with the group's strategy of focusing on areas that are stable and with predictable returns. Also, 61% of the €4.2643 billion went towards growth projects, mainly to renewables and in countries with A rating.
Parallel to the increase in investments for the new stage, the workforce that will enable the company's new projects also grew. The group hired an additional 2,638 members of staff in 2016, thus promoting sustainable economic development by providing high-quality, stable employment.
As regards the results for FY2016, Iberdrola posted a net profit of €2.705 billion, up 11.7% on the figure for 2015. This good performance is mostly due to the good progress made by the business in the United States, which has increased its contribution by 53%.
AVANGRID, Iberdrola's NYSE-listed North-American subsidiary, posted a net profit of €630 million (+53%)1, which means it is in a position to offer an annual dividend of at least US$1.728 per share. In the same period, it made investments worth $1,900 billion.
The group's gross operating profit (EBITDA) improved by 5.5%, increasing to €7.8077 billion. Excluding the exchange rate effect, the increase is 8.2%. Of the total amount, 77% come from businesses that are regulated or under long-term contracts.
As regards the businesses, it is worth noting the particularly strong performance in networks with Its EBITDA growing by 12.5% to €4.0817 billion driven by the US and Spain.
EBITDA in generation and retail was €2.2533 billion (-3%), with improved results in Spain but affected by the exchange rate and lower production in Mexico. Renewable EBITDA stood at €1.5002 billion (-8.9%) due to lower wind resource throughout the year.
Iberdrola has also continued to improve its operating efficiency, up 5% after a 4.5% reduction in net operating expenses during the year. Funds from operations (FFO) rose to €6.3108 billion, 6.8% more than in 2015.
In financial terms, the group maintained a solid balance sheet, with an FFO/ financial debt ratio of 21.5%.
The positive results achieved throughout the year allow Iberdrola to propose at least €0.31 gross per share in shareholder remuneration for FY2016, pending approval by the upcoming General Shareholders' Meeting scheduled for 31 March next. The increase is equivalent to almost 11% from the €0.28 gross per share pledged for FY2015.
IBERDROLA, committed to society
Iberdrola has continued to drive economic and social progress throughout the year 2016.
As well as adding a further 2,638 professionals to its team, the company has generated some 288,000 jobs worldwide, according to the conclusions of a study carried out by Pricewaterhouse Coopers (PwC) on the basis of the figures for 2015.
With the inauguration of its new corporate campus in San Agustín del Guadalix (Madrid), which is proof of its commitment to excellence, the average number of hours of training provided to its employees is three times the European average.
In economic terms, the company contributes €5.750 billion in taxes and rates worldwide.
Iberdrola made purchases of goods and services in 2016 worth €9.884 billion from some 18,000 suppliers.
The company is also ranked fourth among world utilities for investment in R&D, having allocated €211 million to this area in 2016.
The group is committed to innovation as a means of guaranteeing sustainability, efficiency and competitiveness. These factors have made it the No. 1 electricity utility on the Dow Jones Sustainability Index for 2016 and the only energy company to have been included in its 17 editions. Iberdrola has reduced its emissions by 75% since 2001 and by 31% in the last five years.
Iberdrola, utility of the future

The increase in demand and the need to reduce emissions in order to implement the historic Paris Agreement mean that a process of electrification of the economy is needed.
Iberdrola anticipated this process and has become what the utility of the future should be; with more renewables, more storage capacity, more and smarter networks and innovative customer solutions:
- Renewables: Around 60% of the group's operating capacity - 27,417 megawatts (MW) - come from clean generation sources and it has a further 7,000 MW under construction. The company is already world leader in onshore wind power and is making major investment efforts in offshore wind.
- Storage capacity: The group has 4,500 MW in pumped storage hydropower under construction and in operation, equivalent to the capacity of 5 million household batteries.
- Smart grids: The company has already installed nine million smart meters in Spain and beaten the 2016 regulatory targets for this kind of equipment in the United Kingdom. In the United States, 100% of meters in Maine are smart and 63% in Connecticut. Iberdrola's medium and high voltage networks are 100% digitised in Spain, the United Kingdom and Brazil.
- Smart customer solutions: Iberdrola is focusing on the development of new products based on the use of big data, so it can offer customised rates and innovative possibilities such as remote heating control and alternatives for self-generation and energy management.
These four main areas are aligned with a business model that combines geographical diversification and energy transition.
In the United States, AVANGRID has turned into a huge platform for the development of new energy infrastructure. The subsidiary focuses its activity on networks and renewables, and is the country's second wind power operator.
In the United Kingdom, the company's subsidiary ScottishPower is the leader in wind power and conditions are favourable for growth in the networks area. In the generation and supply business, it offers users smart solutions and has a pumped storage capacity of 440 MW in hydropower.
In Continental Europe, it is one of the utilities with the lowest emissions levels - 67% lower than its competitors' average - leading the renewables and smart grids market. It is also the company with the highest pumped storage capacity on the continent, with 3,200 MW in operation and an additional 880 MW already under construction.
Mexico's energy reform has positioned Iberdrola as the 'first mover' to take advantage of new opportunities in the generation business - it is already the largest private electricity producer - and in renewables, with current 370-MW wind power capacity expected to jump to 1,065 MW by 2020.
The restructuring of the energy sector in Brazil also presents opportunities for the group, in both networks and renewables: the company is already the leading distributor in terms of the number of customers and its renewable energy capacity in operation amounts to 2,500 MW.
Update to the 2016-2020 Outlook
Iberdrola has exceeded its estimates for the 2014-2016 period, obtaining a net profit €188 million higher than expected by the end of the three-year period and accumulating an average annual growth rate of 5.9% in terms of EBITDA compared to its target rate of 4%.
In terms of shareholder profitability, that of Iberdrola increased by 55% during the 2014-2016 period, compared to an 18% increase in Eurostoxx50 and 14% in Eurostoxx Utilities.
This point of departure means that Iberdrola is in a position to improve its Strategic Outlook for 2016-2020. First of all, it will be increasing its investments by €1 billion, bringing the total up to €25 billion, most of which will be allocated to new renewable energy assets in the United States.
Of this amount, around 90% will be earmarked for activities which are regulated or covered by long-term contracts: networks (42%), renewables (42%) and regulated generation (7%). These areas will provide 81% of the group's EBITDA in the year 2020 and around 60% will originate from countries with A rating.
As regards currencies, investments will also be diversified: 48% will be made in US$, 29% in GBP, 20% in euros and 3% in other currencies. 60% of investments will be in countries with A rating.
Additionlly, Iberdrola expects to generate €35 billion in funds from operations in 2020.
On the basis of this growth rate, the company also improves its outlook for average annual net profit increase, bringing it up by 7.5% to around €3.5 billion by the end of the period. In terms of EBITDA, the increase is expected to be about 6% per year on average, reaching €10 billion by 2020.
This will all be achieved while maintaining strong financials and improving its return on investments, as has been the case with the group in recent years.
These forecasts mean that Iberdrola is in a position to anticipate an increase in dividend for the years to come, reaching an annual shareholder return of between €0.37 to €0.40 gross per share by 2020 and maintaining a baseline of €0.31 gross per share.
Thus, the pay-out will be maintained at between 65% and 75%. The company also plans to continue its Iberdrola Flexible Dividend scrip scheme and to continue to offer treasury buy-back schemes for subsequent amortisation, so that the number of shares in the Company remains at 6,240 million.
In short, Iberdrola will continue to anticipate the energy transition with a business model that combines vision, strategy, performance and sustainable growth whilst increasing shareholder remuneration and long-term visibility.