Benefits of OLS Shareholder's Club, a club with great values
At Iberdrola, we work every day to make it easier for you to contact us.
OLS Shareholder's Club is a tool that we have created so that all those who, through the purchase of Iberdrola shares, have shown their support and confidence in the trajectory of our company can enjoy exclusive advantages.
In addition, shareholders who register until 14 March 2024 can participate in a draw for 10 trips for two to the iconic Aldeadávila hydroelectric power plant in Salamanca.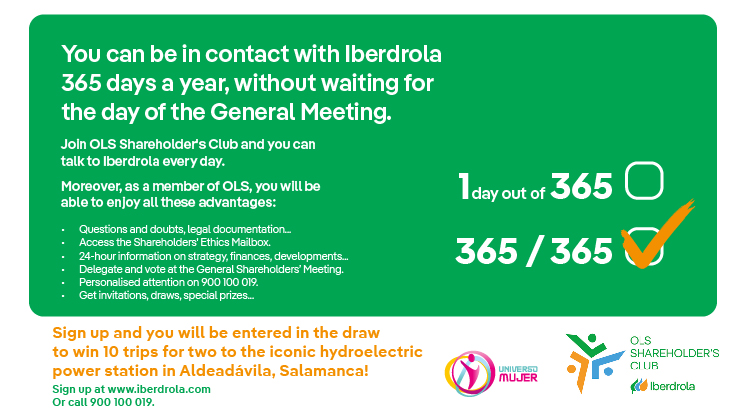 All the advantages of OLA Shareholder Club:
Access Accionistas NEWS Iberdrola, a new section within the OLS Shareholders' Club where you can access the most relevant audiovisual content on the company of a financial, industrial and social nature (contents in Spanish).
Ask questions or request clarifications, confidentially or openly to other shareholders, related to the Company or to your status as a shareholder 365 days a year.
Consult the most frequently asked questions and answers, and access legal and corporate documentation.
Formulate queries related to the group's ethical principles or make complaints through the Shareholders' Ethics Mailbox.
Exercise your vote or proxy and verify your participation at the General Shareholders' Meeting electronically.Enlace externo, se abre en ventana nueva.
Watch the General Shareholders' Meeting live or deferred.

Enlace externo, se abre en ventana nueva.
And, also:
Stay permanently up to date: quarterly performance, the progress and strategy of the company and its industrial group financial events and news about the company.
Direct and personal telephone service through the Shareholder's Office (900.10.00.19).
Dispatch of all types of documents, such as Integrated Report

External link, opens in new window. , annual reports, and notifications to CNMV.
Receive invitations to corporate cultural and leisure events, exclusively for shareholders, organised by our company.
Receive gifts and take part in special offers.
Participate in surveys to give your opinion about our company, and much more.