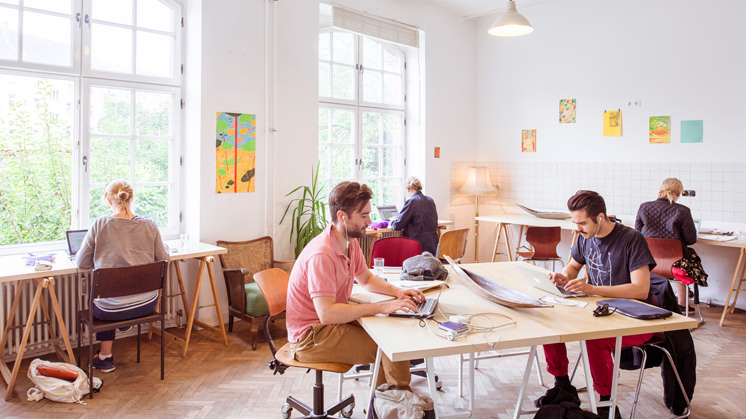 Example of coworking or collaborative workspace.
Freelancers, entrepreneurs, teleworkers and small start-ups are the typical customers of co-working spaces that are now proliferate in major cities across the globe. With internet access, printers, meeting rooms and community areas, they offer everything you need to get your work done and with the bonus of a flexible and affordable rent.
But the real value of coworking lies in how it has fashioned a new approach to work and communication. It has forged focus centres of inspiration and innovation, and the creation of dynamic spaces that foster collaboration and the exchange of ideas. Underpinning this philosophy, the managers of this type of space are on a mission to connect and create opportunities among their members. To do so they organise all types of activities: courses, conferences, think tanks, ask the experts, hackathons, incubators to nurture ideas, prizes... The design of the facilities, increasingly bold, original and functional, also serves to entice the members to participate in this creative environment. It's very common to see old factories, abandoned warehouses or historic buildings remodelled for this type of working.
THE COWORKING PHENOMENON ACROSS THE GLOBE
Number of coworking spaces
24%
Number of coworkers
41%
Fuente: 2017 Global Coworking Survey by deskmag.
SEE INFOGRAPHIC: coworking across the globe [PDF]
An unstoppable movement
The world's leading companies are also beginning to sign up to coworking, moving small teams into these spaces to connect with the fresh and innovative ideas of entrepreneurs and start-ups who also benefit from the experience of working alongside a large operator experienced in its own sector.
Another surprising trend is co-Living: apartments included in coworking that are emerging in cities like London or New York as a response to high rental costs.
Thanks to coworking spaces, freelancers, entrepreneurs and digital nomads are working in an environment that is both enriching and productive and most importantly in the company of others.

People and talent

Iberdrola Campus