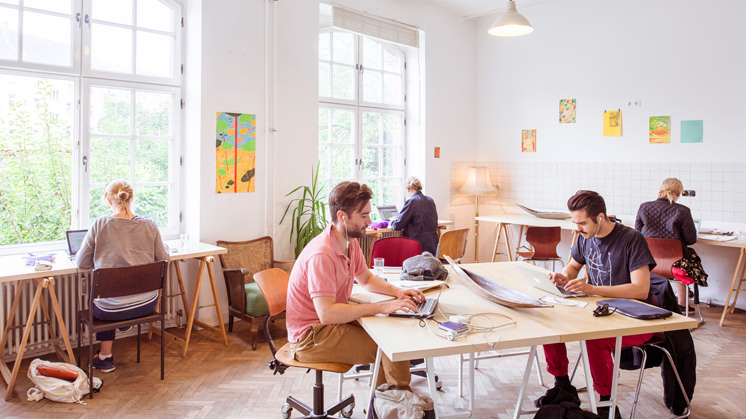 Example of coworking or collaborative workspace.
Freelancers, entrepreneurs, teleworkers and small start-ups are the typical customers of co-working spaces that are now proliferate in major cities across the globe. With internet access, printers, meeting rooms and community areas, they offer everything you need to get your work done and with the bonus of a flexible and affordable rent.
But the real value of coworking lies in how it has fashioned a new approach to work and communication. It has forged focus centres of inspiration and innovation, and the creation of dynamic spaces that foster collaboration and the exchange of ideas. Underpinning this philosophy, the managers of this type of space are on a mission to connect and create opportunities among their members. To do so they organise all types of activities: courses, conferences, think tanks, ask the experts, hackathons, incubators to nurture ideas, prizes... The design of the facilities, increasingly bold, original and functional, also serves to entice the members to participate in this creative environment. It's very common to see old factories, abandoned warehouses or historic buildings remodelled for this type of working.
The reality of Coworking in the world (2023)
Main problems of coworking spaces
Attract new members

48 %

High rental prices

31 %

Financial constraints

28 %
Financial situation of coworking spaces
Good
Bad
Satisfactory
No answer
Outlook for the future in terms of users
Sharp increase
Slight increase
Slight decrease
Sharp decrease
No change
No answer
% of coworking spaces that expect to increase their
Number of users

86 %

Revenue

84 %

General economic situation

76 %

Sense of community

75 %

Profitability

72 %

Close competitors

48 %
Source: 2023 Global Coworking Survey (Deskmag)
SEE INFOGRAPHIC: coworking across the globe [PDF]
Advantages of coworking
To understand the coworking phenomenon, it is essential to know the many advantages offered by this form of collaborative work that has gained popularity in recent years, especially among freelancers, entrepreneurs and small businesses. Below we highlight five advantages of coworking over the traditional office model:
Lower cost: sharing the space and resources of a premises with other professionals considerably reduces the expenses that can be generated by an independent office.
Professional contacts and networking: coworking encourages interaction between people from different areas of knowledge, which may result in opportunities for future collaboration or the exchange of relevant information.
Productive environment: the design of coworking facilities offers a favourable environment for any professional, with specialised areas and meeting rooms designed to achieve greater productivity at work. It is important to note that in these environments there is none of the distraction that can occur when working from home in the teleworking model.
Flexibility: other advantages offered by coworking spaces are the flexible options for coming to the premises, allowing users to choose between different plans or schedules according to their needs. In addition, as some work under the hot desking concept, one office space or another will be occupied depending on the demand of the day.
Scalability: this concept refers to the ability of coworking centres to adapt to the changing needs of companies as they grow or downsize. This means that if a company experiences an increase in its team or needs more space for its projects, it can expand its presence without worrying about the costs and logistics that may be involved in this transformation.
An unstoppable movement
The world's leading companies are also beginning to sign up to coworking, moving small teams into these spaces to connect with the fresh and innovative ideas of entrepreneurs and start-ups who also benefit from the experience of working alongside a large operator experienced in its own sector.
Another surprising trend is co-Living: apartments included in coworking that are emerging in cities like London or New York as a response to high rental costs.
Thanks to coworking spaces, freelancers, entrepreneurs and digital nomads are working in an environment that is both enriching and productive and most importantly in the company of others.

People and talent

Iberdrola Campus