A good CV is the first step towards finding a job
Preparing the best possible CV is no easy task, in fact, it can become a headache. Selecting the right information, choosing the right format, especially nowadays with the numerous possibilities offered by ICT, and taking care of the spelling are just some of the keys to present a modern and attractive CV that will win over companies at first glance.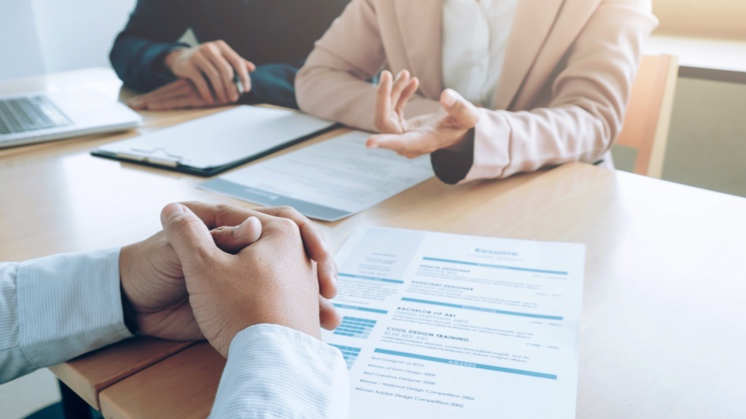 Presenting a strong and attractive CV is the first step to finding a job.
The 21st century labour market is increasingly competitive: people are more prepared, qualified and specialised than ever (degrees, master's degrees, languages, etc.). The level is such that making a difference has become an essential requirement and one of the ways to achieve this is through the curriculum vitae (CV). This document, properly prepared and optimised, can open wide the doors of any company.
The importance of the curriculum
A good CV, as previously mentioned, can make a difference when it comes to finding a job in such a competitive market. Whether in paper or digital format, it becomes our letter of introduction to companies. In fact, to illustrate its importance, just think about how many people apply for a vacancy and the first way companies select or discard candidates is just by looking at the CV.
It is no easy task to express who we are and what we are capable of in such a small document. Nor is it easy for companies to review thousands of CVs in search of the best profiles. Therefore, the best thing to do is to present a document that summarises and highlights what makes you stand out. Subsequently, if we pass the first filter and are selected for a job interview, we will be able to expand on those aspects that we did not include in the CV.
Types of curriculum
Depending on what aspects of your profile you want to highlight, there are several types of CVs. Here are the most common ones:
Chronological CV. The aim is to

highlight above all work experience and academic training,

with the other sections serving as a complement to the first two.
Functional CV. The aim is to give more weight to skills, both hard skills and soft skills, and to professional objectives, and to reduce the relevance of our work experience if it is scarce.
Mixed CV. The aim is to capture the

synergy of skills and experience, focusing on professional achievements.

This is typical of more experienced profiles, so that academic training is put on the back burner.
With the evolution of ICT, new CV formats have appeared and are gaining prominence in the world of work:
Infographic CV.

It seeks to attract attention through the graphic representation of our professional and academic career.

It is done through elements capable of transmitting a lot of information with little. Designers can make the most of it.
Website CV.

It consists of the creation of a website where you can present your CV in a more interactive way.

It allows us to expand the most relevant aspects through links or to present the information in a more dynamic way. It is especially interesting to highlight digital profiles.
Video CV. We could say that this model is similar to an advertising spot, but here the protagonist is you and your achievements, both academic and professional. The most important thing is the script, which must be striking and entertaining, and your ability in front of the camera. Even TikTok, a social network where short videos are the protagonists, has enabled a new function

External link, opens in new window.

to publish your CV and find a job.
Information that should be included in a CV
In order to know which type of CV is the most suitable for you, you need to take into account all the information you are going to include. In general terms, these are the essential sections:
Contact details (name and email are essential).
Brief description of work history, including achievements and objectives.
Academic and complementary training (degree, intermediate or higher degree, master's degree, courses, etc.).
Work experience (most recent to most recent).
Personal skills and abilities (both soft and hard skills).
Languages (specifying the level or certificates attesting to it).
Do not lose sight of the position for which you are applying at any given time. For example, if the position you are applying for requires a high level of experience, it makes sense to use a chronological CV. On the other hand, if you consider that it is your skills or abilities that will be most valued, it is best to opt for a functional CV. And if a high level of specialisation is required, you should use a mixed CV. In short, your CV should be a synergy between who you are and the position you want to apply for.
Once the CV has been created, the ideal thing to do is to transfer all this information to LinkedIn. In the digital age, this professional social network has become an essential tool for contacting companies or vice versa, given the number of human resources managers who use it to recruit talent. The digital medium has a series of particularities that we must take into account: choose the right keywords and insert them in your profile - it is essential to do so in the headline and the extract -, keep your profile updated - add every new development in your professional or academic career - and be active on the network -publish and share relevant content, and interact with other users-. More tips to improve your LinkedIn profile.
Tips for writing a curriculum
Finally, beyond the existing types of CVs and the information to be included, there are a number of tips to be taken into account in order to create the best CV possible:
A tidy, attractive design in keeping with your profile. If your CV manages to transmit something about your personality, you will hit the nail on the head.
Use universal fonts (Calibri, Helvetica, Arial, Georgia, Garamond, etc.) to avoid readability problems when opening the document.
Careful with file exentions! As we have already said, the idea is for the reader to see your important information and keep it to one page, and no more than two.
Emphasise your career goals and achievements, which are often more important than academic training.
You can retouch your CV, without going too far and giving a negative impression, depending on the company to which you are applying.
To get your CV onto one page you should summarise, so leave out any information that is irrelevant to the position.
Sooner or later, you will have to prove what your CV is saying, so do not exaggerate or lie. Do not include personal opinions.
Spelling is sometimes forgotten when writing a curriculum vitae, so run the spellchecker before you send it to avoid being eliminated from the selection process.