Tips to improve your LinkedIn profile
Looking for work?
Internet Employment Social networks
LinkedIn is the go-to social network for talent recruiters. With an online community of 900 million users, it links professionals and businesses all around the world. You probably already use it to find work, but are you really making the most of it? Learn how to sell yourself better by taking some sound advice.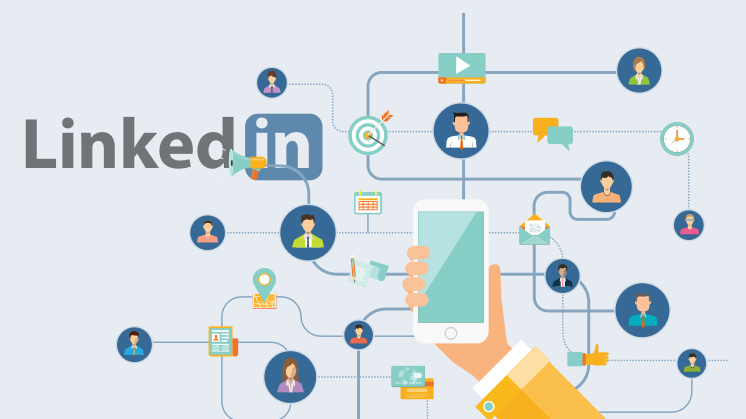 LinkedIn, the go-to social network for talent recruiters.
Contacts make the world go around. If you are or have been looking for a job, you'll know how important - or indeed crucial - personal relations can be. This concept is now known as networking and accounts for 85% of the jobs covered by companies according to Zippia, a professional consultancy company based in the United States. Adding this figure to the fact that 80% of job searches in 2022 will be done online, it makes sense for you to sit down and think about how to improve your CV on LinkedIn, the world's greatest professional network.
Your personal brand, the impression you make on those around you, points business recruiters in your direction and leads them to your LinkedIn profile. But you can't afford to sit back and wait - you have to stand out and sell yourself. And that is not as difficult as you might think: just analyse your assets, get your priorities right and follow these five tips.
Define your strategy
First of all, you need a plan. Set yourself clear, reasonable and measurable objectives. One goal when looking for a job would be seeing how many companies, HR managers and influencers in your field are interested in you and your content.
Analyse your strengths and weaknesses. Where do you stand out and where is there room for improvement? Are you an expert in anything? What makes you special? What would you change after past work experiences?
Reach out to relevant users in your area; add them to your network, spark their interest and build their trust. Finally, check out other LinkedIn profiles for ideas. Inspiration hardly ever comes just like that.
Create your LinkedIn profile
Once you have defined your strategy, it's time to apply it. Fill in every single section - don't leave anything blank.
Put up a picture of you and describe your current or most recent job in detail. Your picture should portray a professional yet

natural and approachable

image of you. Think carefully about what you wear, smile and look straight at the camera.
A good abstract matters. Don't just summarise or copy the content on your CV. We recommend you use

storytelling techniques

or even a

video

to introduce yourself and show your potential. Highlight your professional achievements, but don't forget to underline the values and qualities that define you as a person.
Share your experiences. Your CV should reveal the most significant aspects of your work experience so stick to the point.

Bullet points

make for easy on-screen reading. Keep in mind that preparing a good CV makes a difference when it comes to finding a job in today's competitive market.
Add your skills and validations. Say what you

specialise in

and ask your contacts to confirm it. This boosts your credibility.
Ask people to recommend you.

Bosses, colleagues, satisfied customers...

References are crucial in a business recruiter's eyes.
Outline your achievements and associations. If you are a member of an

important association

in your field or have any special achievements, let people know to boost your prestige.
Use SEO on your profile
SEO basically means ensuring that your content is as high up and visible as possible on web engine searches. To do that:
Check your settings. Make sure

your profile is public

and check that the option for receiving job offers is enabled.
Customise your web address with your name, surnames and keywords that define you.
Include keywords in all of your profile fields. Use tools like

Google Trends

to identify them.
Share relevante content
Regularly publishing content about your field of work helps build your personal brand, coming across as an active, informed, engaged and passionate person. If you do post content...
Be consistent with your strategy. The content you publish should add to the image you want to convey, whether it's yours or someone else's.
Keep it innovative and relevant. Prioritise novel, important, practical and/or unexplored content. If it is about

current affairs

or provides a different or

fresh point of view,

all the better.
Share professional videos.

Audiovisual formats

are the most appealing, widespread and virable, helping to raise your position on search engines.
Do some quality networking
LinkedIn is great for keeping in touch with fellow sector professionals. Contact and interact with influencers and the most relevant companies according to your strategy. All you have to do is...
Create your own network of professional contacts in your sector. Pay special attention to people who are on the

Openlink network

(most are recruiters) and to

superconnectors

in your sector (users with over 500 contacts).
Join groups related to your professional profile and try to interact on a regular basis.

Share content, make comments, recommend others...

Treat your contacts with care. Always send customised messages, congratulate people for their achievements and novelties, interact with their posts and, most importantly,

keep your inbox up-to-date.
LinkedIn is more than just a window for you to advertise your personal brand in front of professionals and companies that may be interested in you. You can also look for work actively. Here's how:
Use the

search bar to look for job offers

on the platform.

Follow the companies

you find most appealing and interact with them.

Filter your searches

to find companies that are hiring.
10 trends that will change job hunting
Virtual reality They will see how candidates react in certain situations.

Diversity of candidates Recruiters will be looking to build a diverse team to support the development of the project.

Storytelling New, more exciting, option that says more about your personality.

The gig boom Independent contractors and freelancers instead of full-time employees.

Google It will start using artificial intelligence to enhance employer-employee compatibility.

Training programs After hiring.

Artificial intelligence Automated learning, neuro-linguistic programming (NLP), bots and apps to classify candidates.

Teleworking There are more and more offers with the option of working remotely as opposed to being in an office.

Digital people marketing Social media, blogs, portfolios or other means.

"Soft skills" Interpersonal skills will be as important as professional skills.
10 trends that will change job hunting