Hhow can networking help me?
Networking, the best way of boosting your professional career
Entrepreneurship Digital talent Professional career
Find new work opportunities, contact collaborators, launch your personal project or meet potential customers. In a world dominated by technology, the online version of networking can give you a competitive advantage. This aside, it's a bad idea to underestimate the value of face-to-face contact.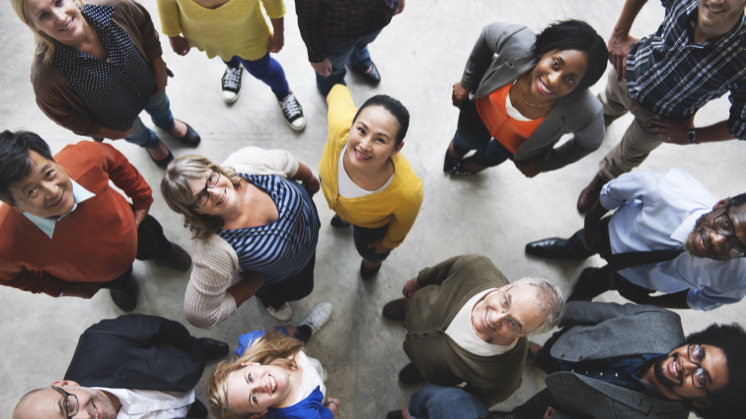 Creating a strong, effective professional network through networking requires time, rigour and consistency.
When you go to a conference and exchange business cards, you're networking. When you sit on the sofa and send an invitation through LinkedIn, that's networking, too. These days, with the appearance of professional social networks, the opportunities to be gained by networking are multiplying and becoming extremely valuable from a career and professional development perspective.
In an increasingly competitive job market, relationships can make all the difference when it comes to getting a job or launching a project. Lou Adler, author of The Essential Guide to Hiring & Getting Hired, says that for 92% of human resources managers, the best workers are those that come recommended. That means that if you don't do some initial networking, your chances of success with a job interview are negligible.
But, what is networking? Let's start with what it isn't. It doesn't mean cramming your agenda for no reason, nor does it mean inviting all the suggestions that appear in LinkedIn or going to every event that you can to collect business cards. Networking consists on building a network of contents for a specific reason: to generate new business opportunities. When you put it like that, it sounds simple, but creating a powerful, effective professional network requires time, rigour and persistence.
VIRTUAL VERSUS FACE-TO-FACE NETWORKING
New technologies are extremely useful for making relevant contacts, particularly since there are no geographic barriers! Beyond LinkedIn — the professional network par excellence with more than 500 million users around the world — there are others like Viadeo, beBee, Xing and Yammer. The creators of Tinder have also launched Ripple, an app that promises to breach the limitations of LinkedIn with the ability to match.
The benefits of online networks are unquestionable, but it would be a mistake to underestimate the importance of face-to-face meetings. According to an article published by Forbes magazine in 2019, almost 100% of people consider that face-to-face contact is essential when forging long-term relationships. That's why, during professional events, an area is always set aside for encouraging networking. Here are a few simple tips to help you get the most out of any face-to-face networking event:
Don't improvise:

to be effective at these types of events. It is essential to plan an agenda and do your homework on the speakers and participants.

A friendly attitude:

meeting new contacts is an essential part of networking. Knowing how to listen is one of the most important skills you can have as it allows you to learn, understand and then respond appropriately.

Above all, be yourself:

the aim is to establish fluid, personal communication and make your professional objectives known. Everyone taking part in the networking event will have the same goal in mind, so don't butt in.
In both virtual and face-to-face networking, the difficulty does not lie in making contacts, but in keeping them and establishing them over time. The best way of strengthening bonds is to be proactive without being a nuisance. For example, offering your help before you are asked, going to potential events within your sector, sending personalised information of interest to your contacts, among others.
ADVANTAGES OF NETWORKING
There's no question that networking is one of the best levers for strengthening your personal brand. According to Michael Page, international human resources consultant and recruitment specialist, these are some of the many benefits:
It produces new ideas
Exchanging information about objectives and experiences gives participants new perspectives.
It increases your visibility
Attending events will enhance the reputation of your profile and using social networks will ensure you don't go unnoticed.
It provides new opportunities
Taking care of your network of contacts will ensure they come to you when a job offer comes up.
It approaches the latest trends
Discussing things with professional colleagues will keep you up to date with industry advances.
It lures you out of your comfort zone
Sharing information about challenges and opportunities opens the door to valuable suggestions and guidance.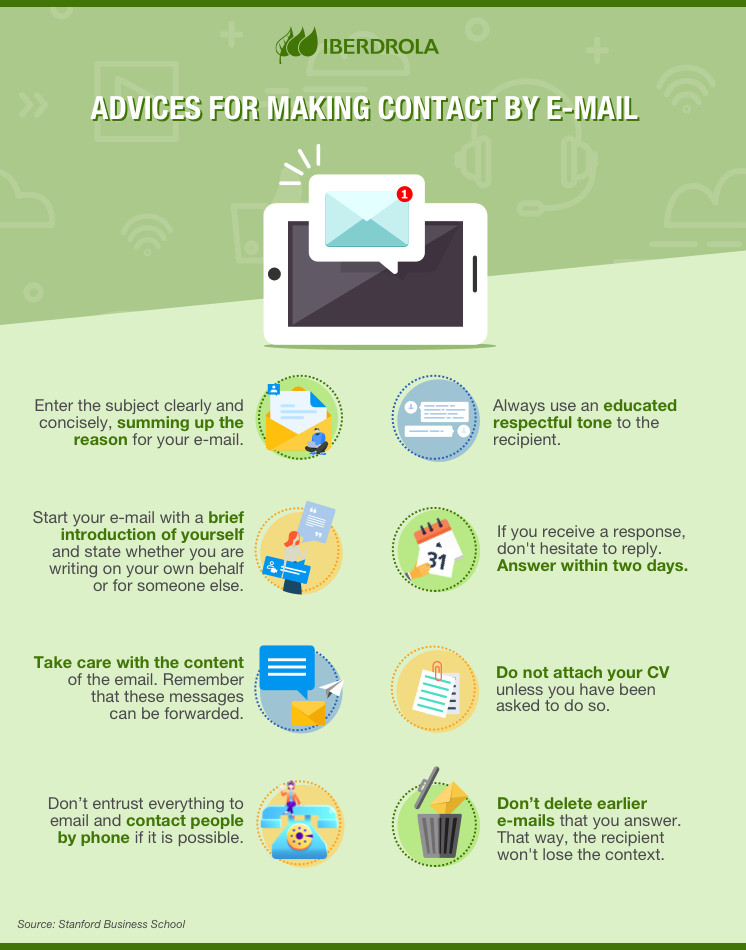 Advices for making contact by e-mail.
Recommendations for better networking
A powerful range of contacts will put you on the map within your profession and open doors. In face, in today's interconnected world, it's as crucial as having a good resumé. Coach and regular Forbes collaborator Bonnie Marcus has established a set of tips for effective networking.
Surround yourself with the right people. Build strong, mutually beneficial relationships with people who can help you to achieve your professional goals.
Don't forget old contacts. You never know when you are going to need help from an old work or university colleague. Stay in touch and take care of them.
Devote some time to networking every day. The more time you spend on your network, the more valuable it will be. Make calls, answer messages and be proactive. It's a profitable investment.
Keep business cards. It may seem like an old-fashioned system, but when you get business cards you can make notes on the back about the conversation you've just had.
Don't waste time. Time is gold during conversations. That's why knowing how to listen and asking the right questions is as important as having an impressive resumé.
Use new technologies. Professional social networks are very useful when it comes to establishing contacts, sharing achievements and accessing job offers.
The elevator pitch or how to get your message across in a few seconds
Nanodegrees, made-to-measure online courses