Nanodegrees: online courses that will change your life
#training #internet #professional skills #digital talent
Nanodegrees are revolutionising the world of training and access to cutting-edge jobs on a global scale. These collaborative and customisable courses focus on skills rather than knowledge, and, thanks to ICT, are democratising education.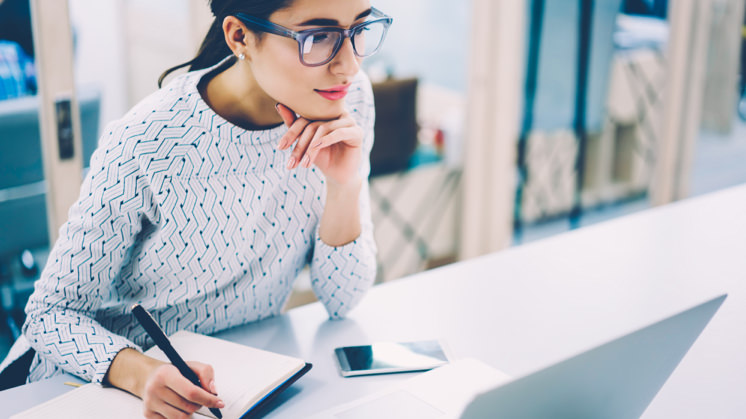 Nanodegree students work in teams with collaborative tools like blogs, videochats and wikis.
COLLABORATIVE EDUCATION AND SKILLS TRAINING
The impact of Information and Communications Technology (ICT) on higher education marked a new milestone in 2012. In that year, Sebastian Thrun, an ex Stanford University professor and former head of projects such as Google Glass and the Waymo self-driving car, founded the Udacity online courses platform and began to impart nanodegrees. These minicourses are similar to MOOCs — Massive Online Open Courses — but more oriented towards people with specific skills and related to technology. They last between six and 12 months, can be studied in several languages and use Artificial Intelligence to track students and help them to improve.
In a nanodegree, students work in teams with collaborative tools like blogs, videochats, minisites and wikis, among others, which make learning easier for them through practice and dialogue. In addition, each student has a mentor, a project supervisor and an advisory service on hand. The content of a nanodegree is not decided by the learning center, but by large multinationals, HR heads and market specialists. The businesses that collaborate on these types of courses undertake to employ the students, the major advantage for them being that, on the one hand, nanodegrees are precisely matched to the real and pressing needs of the market and, on the other, they ensure that their future employees receive training tailored to the post.
THE IMPACT OF ICT ON EDUCATION
The founder of Udacity claims that by 2020 there will be a worldwide shortfall of 85 million workers with the technological know-how that companies need. This problem may get worse over the next decade for European and American companies who, as pointed out by the consultancy McKinsey in a 2018 report, will be looking for 55% more digital professionals than now. The platforms offered by nanodegrees are opting for the latest in technology - online learning and educational programs customised by data - to correct this mismatch between occupational supply and demand. In the training catalogue for these platforms, courses on Artificial Intelligence, automated learning, data analysis and the development of self-driving cars are among the most noteworthy.
According to Thrun, nanodegrees were not created to compete with universities, but rather to democratise access to higher learning through a model oriented towards results, realistic about employment market requirements, and in touch with the complex situation in which many students find themselves. As a consequence, the impact of Information and Communications Technology (ICT) on higher education heralds a different outlook for the next decade. Educational establishments move very slowly: only a few such as Arizona State University, Georgia Tech and Southern New Hampshire in the US have made significant changes to their educational models.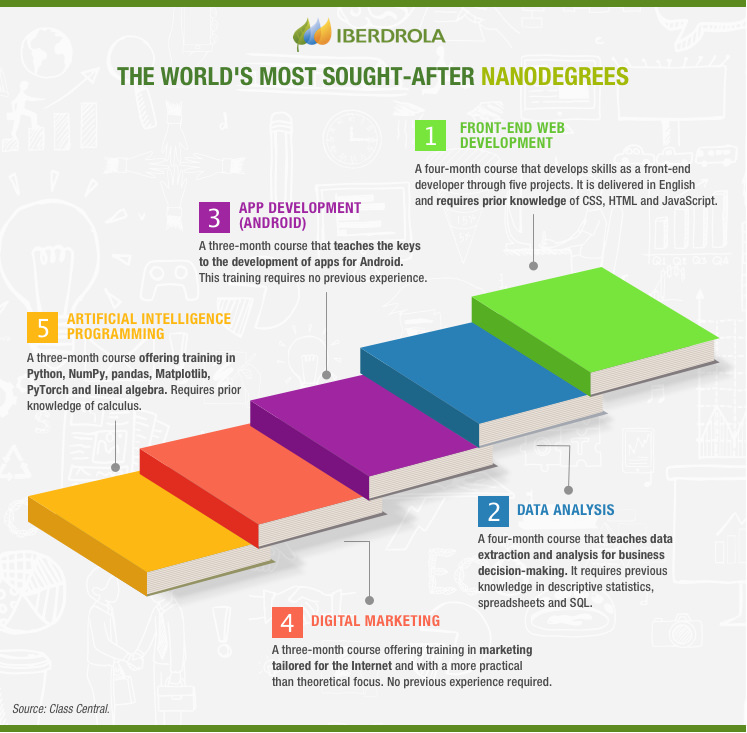 The world's most sought-after nanodegrees.
SEE INFOGRAPHIC: The world's most sought-after nanodegrees [PDF] External link, opens in new window.
WHERE CAN I STUDY NANODEGREES AND MOOCs?
There are dozens of platforms imparting these kinds of courses around the world. The best-known are:
Coursera: founded in 2011 by a group of professors from Stanford University, this service focuses on courses for individuals and employees. According to the Class Central course search engine, it has

37 million students

worldwide.
General Assembly: this New York business school was formed in 2011 and offers courses for entrepreneurs Its online seminars last

anything from a few hours to three months

and cover aspects such as technology, design, business management and subjects as diverse and specific as data science.
Udacity: this platform, created in 2012, offers 25 nanodegrees in cutting-edge technology. The content is tailor-made for companies — they often work with Google — who hire the students when they graduate. According to Class Central,

it grew by 25% in 2018.
Nanodegrees, as we have seen, are becoming increasingly important in the world training panorama, and form part of an educational revolution that is just around the corner. This disruption focuses more on skills than on knowledge and has a great ally in ICT to democratise education and reach more and more corners of the globe.

Design Thinking
Internet Ethics
Professions of the future
Digital transformation